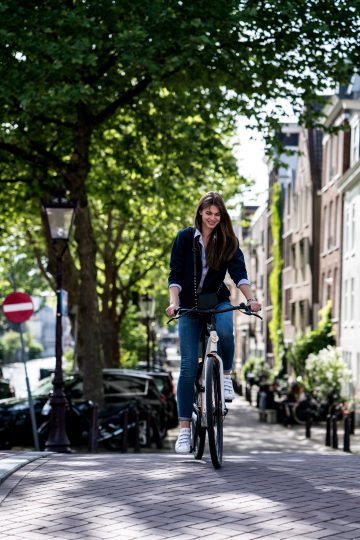 And it's time to share the second outfit taken pictures of in Amsterdam, which is actually the outfit I was wearing on our first day in this beautiful city. At the same time, it is already the last outfit from this trip, because on the last day it was raining so badly, we couldn't take any outfit pictures. But I don't mind because the last outfit was super casual and nothing special at all. The outfit I am sharing with you today actually is my favourite travel outfit I was wearing during this short Amsterdam trip. It is the outfit I picked only two days before our departure at the GANT store, and I chose it with this trip in mind. I wanted a casual yet chic outfit, something comfortable that would work for a long day exploring a foreign city. Well, it was my third time in Amsterdam, so I can't call it foreign anymore, but we spent the day cycling through the streets and along the canals. And I definitely needed a comfortable outfit for that day. You can read more about the outfit I chose as well as what we were doing on our first day in Amsterdam in the following:
My GANT Outfit for a day in Amsterdam
I tried on a couple of outfits when I was at the GANT Store here in Berlin, but this shirt was my favourite from the beginning. It's not a secret that I have a thing for shirts like this one, and additionally, it has this cute star pattern you can't see at first sight – you see it when you have a closer look! I like the fact that it gives the shirt a special touch without being too garish.
I combined it with a pair of blue jeans because you can never go wrong with blue jeans. This pair is very comfortable as well, so perfect for a city trip. The last piece from GANT you can see in these pictures is the bomber jacket. I knew that the weather wasn't supposed to be all sunny and warm and Amsterdam is known for being very windy from time to time. I thought I would need a jacket and I actually did. It was my sister how spotted this jacket at the store, but unfortunately it was only available in XL and XXL. Since I love oversized jackets, I wanted to give it a try and put on the jacket in size XL. And I apparently really liked it otherwise I wouldn't have taken it 😉 It kept me warm when it got colder due to the wind and worked very well in combination with the rest of the outfit at the same time. Don't you agree?
Cycling through Amsterdam on our first day
We arrived super early in Amsterdam on Sunday (at 8 am), so we first headed to the hotel to leave our luggage there and looked for a place to have a second breakfast afterwards. We were very tired that day and didn't want to walk through the city all day, so we rented bikes and cycled through the city instead. It was the first time I explored Amsterdam by bike, and it was so much fun. From now on I would never visit Amsterdam again without renting a bike somewhere.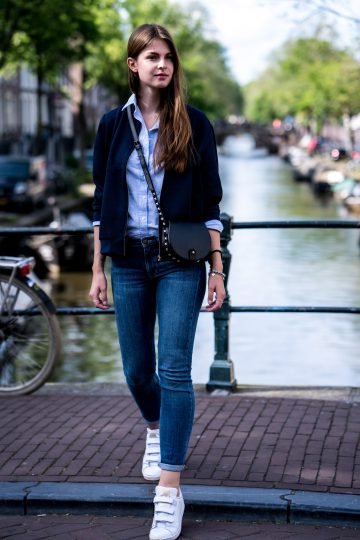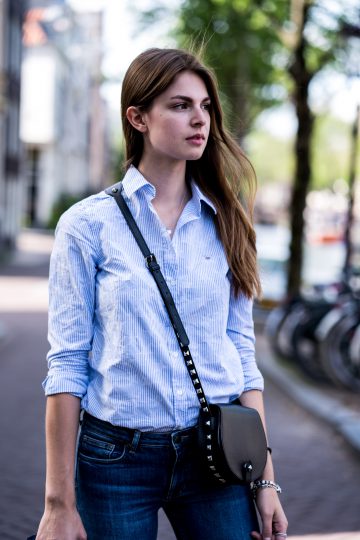 Amsterdam isn't that big, and it's actually no problem to explore it by foot, but believe it's more fun to cycle. It's not exhausting at all, and there are cycleways as well as cycle racks everywhere. And you are always faster and more flexible with a bike than with a car in Amsterdam.
We didn't plan that first day, and we actually didn't look up places to go, we just started at one point and were guided by the city. Whenever we saw a beautiful street, we took that one and sometimes we stopped to sit next to the canal for a little while. The weather on our first day in Amsterdam was so beautiful; we tried to enjoy as much time as possible outside 🙂 In the early afternoon we met up with friends to try The Avocado Show, a restaurant with avocado dishes only. It's super hyped right now, and we had to put our names on a waiting list. After waiting for about 30 minutes, we finally got a table and couldn't wait to try their avocado dishes. Well, let me review it: the food was delicious, and I really like the idea of serving avocado dishes only. But the prices are quite high, and it is enough to try it once. I don't regret to have eaten there, but I think I wouldn't come back.