Happy Thursday guys! As you might know, I arrived back in Berlin on Tuesday night, and I spend all day yesterday with editing all the pictures we took in Amsterdam. Due to that, I can share the first outfit post from Amsterdam today. 🙂 It is not the outfit I was wearing on our first day – that one will be published tomorrow – it is the outfit I was wearing on day two in Amsterdam. I have to admit, that it wasn't easy to plan the outfits for this trip because the weather forecast changed every couple of hours. And it alternates between 25°C and sunshine and 16°C and rain… you probably can imagine how hard it was to pack for this trip. I ended up packing both jeans and shorts, tops and shirts as well as one sweater. If you want to know, what I was wearing the first day, you have to wait one more day. But you can now have a closer look at what I was wearing on our second day in Amsterdam:
White Shirt and Denim Shorts in Amsterdam
I brought one pair of shorts with me to Amsterdam and that one were these Levi's shorts with the tassels on the front pockets. These Levi's shorts used to be one of my favourites, but they are actually a little bit too big. I got them two sizes bigger than I usually wear and you actually can see that… BUT I found such a nice Vintage Store in Amsterdam, they had plenty of Levi's shorts and guess what? I found the perfect pair of vintage Levi's shorts at this store! Oh, I can't wait to wear them finally. But that's actually not the topic of today's post because today I want to share the outfit I was wearing in Amsterdam and I wasn't wearing my new Levi's shorts, I was wearing the pair that is a little bit too big 😉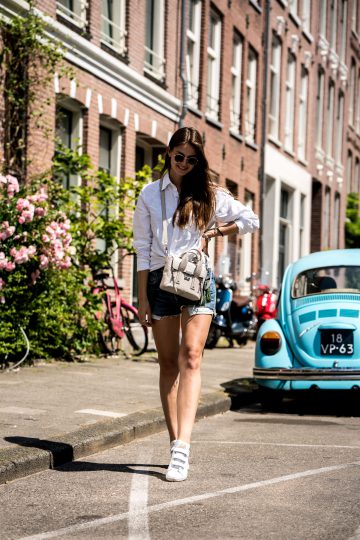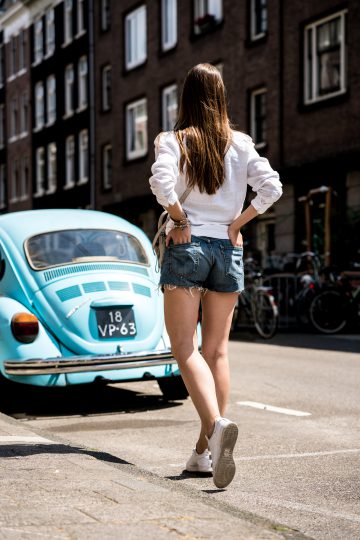 I combined my Levi's shorts with a white shirt (I got this one at the GANT Store just before our trip, and it is actually from the men's collection), white sneakers from Adidas and my Mini Pashli bag from Phillip Lim. I was wearing this outfit all day long exploring Amsterdam by foot, so it had to be very comfortable! And thanks to the sneakers it was no problem at all to walk the 10 km we did that day.
What we were doing on Amsterdam Day 2
The second day, Monday was supposed to be the nicest day regarding the weather. That's why we decided to rent a paddle boat and to paddle through the canals of Amsterdam all by ourself. 😉 We rented the boat for 1,5 hours, and it was such a great idea. Renting a paddle boat is so much more fun than just booking one of the other canal tours. BUT it is not as easy as it looks, so we first had to figure out how it works. It also is very exhausting, and I was kind of happy when we returned the boat because my legs were a little bit sore. Nevertheless, I would recommend renting a paddle boat when in Amsterdam 🙂
Afterwards, we headed back to the hotel to relax for a little while before looking for a lunch spot. We found a burger place in the neighbourhood of our hotel (it's called De Pijp) and sat down for a little while before we continued to explore Amsterdam. We decided to stay in De Pijp that afternoon and walked through the streets, checked some of the stores and boutiques and yep, I ended up in some vintage stores. One of them was the store I found the perfect pair of Levi's shorts at. For those who might be interested in this store, it is called Marbles Vintage. If you like vintage Levi's shorts and happen to be in Amsterdam one day, make sure to stop by. It truly is Levi's shorts heaven!