This week will be all about outfits I was wearing when we were in Cape Town. I have other topics planned, as I mentioned before, but it will take some more time to prepare those posts. But I don't want to keep you waiting any longer and that's why I am first writing and sharing some outfit posts. Have you already seen the outfit I shared yesterday? It was all about the current zebra print trend and it was one of my favourite looks from Cape Town. The outfit I want to share with you today is another favourite. The white midi dress is one of my favourites and it also isn't a secret that I really like wearing my black Cowboy Boots 😉 So combining both pieces was one of the best ideas for this trip. Also, how perfectly does the outfit match with the location?
How to combine Cowboy Boots and dresses
I do love cowboy boots and the black ones I have are my favourites. But as I don't have the slimmest calves, it can be a challenge to combine them. Well, probably I am the only one who sees a problem here – maybe if you guys also have bigger calves, you will understand 🙂 I am getting more used to how this kind of boots look on me when wearing them with bare legs, but there are definitely looks I preferably would wear. The combination of cowboy boots and midi dresses are definitely the kind of combination I do like a lot. Due to the midi length, most parts of my legs are covered.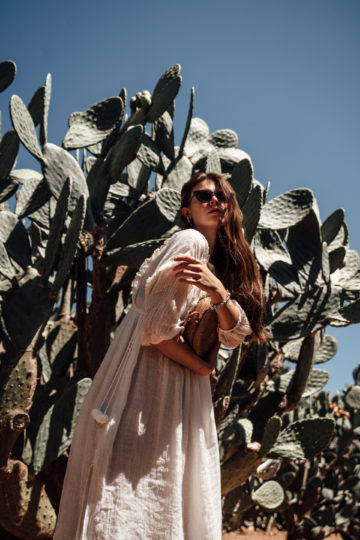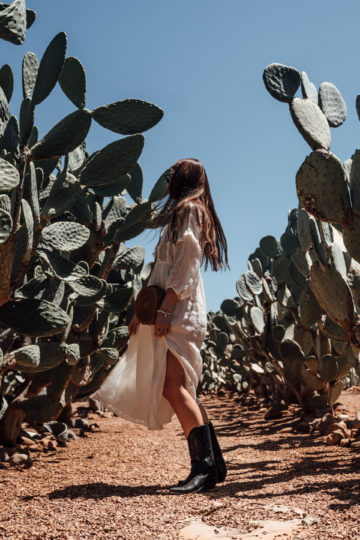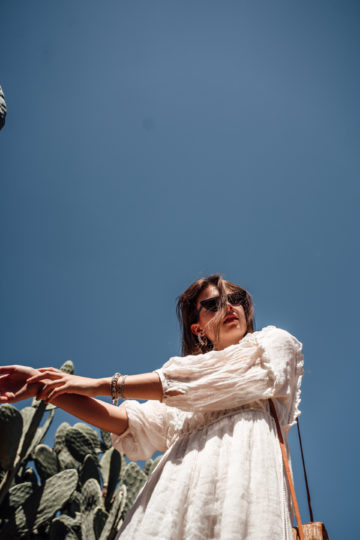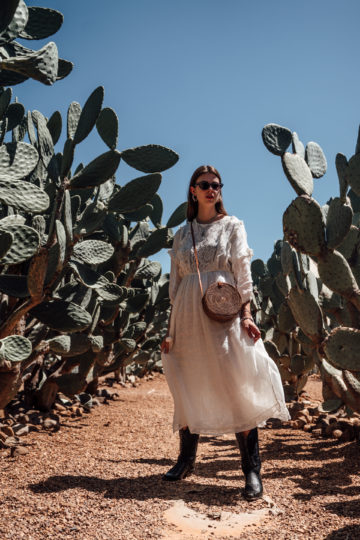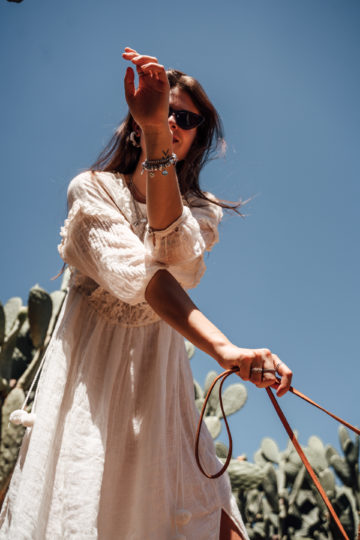 In this particular case, it is not the length I like best, it is the contrast I love. The contrast of the white linen dress with its bohemian details and the chunky black boots. It is not a secret that I love contrasts when it comes to my outfits and the one you can see me wearing here definitely is my favourite. To finalise the outfit I added a pair of black sunglasses and one of my Ata bags from Bali. I just had to add it, because I think it looks just perfect in this location. What do you think?
Of course, you don't have to style your cowboy boots with midi length dresses. They work with any other kind of dress as well. I just wouldn't wear them in combination with a maxi dress as there is no point to it. The dress would cover the whole shoe or you would only see the tip of it. But midi length dresses, as well as short dresses, will always work perfectly in combination with Cowboy Boots.
Can you wear cowboy boots in summer?
Wearing cowboy boots in summer doesn't seem like the best idea. But I actually don't mind doing it. Additionally, I love styling my summer outfits with boots as it always creates a great contrast. Of course, it might get a little bit warm when wearing boots in summer, but that's the only downside if it even is a downside. The day I was wearing the cowboy boots in Cape Town, I had to wear sturdy shoes as we spent the day at a wine yard and farm and they don't have any paved roads there. Sandals or any kind of flats would not have worked there. Once we were back at the Airbnb, I first had to clean the boots because they were covered in dust. Just imagine I would have been wearing open shoes haha.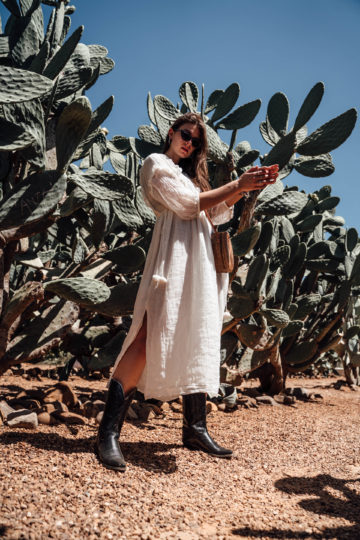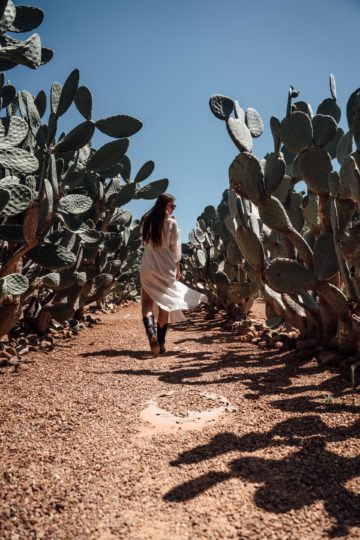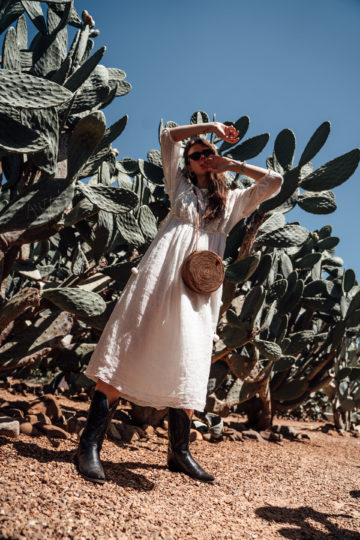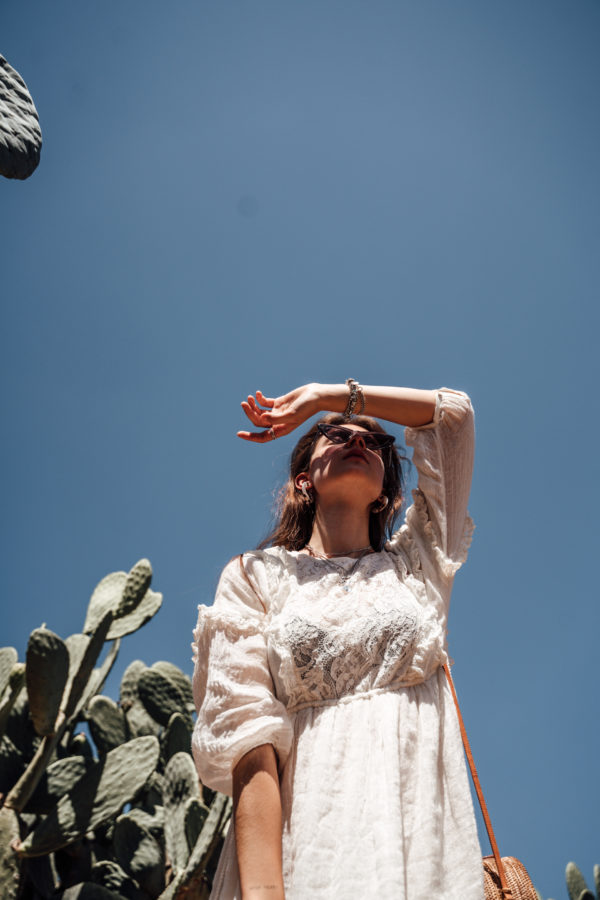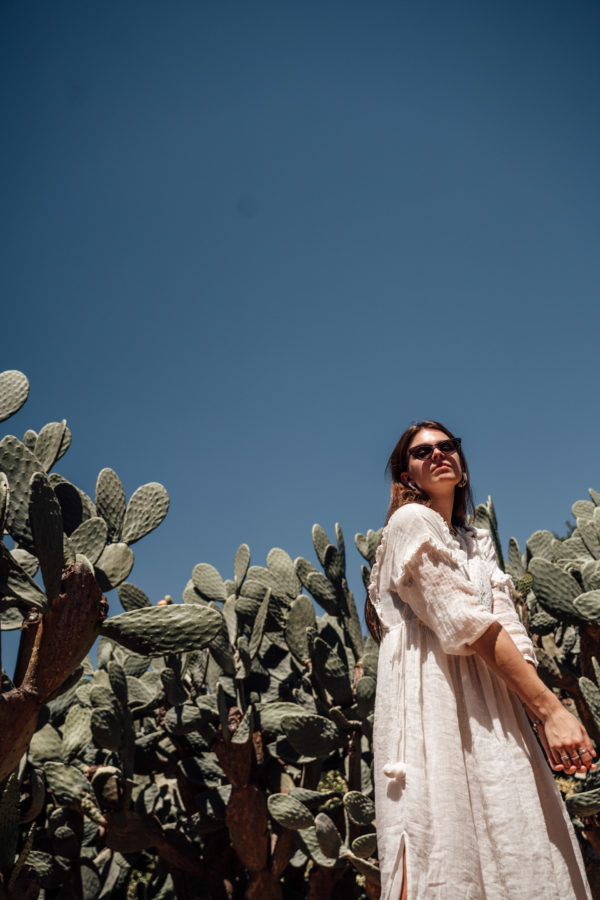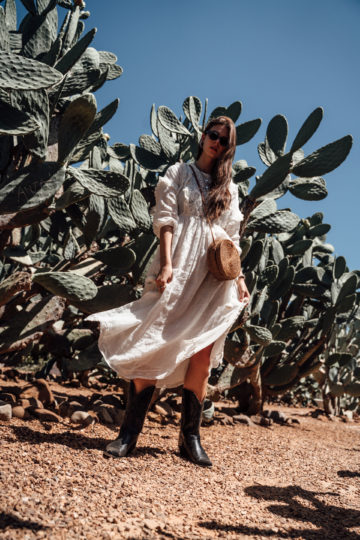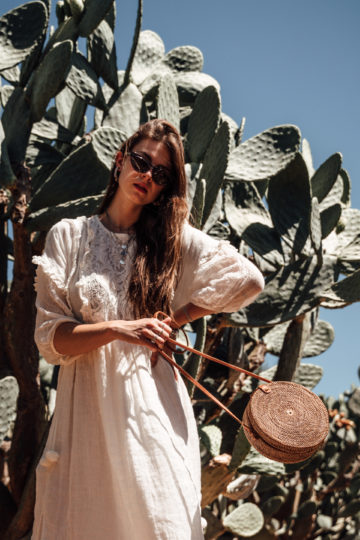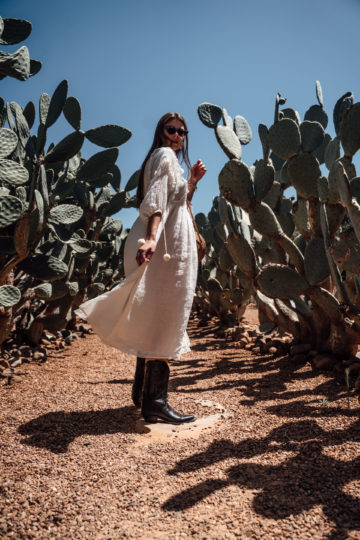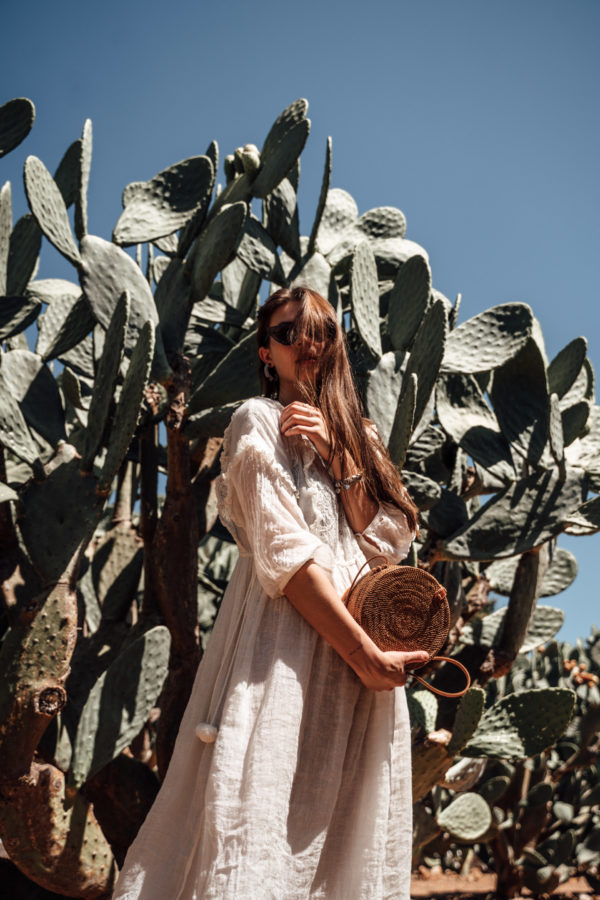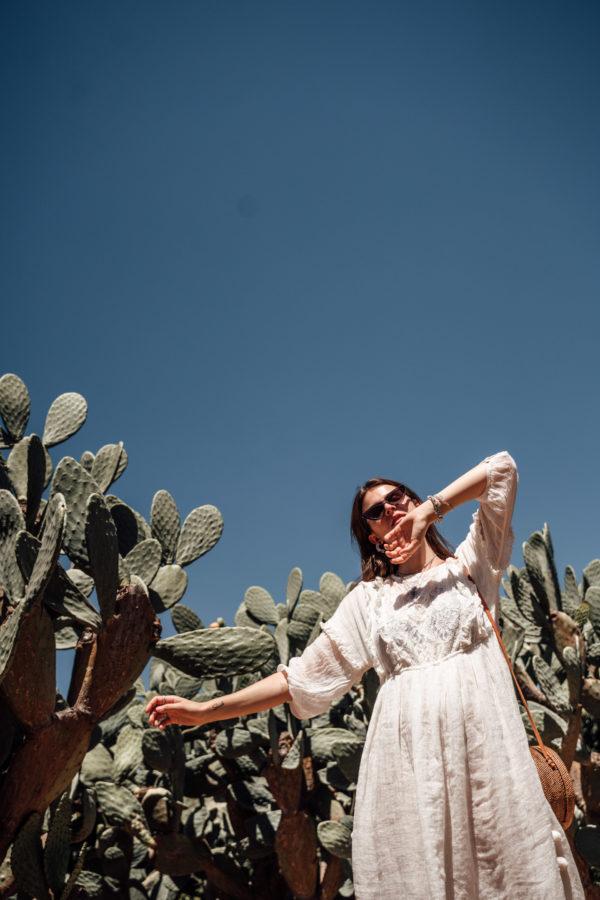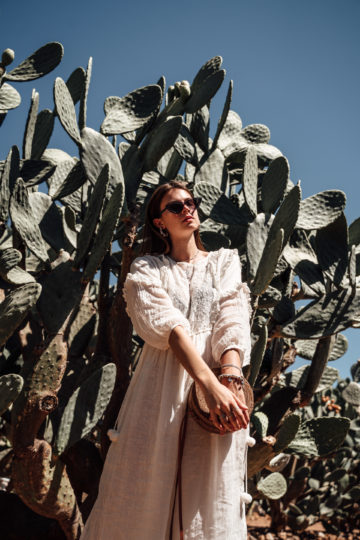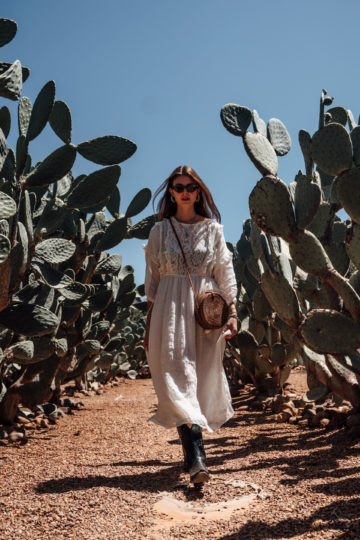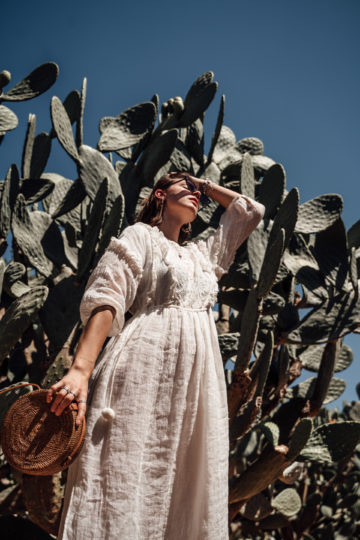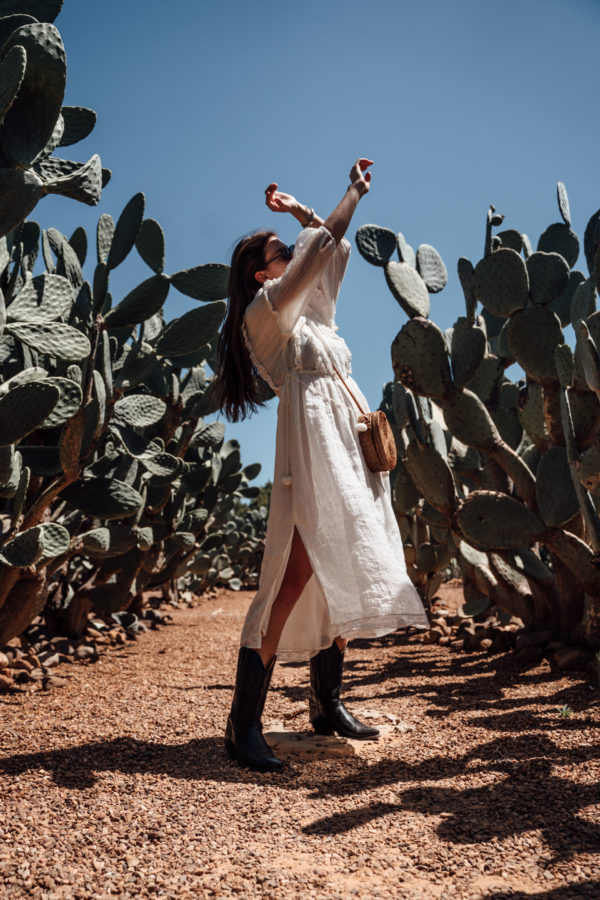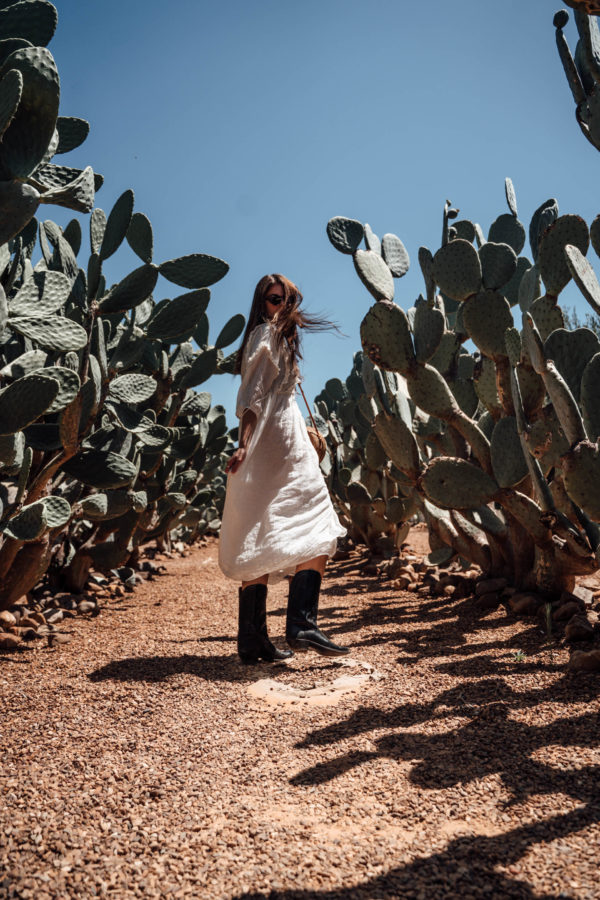 *Ad, brands named – Mango Dress || Old West Boots via Black Palms Shop || Ata Bag via Onvacayshop || Chimi Eyewear Sunglasses