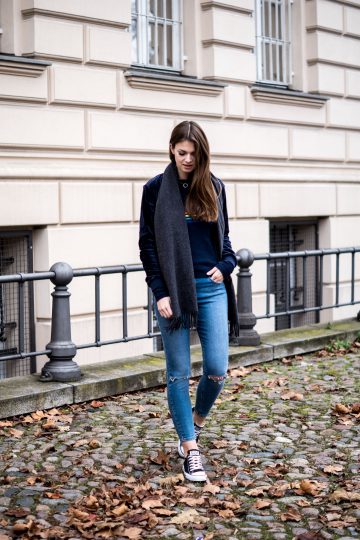 HAPPY WEDNESDAY! Half of the week is almost over and it's time to share another very comfortable outfit with you. These cold days definitely call for comfy outfits, don't they? Whenever it's cold outside, I really don't feel like dressing up. I'm wearing almost the same kind of outfit every day: warm sweater, jeans and sneakers. Of course, I'm wearing a warm jacket es well, but I don't want to talk about jackets in today's post. We usually only put the jacket on without thinking about the outfit, it's supposed to keep us warm, and we concentrate on what we are wearing underneath instead. So once again, you won't see me wearing a jacket – well, wearing the jacket I put on top of this outfit – here. But let's return to the outfit combination I'm wearing almost every day. I mentioned before that I'm quite bored of all the sweaters I have in my wardrobe because I wore them very often during the past weeks. The other day I visited the Subdued store here in Berlin and, of course, I chose one of their sweaters, but this time I wanted one with colourful stripes:
Sweater with colourful stripes
I have a lot of grey and black sweaters in my wardrobe, almost every sweater I own is unicolored and actually none of them is very colourful. When I visited the Subdued store, I saw this blue sweater with the colourful stripes. They have the same sweater in grey with stripes in different shades of grey, and that's actually the colour I usually would choose. But this time I didn't choose the grey one, I chose the
blue one. When you're wearing grey and black all the time, there comes the point when you get kind of bored of them. And especially in winter, there comes the point when I need a pop of colour. It's so dark and grey outside, and when your outfit looks just like the weather, you don't want to wear it anymore, do you? Maybe it's not the same with you, but it definitely is true for me.
I combined my new sweater with a pair of blue jeans, my black Converse (I told you, you'll see them quite often on the blog) and a blue bomber jacket. I was also wearing a grey scarf, because of the cold and windy weather. As you can see, it is a very simple outfit. I focused on feeling comfortable all day and didn't want to dress up at all. It's one of the outfits I wear when I'm sitting at the office all day. Boring, but I'm sure many of you are wearing this kind of outfit pretty often as well 😉 And sometimes it's all about the simple things in life, isn't it? Enjoy your day and let me know whether you like this outfit or not. xx
P.S.: Don't forget to take part in the Huawei contest to win a trip to China, cash and a Huawei phone. All you have to do is sharing a picture on Instagram, adding the hastags #dontsnapshoot and #DE and add the link to the Rafflecopter Competition and that's it. You can add as many pictures as you want. 🙂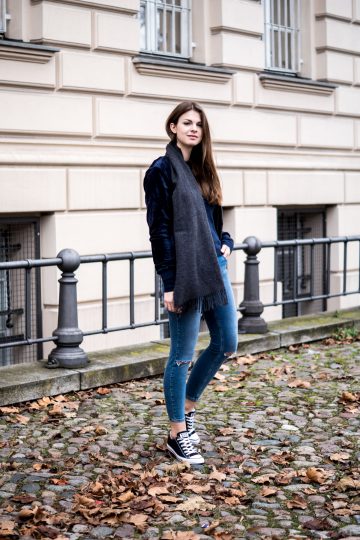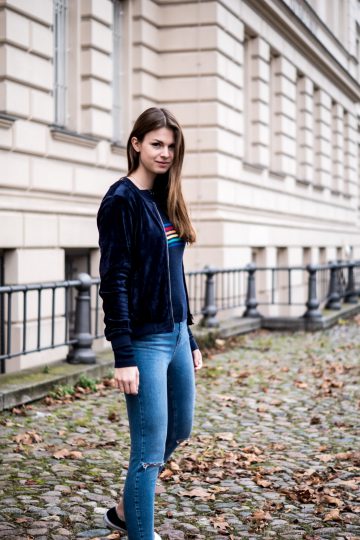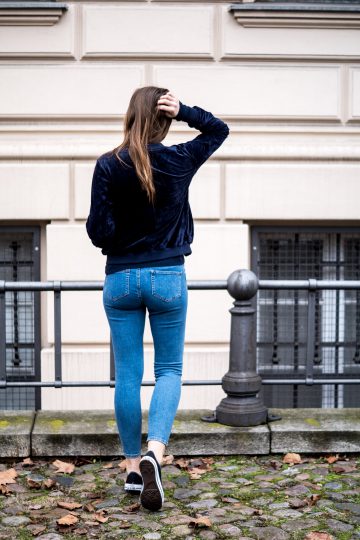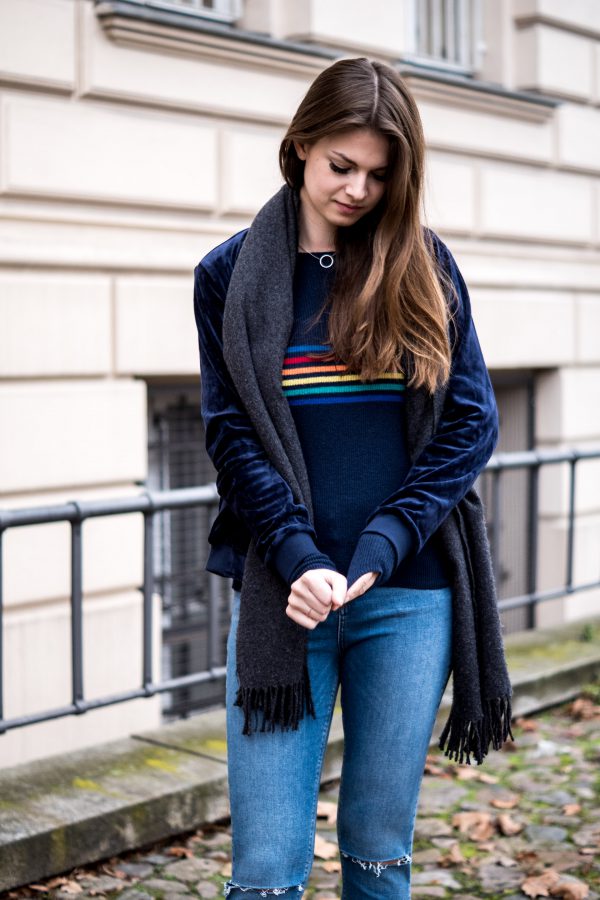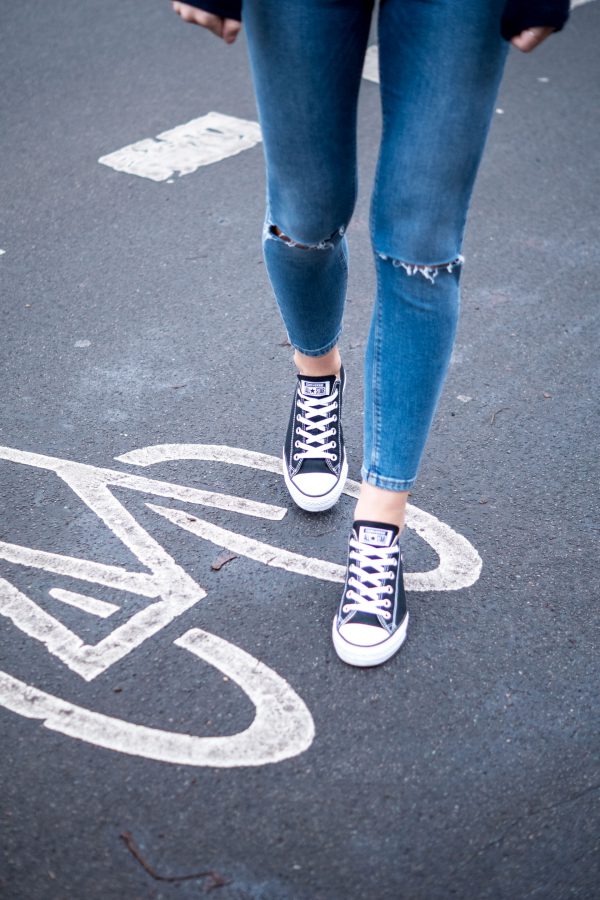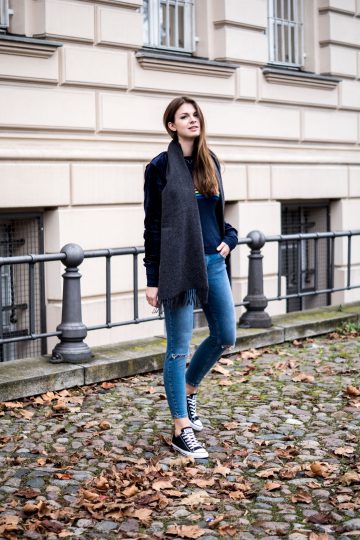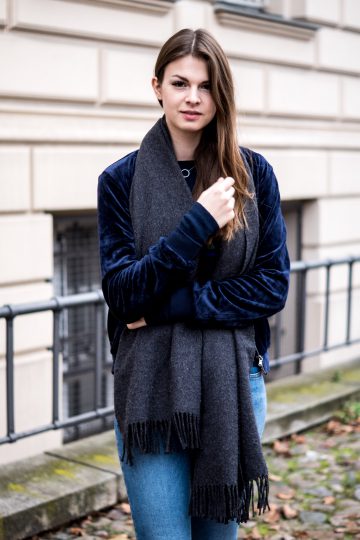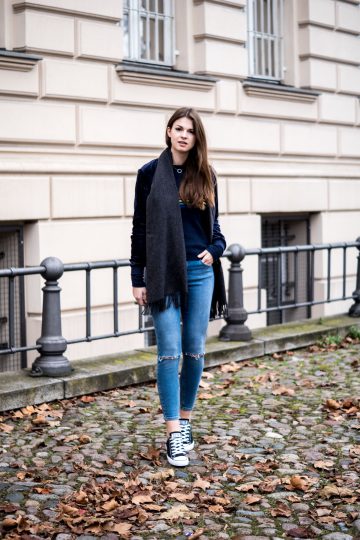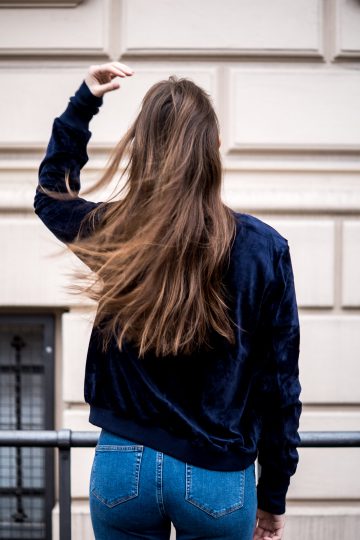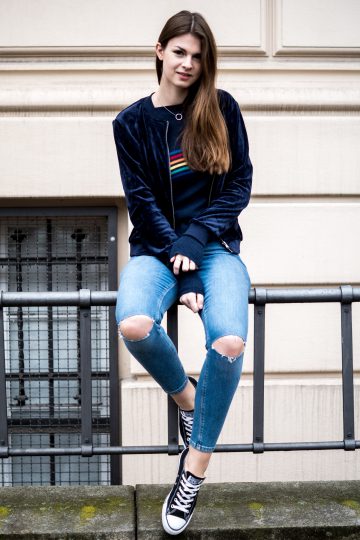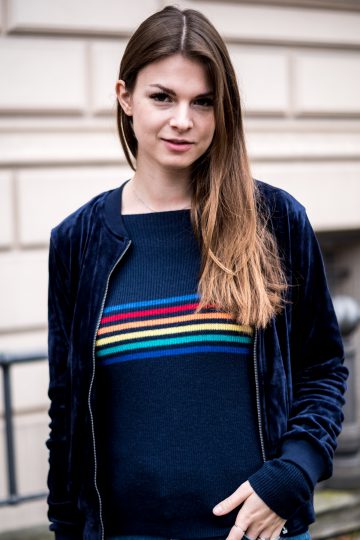 Jacket, sweater and jeans sponsored by Subdued, shoes sponsored by About You