Spring has just started, but you can't wait to wear all your summer clothes? No worries, you don't have to wait until June or July to finally wear them. In today's post I want not only share one of my favourite chic spring outfits but also share how you can wear your favourite summer dresses in spring with one pretty simple trick you've probably seen many times before:
How to wear a slip dress in spring
Whenever you want to wear summer clothes in a colder season, it is all about layering. Of course, it wouldn't work with a bodycon dress, but with slip dresses that are not too tight-fitted, it works just perfectly fine. You can either wear a thin sweater, a longsleeve, a t-shirt or a button-down shirt underneath a slip dress if you want to wear it in spring. If this is still not warm enough, put on some more layers. The most important layer is the one you can see as this should always be something looking good in combination with the dress. Underneath this optical layer, you can add whatever will keep you warm and can be worn underneath: another longsleeve, a t-shirt, a tank top or maybe even a heat-tec shirt.
The same goes for the bottoms. You do not have to go bare legs when you want to wear a slip dress in spring. If you don't want to put on a pair of tights, I would suggest wearing a pair of cycling shorts instead. But on a pair of boots and some warm socks and you should be ready to go.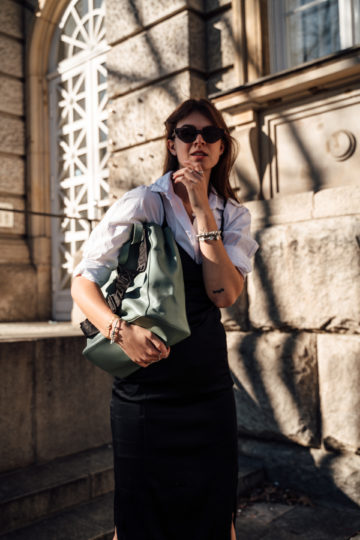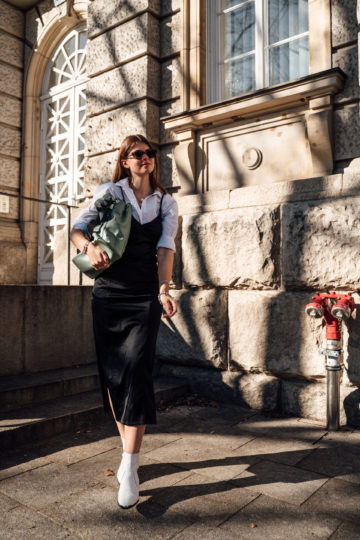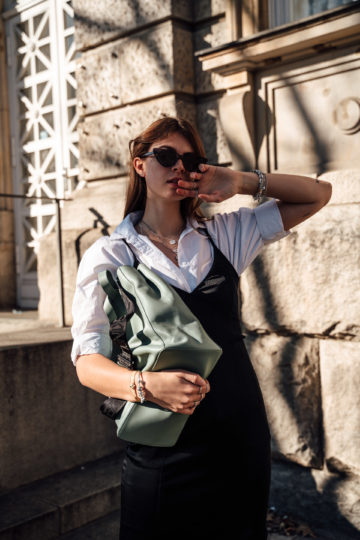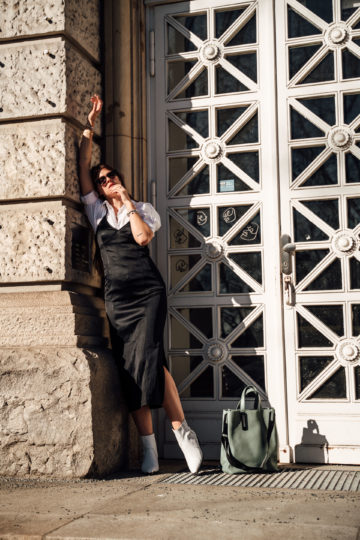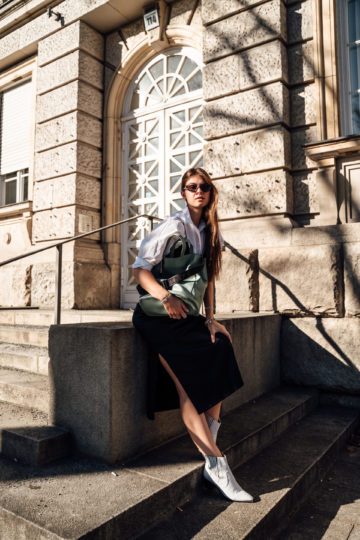 The day I was wearing this black slip dress in combination with a white button-down shirt and white boots, it was quite warm, and I didn't need anything else to stay warm. But, of course, you could always add a coat or jacket, if you still need some more layers to stay warm.
From small bags to big bags again
Last but not least I would like to talk about the bag. When I was younger, I only had quite big bags. That changed the more I worked in fashion and, of course, when smaller bags were a trend. I also loved the change to smaller bags because I started bringing fewer things I don't really need, and my bags got lighter. But bigger bags seem to be back in fashion, and I just couldn't deny as it is nice to change things from time to time.
The one I am wearing here is a new Liebeskind Berlin bag. The size is perfect for bringing my laptop when I am heading to the office or when travelling. But it is also a nice bag to just carry around on the weekend. All I have to keep in mind is not to bring too many things just because I have more space 😉
That day I wanted to wear this bag because I do like the colour and think it adds such a nice detail to the whole look. As I mentioned many times before, I always try to add at least one more colourful piece of clothing when wearing black or black and white. In this case, it was the bag. How do you like it? Leave me a comment and let me know. xx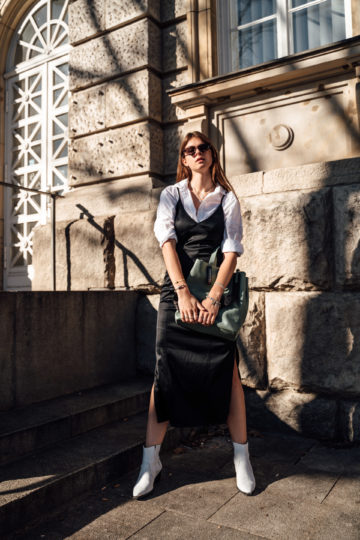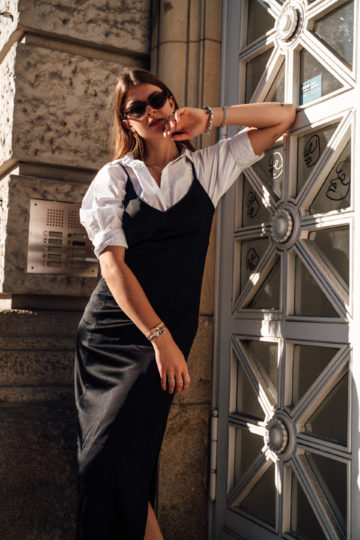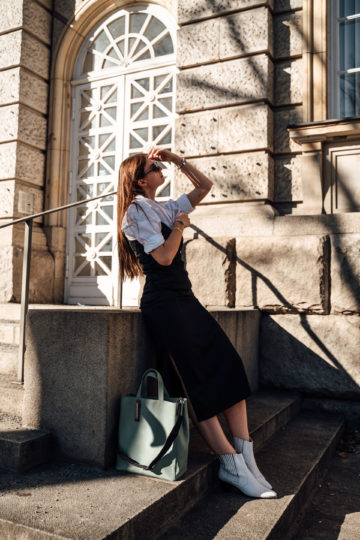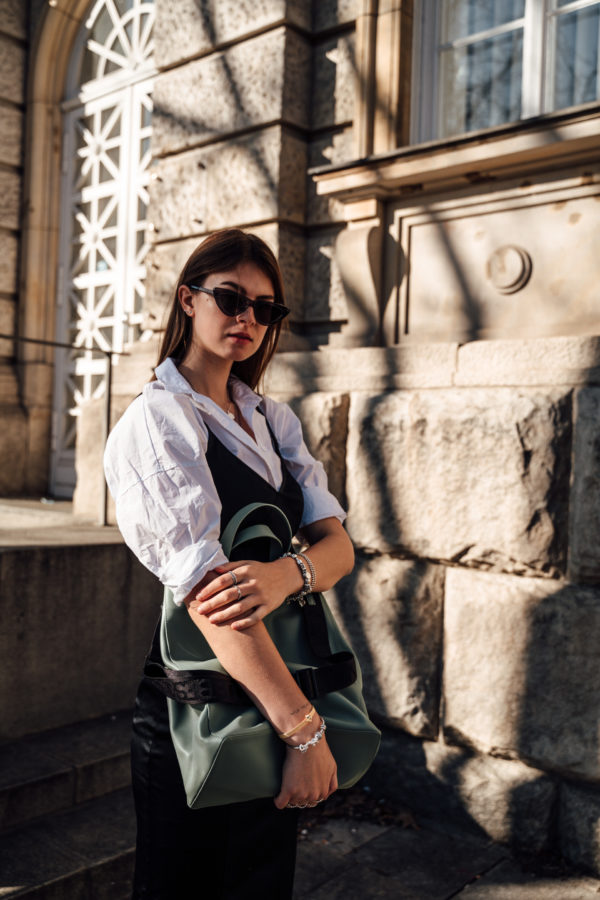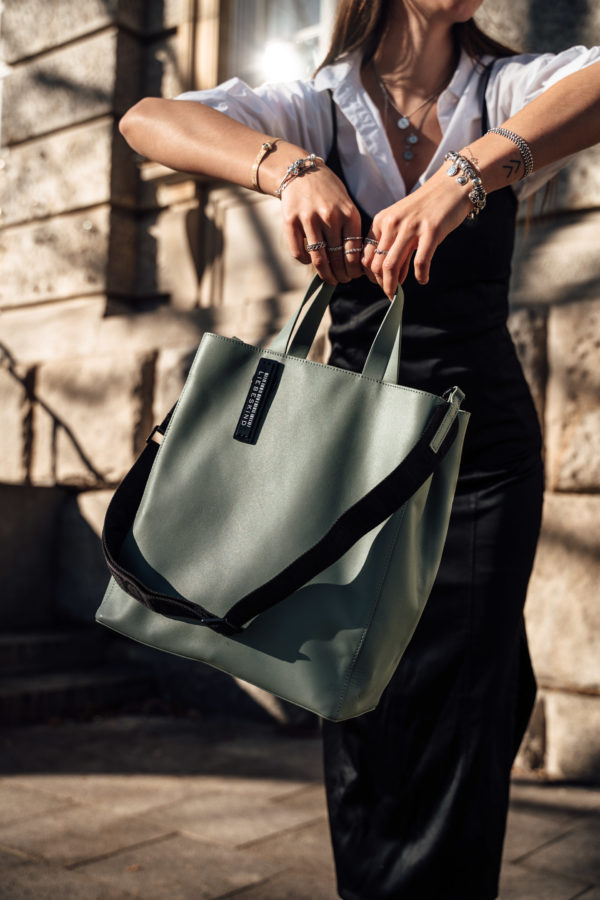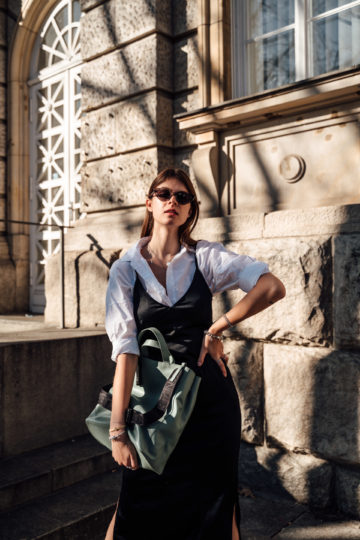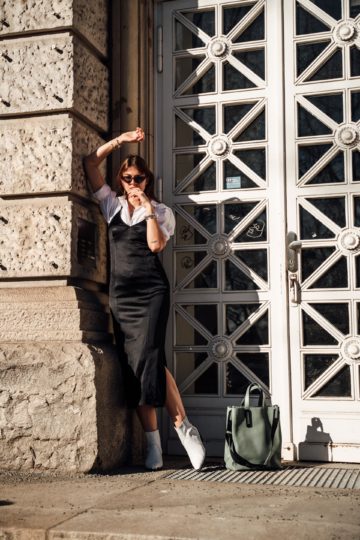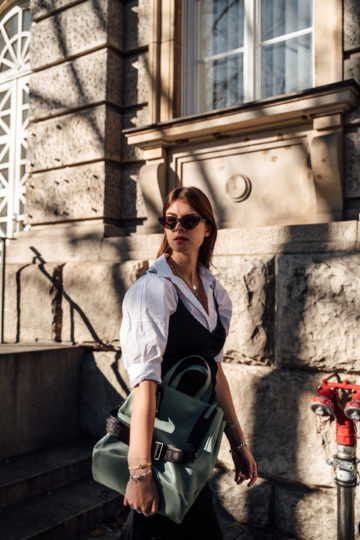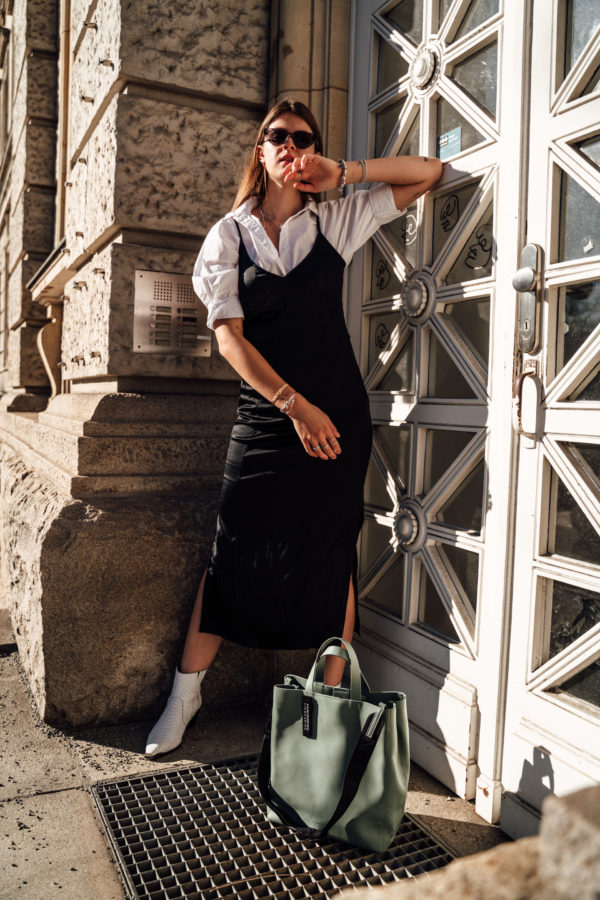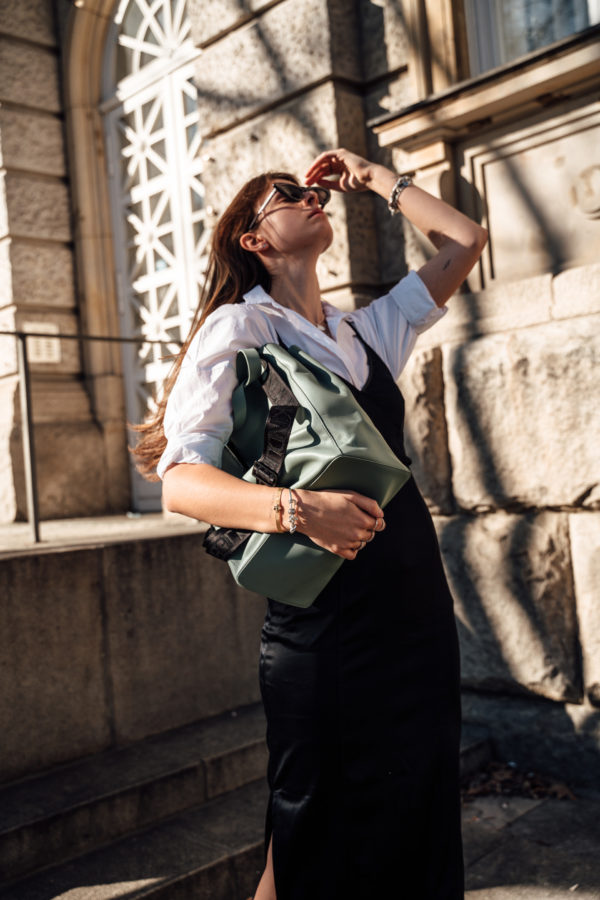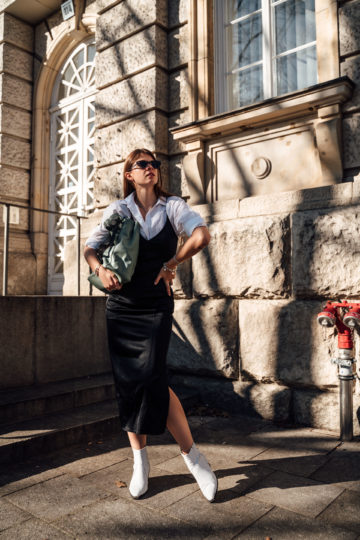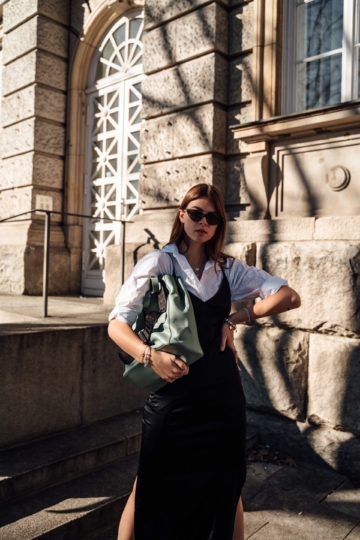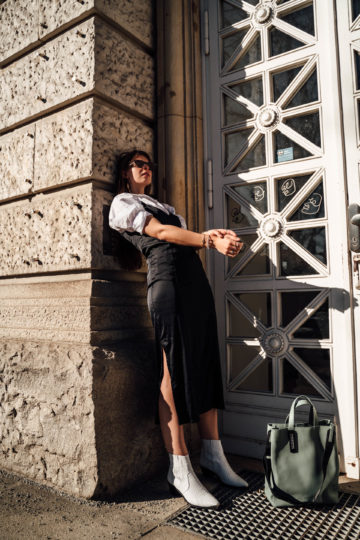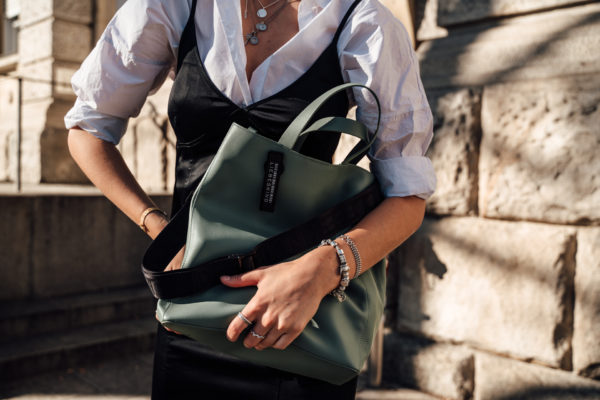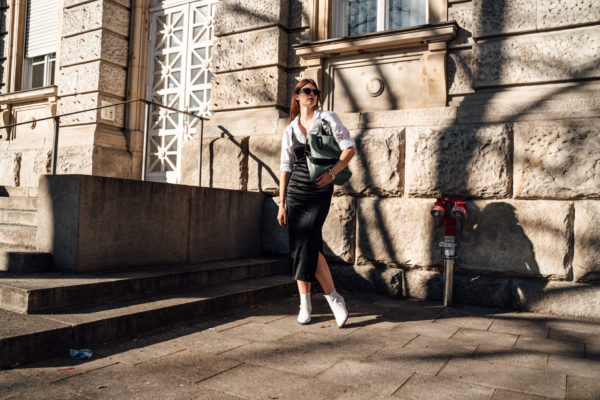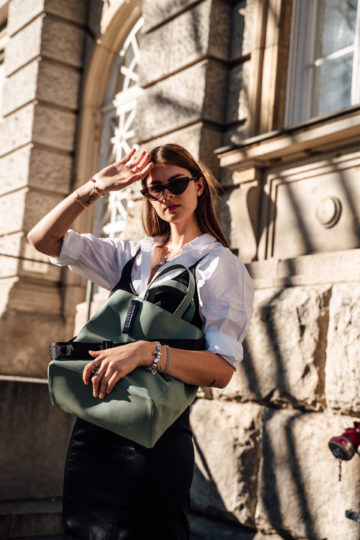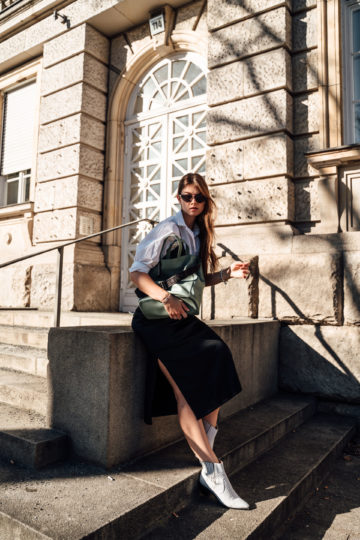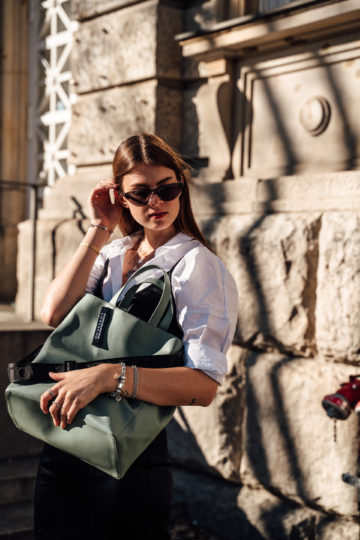 *Ad, brands named – Gestuz Dress || Minimum Shirt || Flattered Boots || Liebeskind Berlin Bag || Chimi Eyewear Sunglasses