Happy Friday, everyone! On Wednesday I started sharing my outfits from Berlin Fashion Week, and that's what the upcoming weeks probably will be all about since we took photos of eight outfits! But as you know, I am always putting outfits together, I would not only wear during Fashion Week but also in my everyday life. The outfit I shared on Wednesday is probably the most casual look I was wearing during Berlin Fashion Week. The one I am sharing with you today is also quite casual, but I added a few accessories that are giving the outfit the fancy touch it needs for a Fashion Week. At the same time, it still is an outfit I would wear daily.
Oh, and did I already mention that it is my favourite outfit from Berlin Fashion Week? Read more about it in the following.
Styling check pants with a white shirt and ugly sneakers
When I saw these pants I knew I need them in my wardrobe. They are super comfortable and actually remind me of a pair of sweat pants, but at the same time, they don't look like sweat pants at all. The check print, as well as the cut, make them look more fashionable. For Fashion Week in Berlin, I already had the first outfit combination in mind. I wanted to wear these check pants with an oversized white shirt, and that's what I did. I just wasn't quite sure what kind of shoes and which bag to wear with this combination. I tried on several options and ended up wearing my white and pink Balenciaga Triple S sneakers. I kind of liked the contrast and felt very comfortable in this look, and that's why I went with it.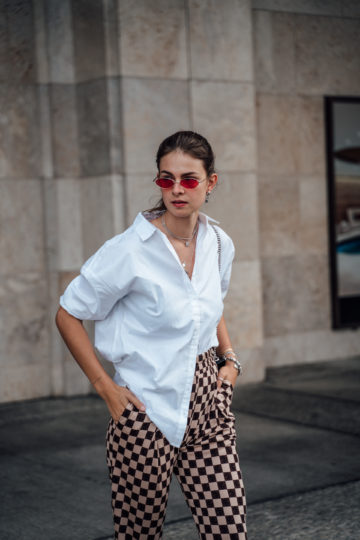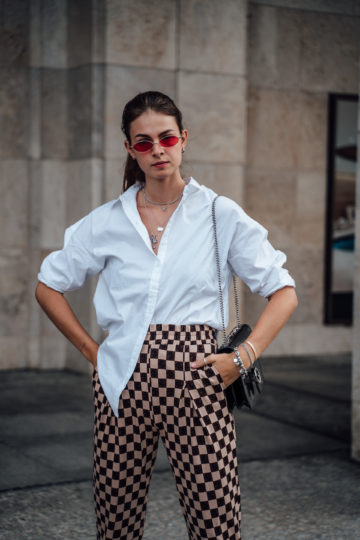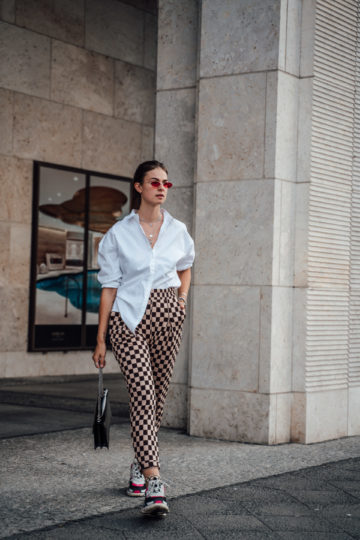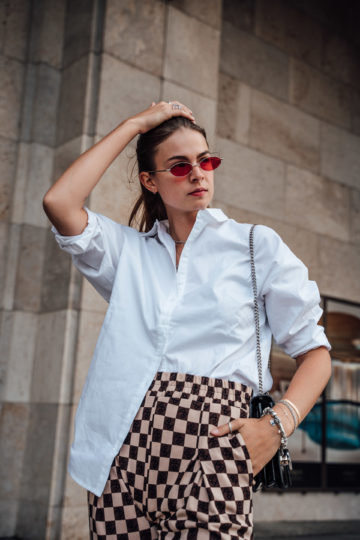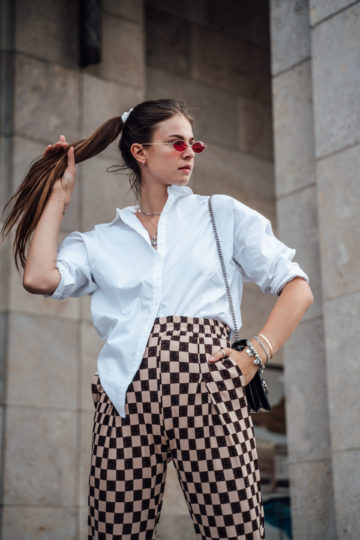 I am always into contrast and talked about it a few times on the blog. Putting together a contrasty outfit is always a good idea when you want to go for something not too basic. Contrasts always make an outfit appear more interesting. That's not only why I was wearing my Balenciaga sneakers with this outfit, but also why I opted for a pair of red sunglasses. I usually would never combine red and pink, but in this case, the red wasn't too bold and dark and the contrast too big, so it actually worked.
Only for the bag, I kept it very simple by wearing my black Gucci bag. It's such a classy bag, and that's why I decided to wear it with this outfit. I already had enough contrasts and eye-catching pieces for the look, I didn't need anything else to make it an interesting outfit, and even though it's only a classic black bag, it stands out as well and tops the outfit off.
How do you like it? Leave me a comment and let me know what you think about this outfit. Also, let me know how you would style a pair of check pants. Looking forward to reading your comments and all your styling ideas. xx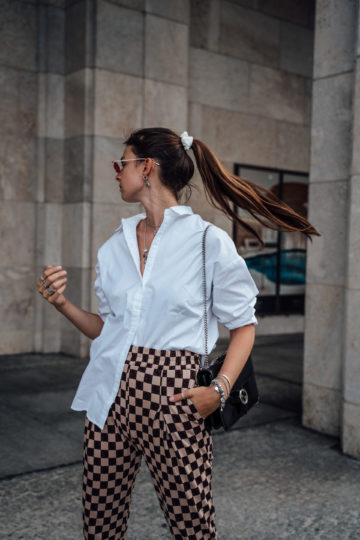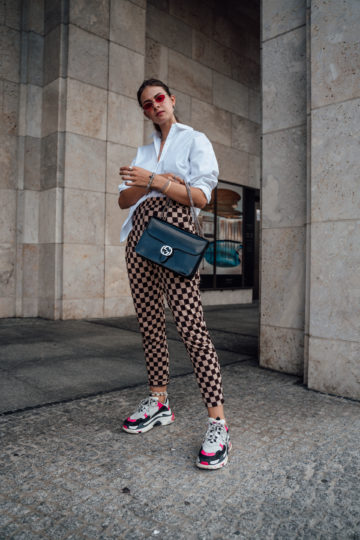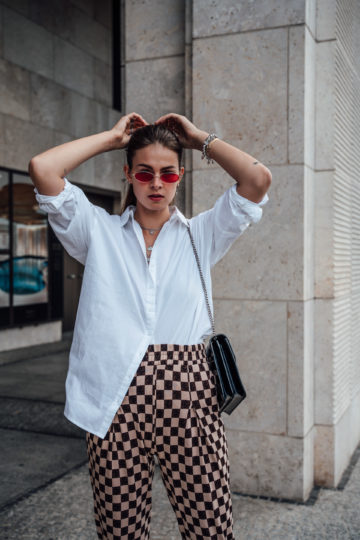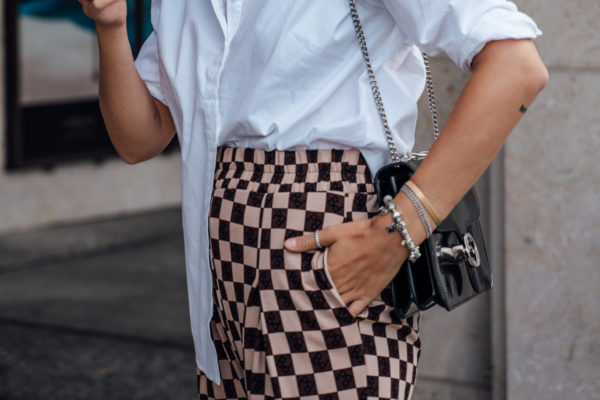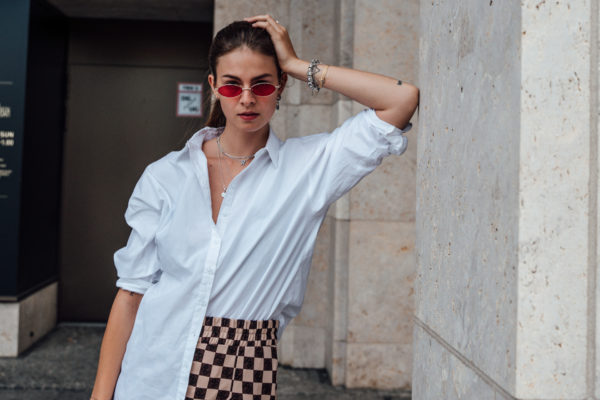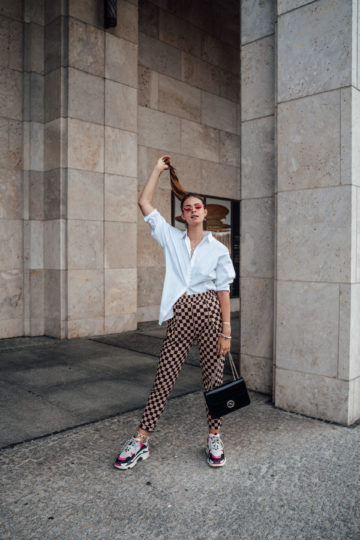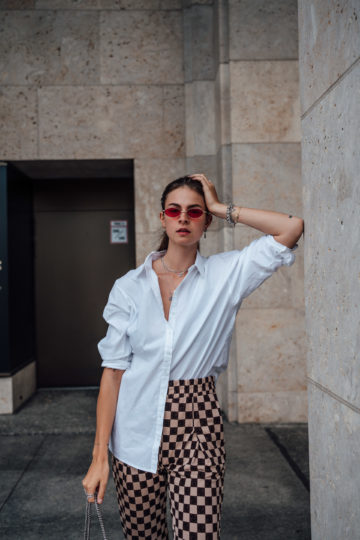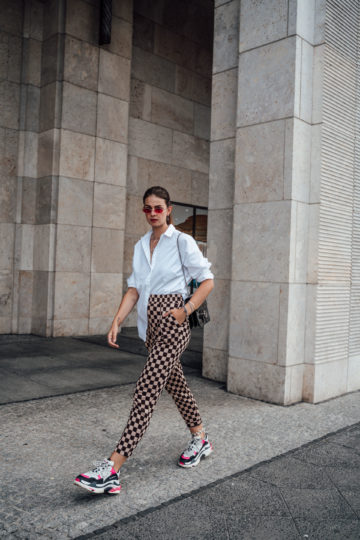 *Ad, brands named – Baum & Pferdgarten Pants || Gestuz Shirt || Balenciaga Sneakers || Gucci Bag || Pilgrim Sunglasses