Christmas is just around the corner, and you still don't know what to wear? Don't you worry, I put together a bunch of Christmas outfits for you, seperated in two categories: casual and chic. In today's post, I will share all the casual Christmas outfits with you and later this week I will show you what you can wear when you need something chicer.
Christmas season is the most festive season of the year but that doesn't mean that we always have to wear chic outfits. When we are spending the Christmas days at home with our beloved ones, a casual Christmas outfit also serves the purpose. Of course, casual doesn't mean wearing your favourite sweatpants and an oversized hoodie, I put together four casual Christmas outfits, that are comfy yet chic.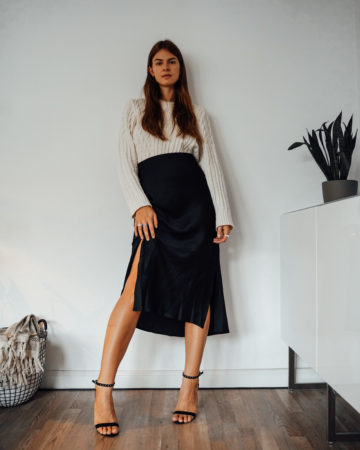 Wearing a satin skirt and a knit sweater for Christmas
In my opinion, this first outfit I styled for you, is the chicest of all casual Christmas outfits you are about to see in this post. I combined a black satin skirt with a very comfortable and slightly oversized knit sweater. For an even chicer touch I went for a pair of high heels, but you could also wear this Christmas outfit with a par of black boots. If you need to go outside with your Christmas outfit, I would suggest to put on a pair of tights and throw over a black blazer or a black coat.
Casual Christmas Outfit: Midi Knit Dress
If you are the kind of girl or woman who loves to wear dresses, knit dresses are your go-to dress for the winter months. And the best thing is that they are available in a tightly fitted as well as a loose fitted shape. For Christmas you might want to stick to the tightly fitted knit dress as it usually looks a little bit chicer. I opted for midi length knit dress with a strap you can tie around the waist. It's a lovely detail that makes the whole outfit more interesting and it adds shape, something you might want if you are not adding more clothes to this outfit. To finalise the outfit you can put on a pair of black or brown boots.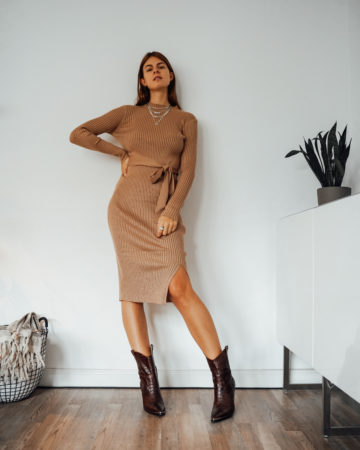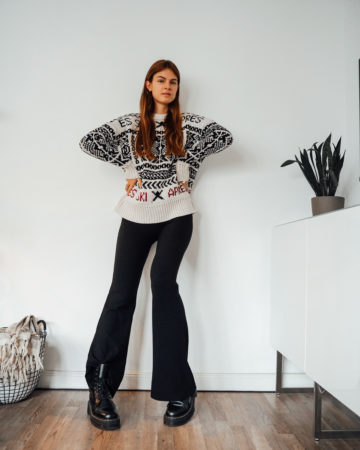 No Christmas without a Christmas sweater
A Christmas sweater belongs to Christmas the same way red carbbage and potatoe dumplings do. So, of course, I also had to add one casual Christmas outfit with a Christmas sweater as the keypiece.
When it comes to Christmas sweater, you can either go all in and wear an ugly one or you go for a more simple one, one you would even wear after Christmas 😉 I went for the more simple Christmas sweater and combined it with a pair of very comfortable flared pants as well as black boots.
It definitely is the most casual look I am showing you here today and if you need it at least a littlte bit chicer, you could always wear a pair of high heels of heeled boots and add a blazer for a chicer touch.
Wearing a black dress, an oversized blazer and cowboy boots for Christmas
Well, for the last Christmas outfit, I decided to create an outfit I would also wear in my everyday life. Often, I don't feel like dressing up for a special occasion and just want to wear whatever I feel most comfortable in and this last outfit idea for Christmas is such outfit. I am wearing a black dress with longsleeves, added an oversized blazer and my favourite black cowboy boots. For a chicer and more festive touch, you could wear it with sparkling tights and maybe exchange they greyish blazer and wear a black one instead.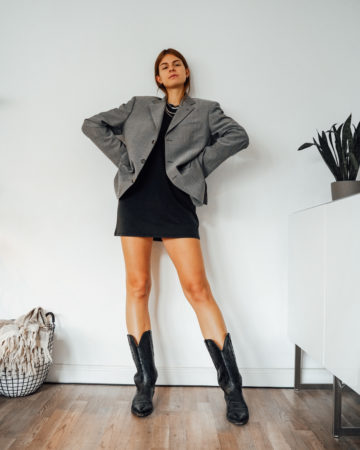 These are the four casual Christmas outfits I put together for you. Let me know which one you like best and if you already know what you are going to wear on Christmas Eve. I am looking forward to reading your comments. xx