Happy Monday, happy new week! I wanted to all the Fashion Week content to be published by now, but things changed and the last Fashion Week related post isn't ready yet. That's why I am sharing an outfit I was wearing last week with you instead and if everything works well, the last Fashion Week post will be online tomorrow. But I am sure you don't mind waiting one more day when you can have a closer look at another outfit in the meantime, do you? 😉
It's not a secret that the weather wasn't exactly what I wished for… it was quite cold, rainy and gloomy most of the days. Of course, the sun came out some of the days, but it still didn't get warmer than 20°C here in Berlin. The weather makes me feel super depressed and demotivated: I don't feel like doing anything at all, don't feel like writing new blog posts or getting dressed to take new outfit pictures. It's mid-July, and I am freezing when I am not wearing a jacket, I was even freezing the day I was wearing this outfit!
Black Robe – Pyjama Style
But this post is not supposed to be about the current weather situation in Berlin; it is about this outfit I was wearing last week. The key piece of this outfit is my new black robe I received the other day, and even though I wish it were warmer in Berlin, I was quite happy I had the chance to wear it the other day. I first didn't know how to combine it, and I actually wanted to wear it with a pair of denim shorts, but it definitely was too cold to be outside with bare legs that day.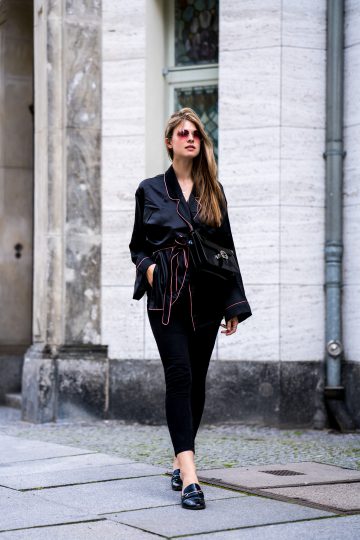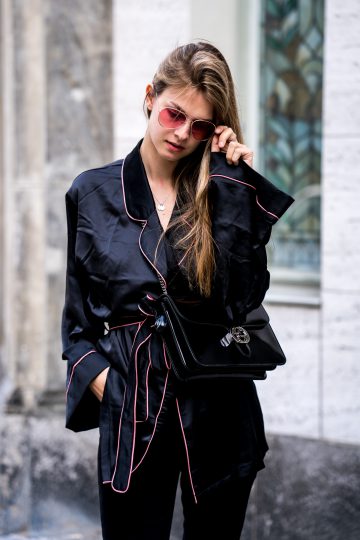 So instead of wearing a pair of denim shorts, I opted for a pair of black jeans. You know, you can never go wrong with a pair of black jeans! I have to admit, it is not the fanciest outfit combination, but it is one I feel very comfortable in. And I actually couldn't think of another combination that morning.
I finalised this outfit by adding my mule sandals as well as my favourite Gucci bag, some pieces of jewellery and another eye-catcher: my pink sunglasses. I opted for the pink sunglasses because they match the hemline of the robe perfectly, don't they?
I know, that some of you will love this style and others will hate it. I really like this robe and the pyjama style in general. It all depends on how you combine it. Of course, I have seen pyjama style outfits I didn't like as well. You always have to dress them up. When you combine them with a similar pair of pants, add a pair of sneakers and no other accessories, it quickly looks as if you are wearing your pyjama and forgot to get dressed before leaving the house. But even the combination of a pyjama style top and pants can look very chic when you combine it with a pair of high heels, a fancy bag and some beautiful pieces of jewellery – just to name one possible combination. How would you combine a pyjama style piece? And how do you like this black robe I was wearing last week? Would you combine it in a similar way I did or would you go for an entirely different outfit combination?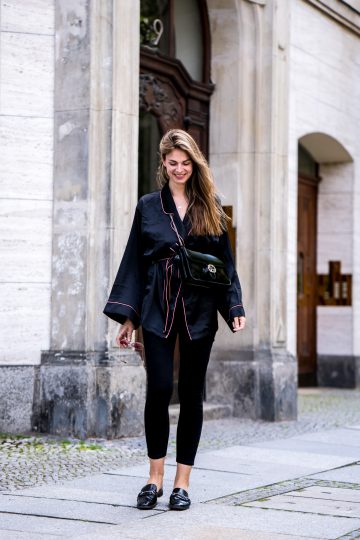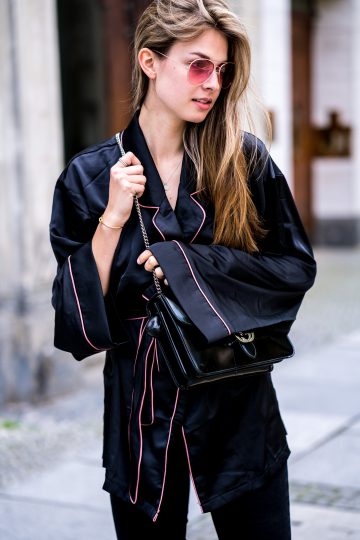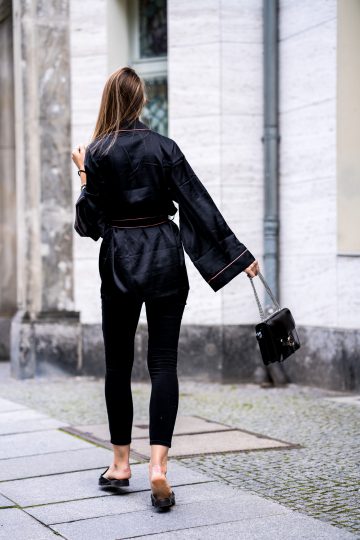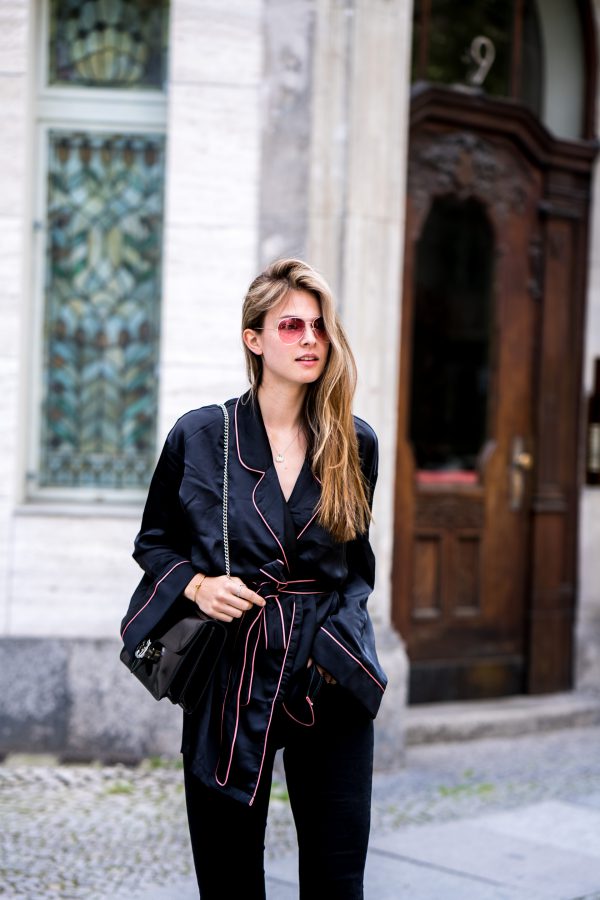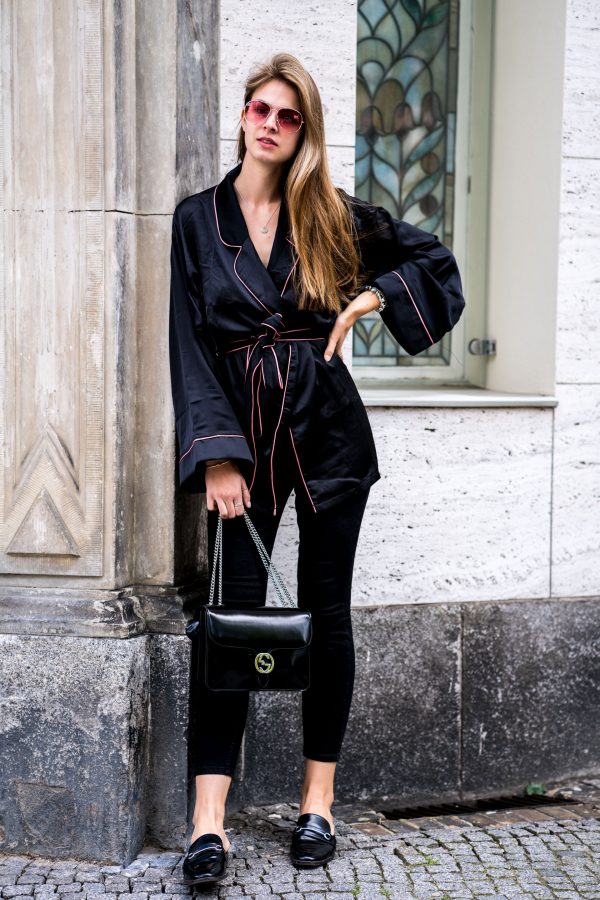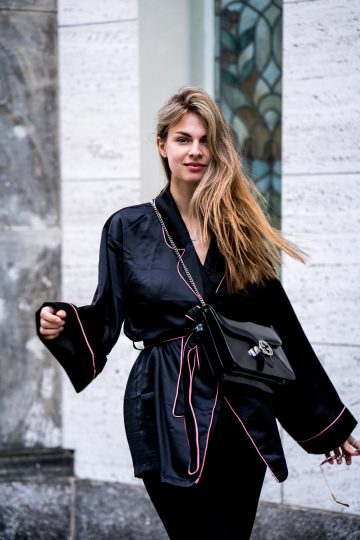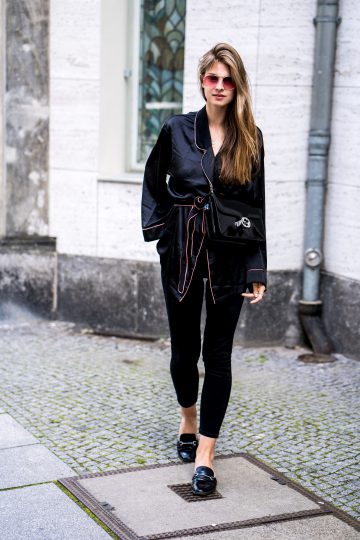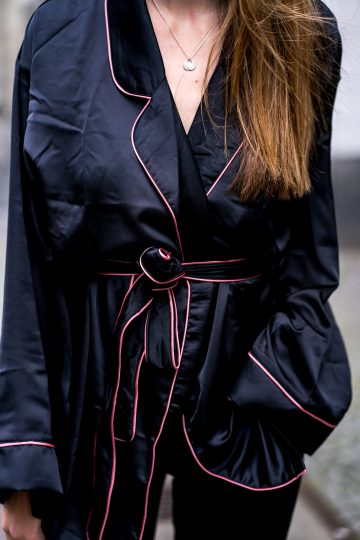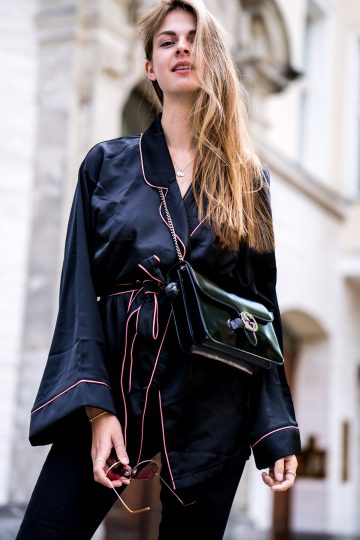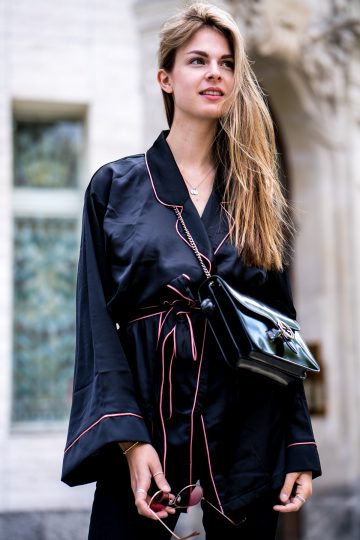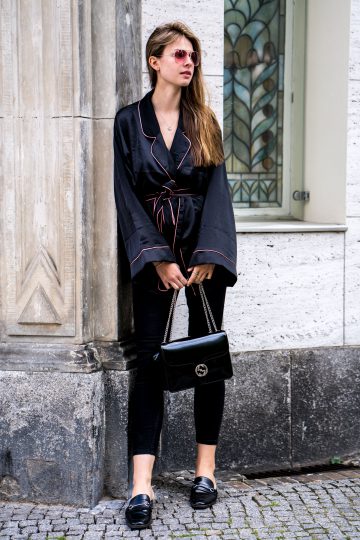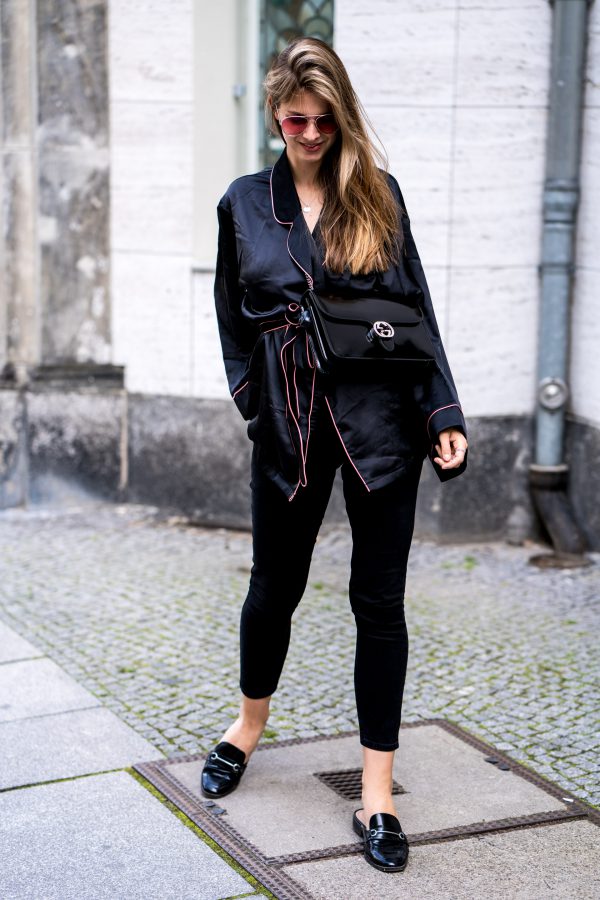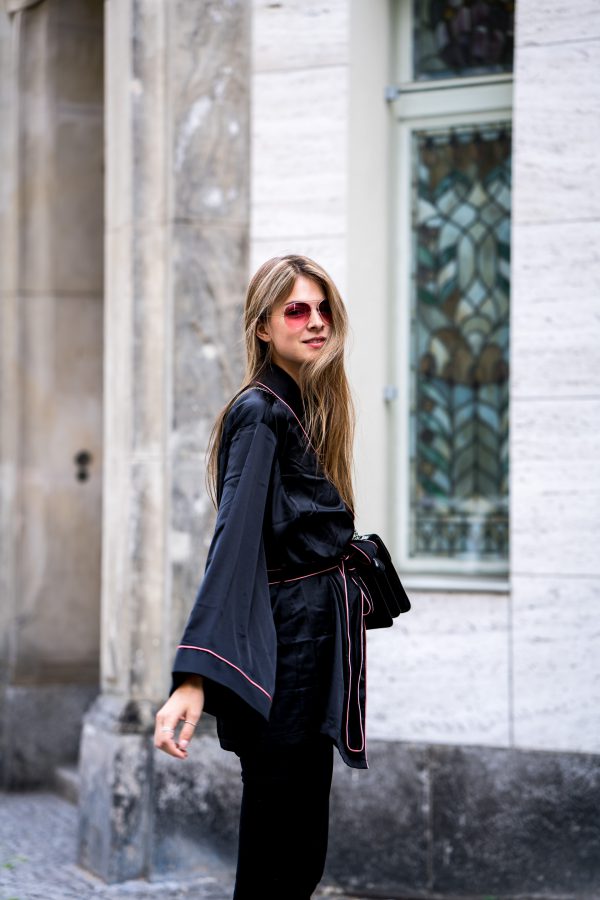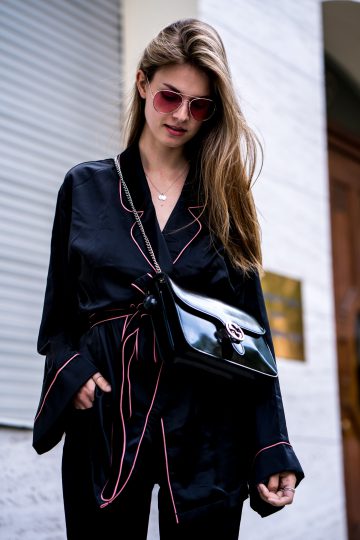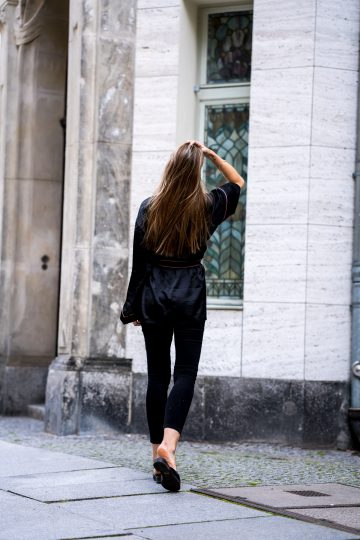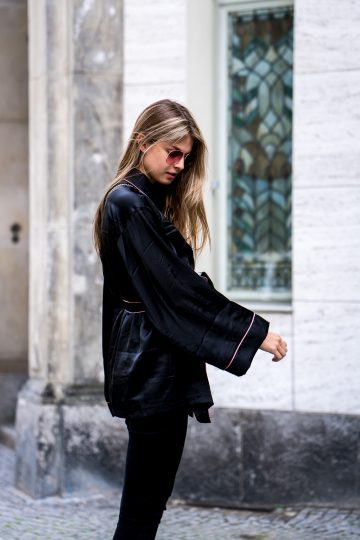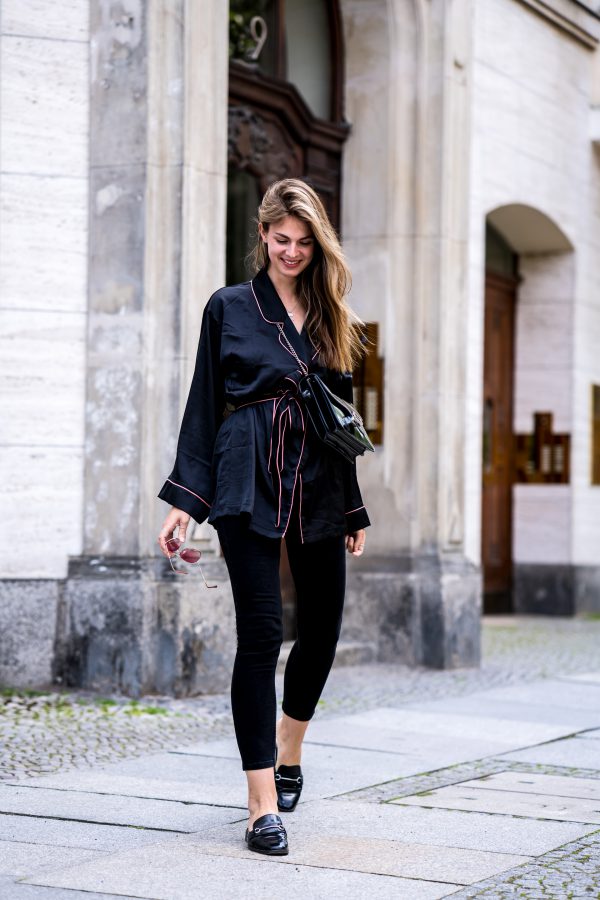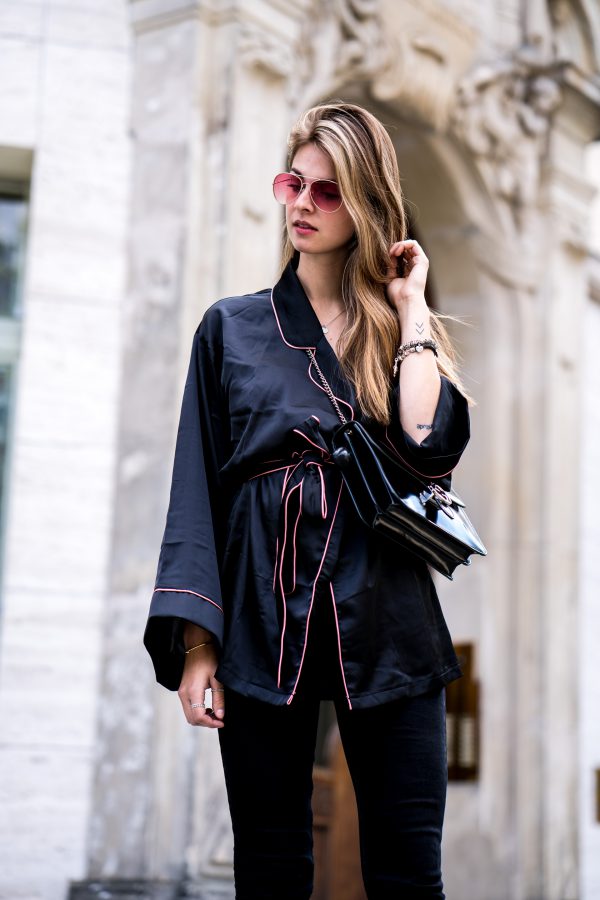 Sponsored products: Robe from Missguided, jeans and sunglasses from Subdued.