I want to start this post with telling you, that I am flying to Barcelona today. This trip was booked quite spontaneous, and I am more than excited to leave Berlin for a week and get to enjoy some sunshine and warmer temperatures in Spain. The reason why we are flying to Barcelona is a shooting I am having next week. It will take place on Tuesday and Wednesday, and I am super excited, but won't tell you more about it today. When the brand asked me to fly over to Barcelona, I asked them to book the flight a few days prior the shooting dates, and here I am, either still in Berlin or already on my way to Barcelona. I can't wait to lay in the sun, work on my tan and relax a little bit. The past weeks were quite exhausting, and I actually can't remember the last time I was on vacation somewhere warm and sunny. I will also use these free days in Spain to shoot some new pictures for the blog. Hopefully, I will be more inspired than I've been in Berlin lately 😉
Since I don't know how the internet connection will be in Spain (I heard it's not the best at the place we're staying…) and how much time I will have, I prepared a couple of outfits posts for the time I am not in Berlin. I hope you don't mind, but this way you will get some new outfit inspirations and most of them are quite summery! Let's start with this one I was wearing a couple of weeks ago…
Denim Shorts and Blue Shirt
The outfit I am sharing with you today is something I was wearing on a day spent at the office. I had a meeting that day, that's why I needed something comfortable but chic at the same time. Well, the outfit didn't have to be chic, but I didn't want it to look too comfortable – if you know, what I am trying to say.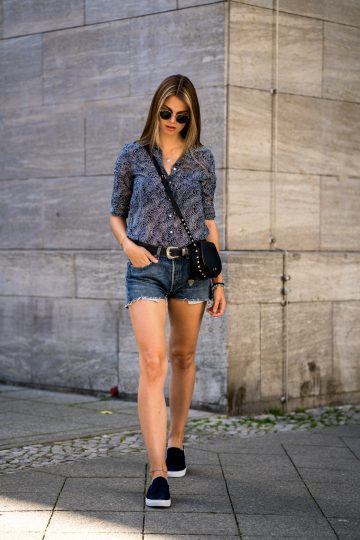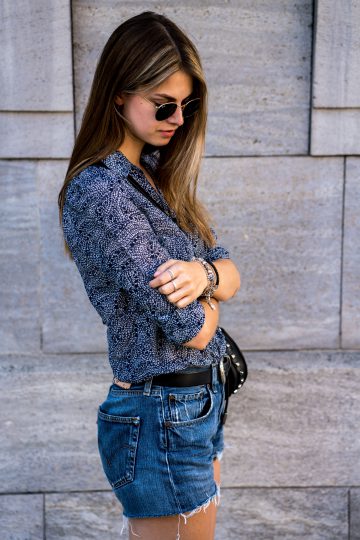 I definitely wanted to wear those vintage Levi's shorts in combination with these slippers. Both pieces are not exactly what I would call chic; they're very casual and, of course, comfortable. That's why I needed something less casual to combine it with. I first wasn't quite sure what piece to pick but ended up with this blue shirt from Gant. It is the perfect summer shirt because the fabric is very light and airy. It definitely was the perfect choice for that day. It was one of those balmier summer days, and without long sleeves, it probably would have been a little bit chilly.
I topped everything off with my cross-body bag from Rebecca Minkoff, a western belt I bought at Asos a couple of seasons ago (but I think it still is available, it's plus size) and my favourite round sunglasses from Ray Ban. Those are pieces I am wearing quite often, but that actually only confirms that it was worth buying them. And isn't it great what a big difference small changes like adding these pieces can make? Only three accessories make a whole different outfit. Just try to imagine what this outfit would look like without the belt, bag and sunglasses – pretty boring, huh?! So always remember: your outfit can be very simple as casual, you only have to add the right accessories and details to make it look appealing. How do you like this summer outfit? And what would you wear on a summer day spent at the office?