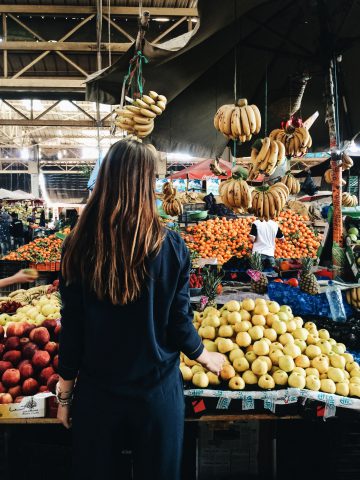 The past week has been very eventful, and I'm happy I can tell you a little bit more than that I was just working all week. I was in Morocco until Thursday, so I didn't sit at the office at all. Of course, I had to get some work done and worked even in Morocco, but work wasn't what dominated my days there. I was in Morocco for a week of surfing, and that's exactly what I did the first days there. We started the Saturday with two hours of surfing, but then we were quite exhausted and decided to go back to the surf house we were staying at. After two hours of relaxation, we drove to Agadir to see the market. I already mentioned a few days ago, but it wasn't as nice as we expected it to be. Of course, all the colours, the fresh fruit and vegetables were very nice, but the people we actually kind of annoying and we left after less than 30 minutes to go back to Taghazout and the surf house. We came back just in time for dinner, which was a super nice BBQ! 🙂
The next day we went surfing in the morning as well. Unfortunately, it was super windy, and the waves weren't the best, so we left after only 1 1/2 hours. Before that, we had lunch on the beach. Since it was only around noon, we decided to take advantage of the rest of the day and shoot some outfits on the beach. It was a lot of fun, even though it was a little bit cold due to the wind. When we came back to the surf house, I started to feel a little bit sick.
I thought it was because I didn't drink enough or because I was getting hungry, but it actually didn't get any better. I went to bed quite early, because I felt even worse in the evening. I don't want to share any more details, but that was the worst night ever, and even the next day I couldn't do anything but lying in bed. It was the same with Vanessa, so we stayed all day at the surf house on Monday. The waves looked so good that day, and I was a little bit pissed I couldn't go surfing… On Tuesday we were still a little bit weak and decided it would be the best if we take one more day off from surfing and other exhausting activities. So instead of going surfing, we walked through the streets of Taghazout and worked a little bit. We also sat down in a café where we had a fresh ginger tea and ate in a restaurant in the evening. We finally felt much better and were craving for some pizza 🙂
On Wednesday we actually wanted to go surfing, because it was our last day in Morocco. And guess what? The weather was shitty, and there were no waves so that we couldn't go surfing. You probably can imagine how pissed I was! We were in Morocco to surf and couldn't do it three of six days… I was finally starting to get a little bit better, I even tried a hard board and managed to catch a couple of waves. But instead of going surfing, we drove to Banana Village (that's not the actual name of the village, but that's how they call it) and visited the market. This one was a little bit nicer than the one in Agadir, but due to the bad weather, it really wasn't fun. We were back at the surf house in the early afternoon, went for a late lunch in a café nearby and sat there for a while to watch the ocean. Later that day we tried some aerial yoga, and that's actually it. We had to pack and work a little bit, just had dinner at the surf house and went to bed quite early.
We had to get up at 6 am on Thursday and a full day of travelling was ahead of us. First, we had to catch a bus from Agadir to Marrakech, there we took the flight to Madrid, and from Madrid, I had to get another three-hour flight to Berlin. I arrived around 11 pm, and you probably can imagine how exhausted I was. I actually wanted to sleep in on Friday, but I had a meeting at 8 am, so I had to get up quite early again. After the meeting, I drove to the office, worked a little bit but expect that I didn't do much that day.