The weather in Berlin right now makes me crazy… One day it's warm and sunny and the next it's cold again and gloomy. Those weather changes are pretty hard for the body, and I'm super tired at the moment. I just hope I won't get sick (knocking on wood). It's also super hard to get dressed in the morning. When the sun is shining, I would love to wear all the skirts and summer dresses, but I know that the weather can change even during the day and I don't want to freeze and get sick due to this. At the same time I'm so bored of all my winter clothes and between-season wear, I just don't know what to wear… so the other day when it was super sunny outside, I didn't care about possible weather changes during the day and put on one of my summer skirts: a black denim skirt.
Black Denim Skirt, Black Sweater and Striped Off-Shoulder Shirt
I combined my black denim skirt with a striped off-shoulder shirt – both pieces from Subdued. It's one of the outfits I had with me in Portugal, but I couldn't wear due to the rainy weather. I was so sad I couldn't wear it in Portugal because I absolutely love both pieces, especially the combination of both. Of course, it was a little bit too cold in the morning, that's why I put on a warm sweater as well.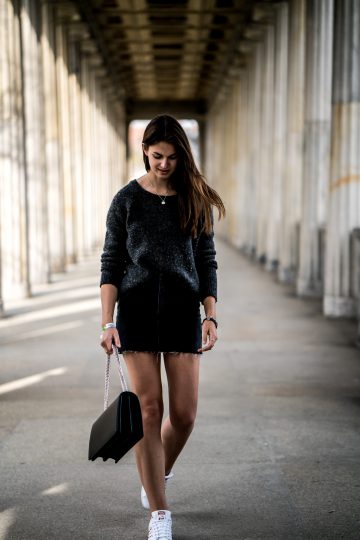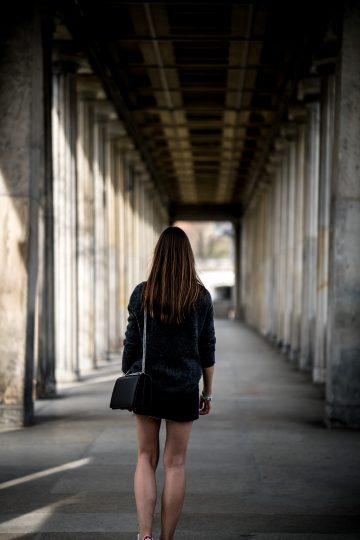 Around noon it was warm enough to take the sweater off, but before noon it definitely was too cold. But I didn't mind wearing a warm sweater because I actually like the combination of summer skirts and winter sweaters as well. When the weather is finally getting better, I will wear this outfit combination more often, that's for sure. It usually just isn't really possible in Berlin, because it's either too cold or too hot for it. So let's hope for some perfect skirt-sweater-outfit days soon 😉
Let's talk about how I finalised the outfit: I added a pair of white sneakers, my Agneel bag as well as some pieces of jewellery and that's it. It's such a casual yet girly outfit, perfect for warm spring days. And since I chose white sneakers that day, it was also the perfect outfit for a stroll through my hometown, Berlin. Speaking of which, how amazing is this location? I always wanted to take outfit pictures here, but usually, it's too crowded, or we're just not around this place. Whenever I pass it, I can't get my eyes off it. I love the collonade, the view of the TV tower and the river. It definitely is one of my favourite places in Berlin. Not only this particular location but the whole area around. For those who want to visit it as well: it's part of the Museum Island Berlin. Whenever you're in Berlin, make sure to stop by here, take a stroll, enjoy the beautiful views and visit some of the museums. It's always worth a visit. And with that said, it's time to stop talking and finally show you the outfit pictures. I hope you'll like them. xx