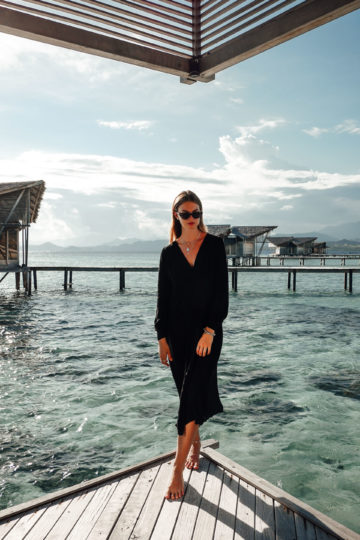 I am back in Berlin and ready to share all the pictures and videos from our time in Gorontalo and Bali. At the moment, I am a bit overwhelmed as it's just too much content and my head is filled with too many things I want to work on, get done and start. My head basically is a mess haha. But I will sort everything us and get organised this week, at least that's the plan. I will definitely keep you posted about everything that's going on, but for now, I will leave you with another post from Gorontalo.
We didn't take a lot of blog pictures when we were at this small resort near Gorontalo. Most photos we took were for Instagram, but don't worry; I will also share some of them on the blog. Today I want to share the only outfit pictures we took at Pulo Cinta. As I was wearing bikinis and swimsuits almost all day, there weren't any outfits I could have taken pictures of. But for breakfast, lunch and dinner I had to get dressed, and this beach dress is one of the things I was wearing a lot.
The perfect vacation outfit: a black beach dress
When on vacation, we do not want to care about our outfits. We want to take it easy, wear swimwear almost all day and just put something light and airy when we have to wear more than swimwear. My go-to piece in Gorontalo was this black beach dress. The fabric is very light, the cut airy and it's put on in no time. I didn't have to add a lot of accessories and more details to make it a proper vacation outfit, so I all I was wearing was a few pieces of jewellery as well as a pair of sunglasses. I wasn't even wearing shoes as most of the time during this vacation. The only "pair of shoes" I was wearing were my flip-flops, so nothing worth being photographed 😉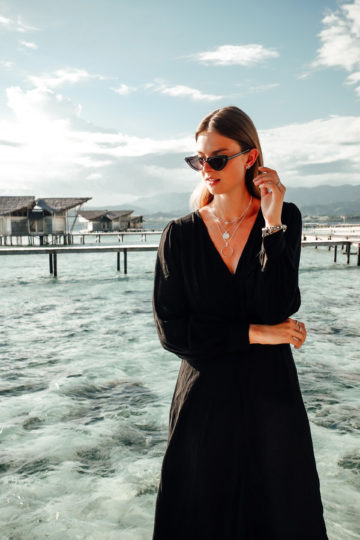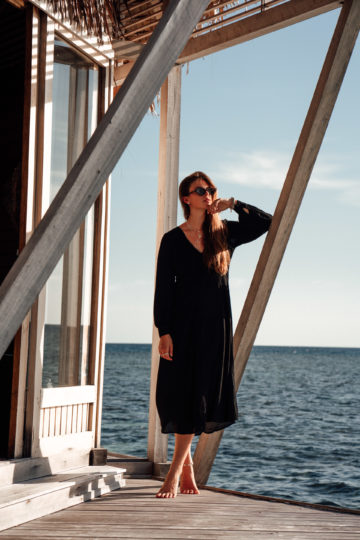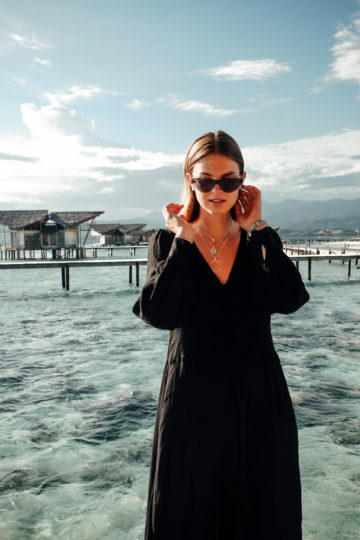 Beach dresses are definitely my favourites when it comes to vacation outfits. And I start to like dresses, in general, more and more. I used to be a pants-and-shorts kind of girl, but I started to enjoy wearing dresses a lot and also value the easiness of them. It's so easy to put together a summer outfit with a cute dress; sometimes it's easier than a shirt-and-shorts combination. And that's said by someone who loves shorts! I still do love shorts and wear them a lot. But when I wear shorts on vacation, I just put on a simple white t-shirt, and the final look doesn't look interesting at all. It's a very basic look, something that works every day, but nothing that stands out.
What is your favourite piece of clothing for the summer? And what do you wear when on vacation? I would love to hear everything about your go-to vacation outfits in the comments. xx
P.S.: The next two days won't be outfit posts. I will share some other pictures we mainly took for Instagram when we were in Gorontalo, but as we got quite a lot of pictures, I thought why not share them on the blog as well. Let me know if there's any topic I should write about when sharing these pictures. Do you want to know anything about Gorontalo, Indonesia or hear my thoughts about the problems that all the plastic causes?