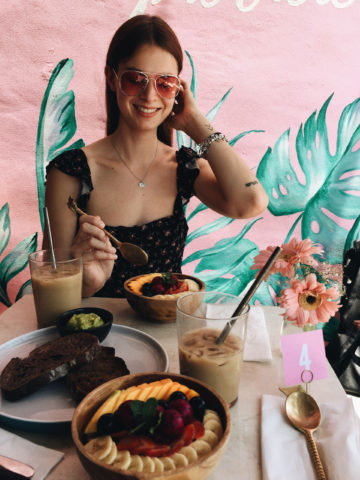 Happy Sunday and greetings from Bali! Today is the second and last Sunday in Indonesia, and I wish we had more time to explore the island as well as the ones around. We have had an amazing time, so there is a lot I can write about in today's "24 hours a day, 7 days a week" post 🙂
We were still in Bali last weekend before we took a speedboat to Lombok on Monday. As you might know, we were staying in Seminyak for the weekend where we had another private pool villa. I mentioned before that I like Canggu better than Seminyak, but we had a great time in Seminyak as well. We didn't do a lot and spent most time of the day at the villa because it was too loud and crowded in Seminyak. On Sunday we drove to the beach to see whether we can surf there or not, but there were almost no waves, so we headed back to the villa and spent some time by the pool instead. We also had to get ready for our trip to Lombok, book a speedboat and pack our bags. We were picked up on Monday at 7 am to drive to the harbor Padang Bai, which was about 1,5 hours away from the place we stayed at. Seven hours later, at 2 pm, we finally arrived in Lombok. I really enjoyed the views and didn't mind taking the boat (the drive itself took about four hours), but after getting up at 5.30 am in the morning I was super tired and exhausted when we arrived. We spent the rest of the day by the pool at the hotel and went to bed early.
We had only three nights in Lombok, so we spent our Tuesday and Wednesday with exploring the island. We had a scooter for these days there and drove along the west coast. We did the upper west coast on Tuesday and came across some of the most beautiful viewpoints. The further you get to the north of the island, the better is the view of the Gili islands. The next day we drove all the way down on the west coast. We first didn't have a real destination, but then we came to a blocked road and had to make a plan. We decided to drive to Selong Belanak Beach, and it was a very good decision. This beach has the most amazing scenery I have seen in a while. We spent some hours at the beach, had a late lunch there as well and headed back to our hotel in the evening. I will soon share a post about our days in Lombok and this beach, so stay tuned 🙂
On Thursday it was time to go back to Bali. We were looking for speedboat trips the evening before, but couldn't find a really good offer… I also had caught a cold and wasn't feeling good, so we went to bed without booking something to get back to Bali the next day.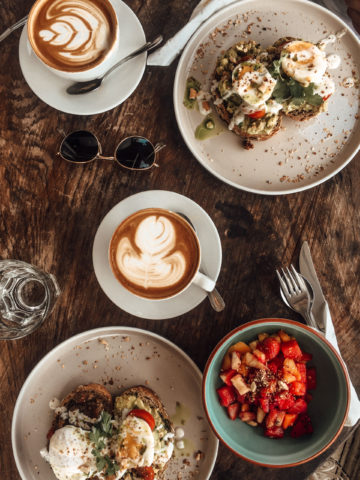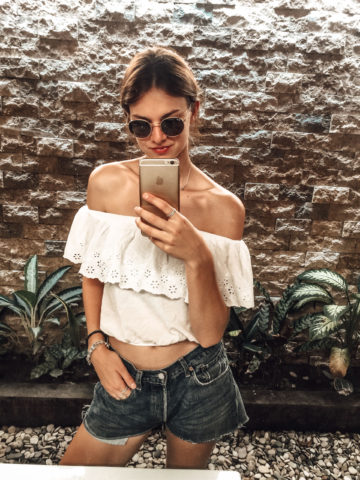 We got up quite early on Thursday and the speedboat trips we had seen the day before were now sold out. Also, almost every flight was sold out (you usually get a flight ticket from Lombok to Bali for 20 to 30 Euro). The only plane that was still available was a business flight for around 80 Euro. We didn't have a choice and had to book it. But guess what? Even though we paid three times as much as we would have when we had booked earlier, it was such a fun experience. A 30 minutes flight and we got the full business program: welcome drink, snack and a private shuttle from the plane to the terminal.
Once we were in Bali, we had to replan all our Airbnbs for the upcoming days. The one we had booked wasn't what we were looking for as we had to realize once we had booked it and texted with the owner about further details. We booked one night at the place we stayed at for the first three nights in Bali and another one for the next two days. So on Thursday we headed to the first place and only had dinner before going to bed early. On Friday we had to leave the villa and drive to the other one. Luckily we had time until 2 pm before check out, so we first headed out for breakfast, packed our bags afterward and got ready for an hour of surfing. It was the first time we went surfing here in Bali, and I was so looking forward to it. Unfortunately, the waves weren't the best, and it was super crowded with beginners. Either there weren't any waves, or you couldn't try to catch it due to the crowd. But at least we made it into the water, with surfboards and we got a feeling for surfing again 😉