Starting the new week with the first Lombok related post. I haven't shared as much as I wanted to and unfortunately, I have little hope that it will change before I am back in Berlin. And even when I am back in Berlin I have only 48 hours to unpack my bags, do the laundry, to acclimate and to pack my bags again – for a week in Portugal. But that's another story to be told. Since I am sitting here in our last accommodation here in Bali with a little spare time, I am taking advantage of it to write this post. It is 6 pm right now, that's 11 am in Germany. So yes, it's going to be online quite late by my standards (I usually post between 8 and 9.30 am), but better late than never, am I right? 😉
So today I want to share the first post with pictures taken in Lombok. All the posts I will share from Lombok will be guides, and there's more to come. Later this week I want to share a guide with things to do on the west coast of Lombok and today's topic actually is part of it. But since we took such nice pictures for this topic, I wanted to dedicate it a whole post. And I am sure; you will love it as well!
Get lost in Lombok's Palm Tree Fields
Lombok has so much to offer, and palm tree fields are one of the things. It is one of the things that caught my eye as soon as we started our day trip along the upper west coast of Lombok. Well, it actually already caught my eye when we were on the boat driving along the coast.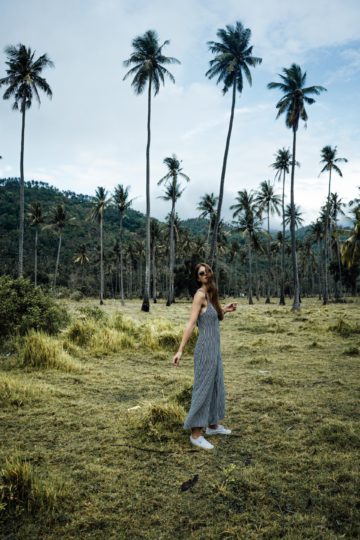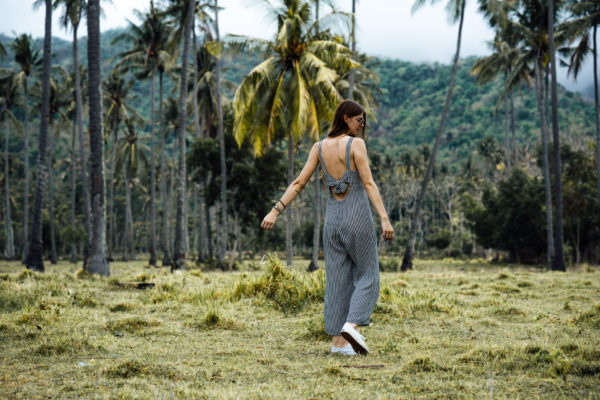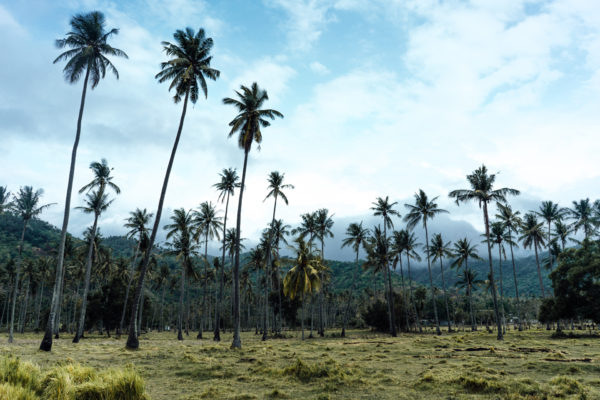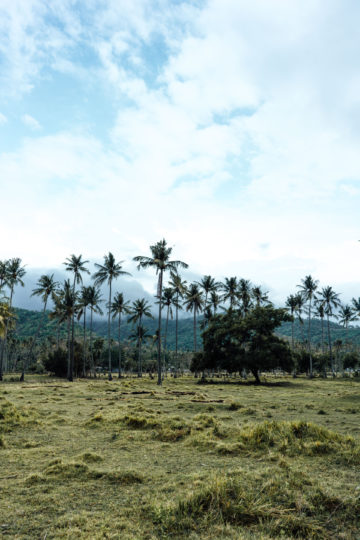 But from the water, you can't see how big those fields are, and it actually looks like there are only some palm trees on the beach. But yep, it is not only a few palm trees; it is fields of palm trees! Fields full of palm trees!
It isn't only a must for all palm tree lovers to walk through one of those fields. It also is a must for everyone enjoying the beauty of nature and for those who want just to explore Lombok and see most of it. What you can't see in these pictures are the cows, chickens and other animals that were grazing and walking around there. There also where some locals, probably the owner of the animals there. 🙂
The Palm Tree Field at Pantai Setangi 3
These fields can be found everywhere in Lombok; I saw plenty of them. But if you want to go to exactly the one we took these pictures at, you have to drive to Pantai Setangi 3. It is a beach that is only little-known by tourists. When we were there to take the pictures in the palm tree field, we couldn't see any tourists but us. There were only a few locals on the beach even though it really was a nice beach. It was cleaner than many other beaches I have seen in Lombok, and you could even go for a swim there. You must know, that it isn't possible to swim on any beach in Lombok due to the current and other factors. So when you want to see a nice palm tree field and have some relaxing time on a beach, then put Pantai Setangi 3 on your "places to visit in Lombok"-list, you won't regret it. It may be a little bit far when you are staying in Kuta, but it is very close to Senggigi on the west coast of Lombok.