Blog Posts of the Week
Last week I finally shared the last two outfits from Berlin Fashion Week. A bit late, I know, but as you know, I just don't have the time to write as many posts as I used to last year as I am currently focusing on other projects as well.
The plan was to share more than just two outfits, but due to my trip to London, I didn't have enough time.
So let's talk about the two outfits I shared. As I already mentioned, both were Fashion Week outfits I was wearing in Berlin two weeks ago. The first outfit I shared was a combination of a white bohemian style dress with platform sneakers. This actually is a look I would also wear when spending the day at the office or on the weekend. The second outfit I shared this past week was my favourite look, and it was the one I was wearing on the last day of Berlin Fashion Week. I was wearing my new Balenciaga Triple S sneakers, and I combined them with a blazer dress I just got during Fashion Week.
Make sure to check out both posts and let me know which one of them is your favourite. I would love to get your feedback.
Looks of the Week
Due to the festival and my travel to London, I do have some more outfit pictures I can share today. And I also shot some looks in Berlin. You see, it was a productive week outfit-wise. 🙂 We didn't shoot all the outfits I was wearing with the iPhone, so you will see some of them once they are published on the blog, but not today. 🙂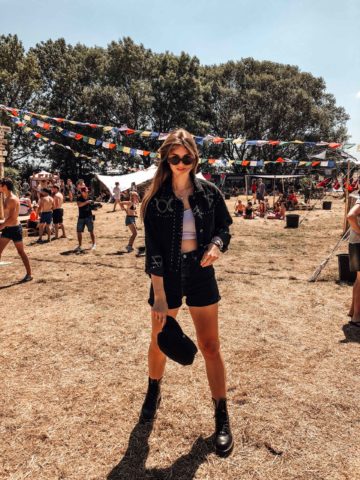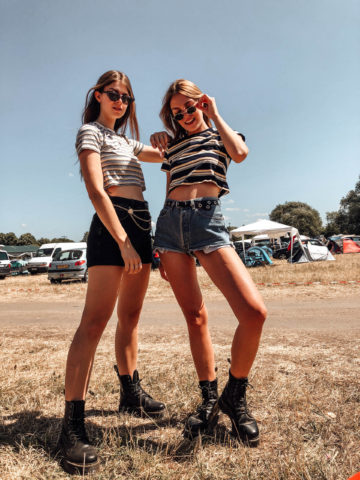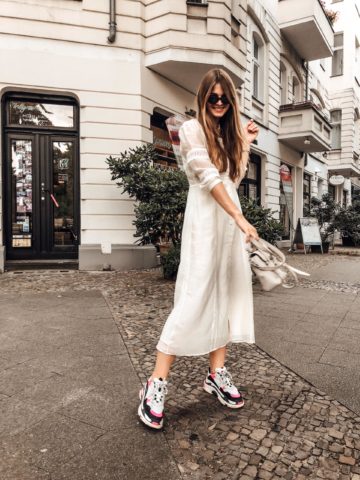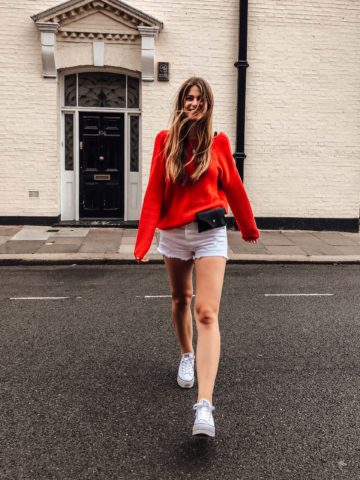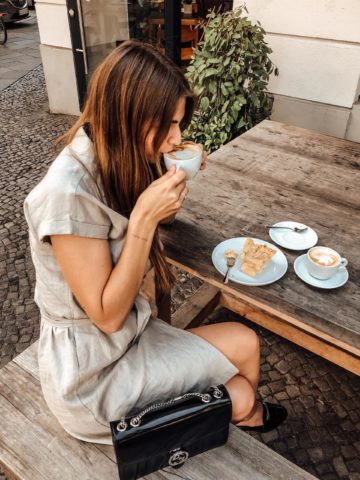 What happened the past week
Let's begin with the past weekend. Those who follow me on Instagram and have seen last weeks 24/7 post might already know, that I was at a festival, the Melt festival. I arrived on Friday and stayed for one night only. As it got super warm in our tent around 7 am in the morning, we woke up super early and couldn't fall back asleep. We got up, bought coffee and breakfast and tried to hide from the sun before getting ready for the second festival day. We also took some nice outfit pictures that day as we had a lot of time to kill before the first artists performed at the festival. Once the festival area was open, we went there to see some of the artists and have lunch, and around 7 pm I headed back home.
I was so tired on Sunday, I didn't do much but relaxing at home, sleeping and watching Netflix series. I also had to prepare for some productive days at the office as I left for London on Thursday. So Monday to Wednesday were some of those boring days at the office filled with work, work and even more work. But on Wednesday I took half a day off to meet up with Anh and go walkies with our dogs – for three hours.
On Thursday morning I had to catch a flight to London where I did not only spent the rest of the week but still am. I am here to visit Luisa, who moved to London a couple of months ago. She is moving back to Berlin in September, and I definitely wanted to visit her during her time in London. I also decided to stay a little bit longer to meet some photographer and PR agencies in London. Therefore the first two days in London were quite busy. On Thursday I met up with a photographer, I also had lunch with and in the evening Luisa, and I went to a cooking masterclass. The masterclass was so much fun. We made Ricotta Ravioli with Truffle, and it was super delicious. I could eat some more right now haha.
On Friday morning I met up with another photographer before having a facial. The facial actually was the highlight of the day as it was very relaxing and my skin felt amazing afterwards. I definitely could get used to doing this more often, but I just never take the time for these kinds of things. That's why I couldn't say no when one of the PR agencies I know in London asked me if I wanted to try it. 🙂 After the facial, I went straight back to the hotel, got changed and met up with Luisa. We drove to her Co-Working Space because we both had to get some work done before the weekend. So that day there actually didn't happen any more exciting things. I went to bed quite early that day as well, because I was not only super tired but also had to get up quite early on Saturday for another shoot.