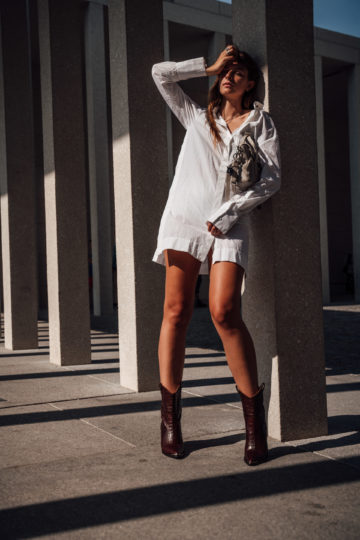 I am back on track after a week of not posting new outfit inspirations with you, and I will start with sharing my favourite outfit of the last weeks. Summer is slowly coming to an end, it's getting colder, and I can finally wear all my favourite clothes again that I can't wear in summer such as this white shirt dress. It's the perfect in-between-seasons-piece, but I don't get to wear it that often as it's either too warm or too cold in Berlin. But during the last weeks, we had some sunny days with temperatures around 23°C and these were actually perfect for this white shirt dress. Do you want to know more about this outfit? Find out more in the following.
Combining a white shirt dress with brown boots
I got this white shirt dress a few years ago, and it's always been a favourite of mine, but I don't wear it very often. The weather in Berlin is the main reason for it. Another reason is that I tent to destroy all my white clothes by spilling on them – yes, sometimes I am such a clumsy person. But the latter actually shouldn't be a reason not to wear something. Think about what you are up to that day and make sure a white dress is a right choice.
The day I was wearing this dress, I met up with a friend to create content and catch up a little bit. The weather was perfect, and I really felt like wearing it. I have to admit, I got changed when I headed to the office, but for my appointment in the morning, it was a good choice and guess what? I didn't spill on it haha.
Now that you know why I barely wear this white shirt dress even though I do like it a lot, it's time to talk about the outfit combination.
Now that it is getting colder in Berlin, I can also wear all my favourite boots again. And during summer, I got myself a few new pair of boots, and I couldn't wait to wear them finally. Boots are my favourite kind of shoes – well, I also love sneakers, but I think I like boots a bit better – as they are so easy to style. Whenever you don't know what to wear, and sneakers are not an option, you can go for boots. They work for a lot of different occasions and can be combined with everything. Of course, some boots are easier to style others are bit more specials. Black boots are the kind of boots that go with everything. And even the brown boots you can see me wearing here work with a lot. They are not as classy as black boots, but they definitely create a more interesting look. And that's exactly why I opted for them instead of black boots. The white shirt dress is very classy already, it's a timeless and simple piece of clothing, and the brown boots are the detail the outfit needed to be less classy and more fashionable.
Let me know what you think about this outfit in the comments. xx
*Ad, brands named – DKNY Shirt Dress || Boots via Omoda || 3.1 Phillip Lim Bag