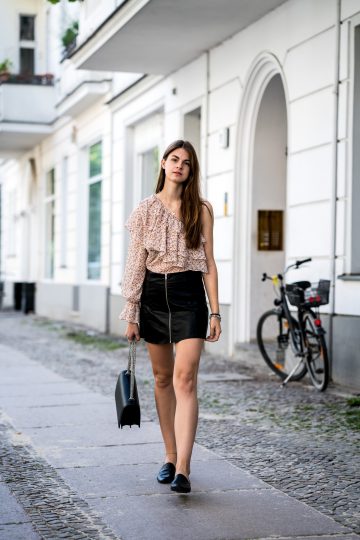 Today is our last day in Amsterdam, and it is a very special day for me. I won't tell you why, but you can head over to Instagram, maybe I will tell you more about what is happening in Amsterdam today there 😉 Oh guys, I am super excited! But enough about that, since I am not telling you what we are doing in Amsterdam, you either can head over to Instagram for some up-to-date pictures from our trip, or you can have a closer look at these pictures we took last week in Berlin. These are pictures of another summer outfit I was wearing in my hometown and the day I was wearing it obviously wasn't as hot as the days before ;), So this outfit is perfect for temperatures around 25°C not less and definitely not more due to the faux leather and the long arm.
One Shoulder Shirt and Leather Skirt
Summer in Berlin is so bipolar, one day it is super hot with temperatures above 30°C and the other day the temperature falls by 10 degrees. The day, I was wearing this outfit, was one of those days it was way colder than the day before. But I actually didn't expect it to be that cold, so I thought this outfit would be totally fine. Well, think again, Jacky! Luckily the temperature rises as the day progresses and in the afternoon I wasn't freezing anymore 🙂 I actually was freezing in the shadow only, because the sun was warming all day. But anyways, if it is not as cold in the morning as it was that day, this is the perfect summer outfit for mild days.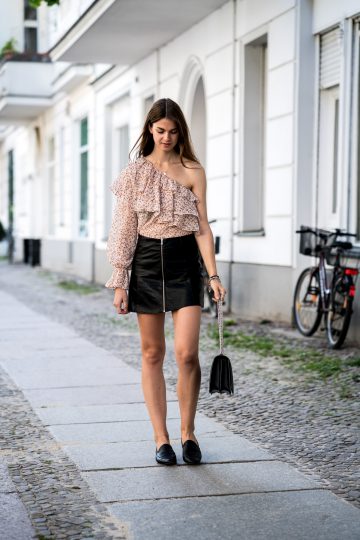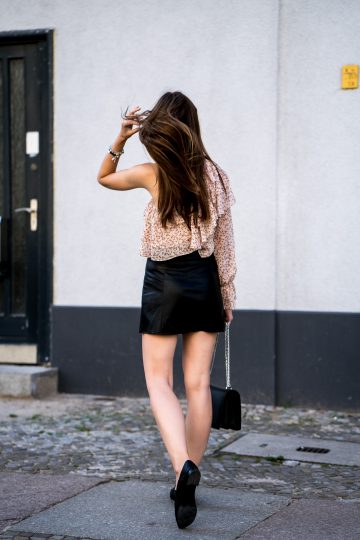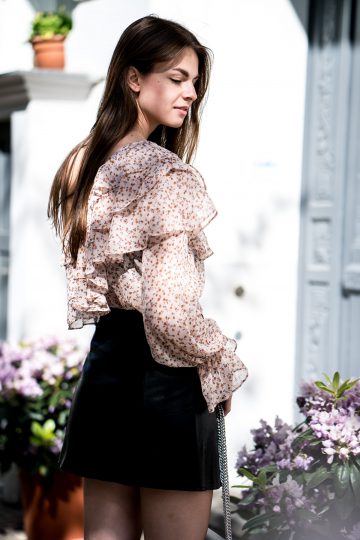 I was wearing a one shoulder shirt you have seen on the blog before. Last time I was wearing it on a spring day in combination with black jeans, but this time I could finally wear it with a nice skirt as I wanted to for so long. I tried on several black skirts, and this one worked best. But I have to admit, that I first wasn't quite sure. I wasn't sure if I like the zipper detail in combination with the floral top and maybe a plain black skirt would have worked a little bit better. But I liked this outfit combination as well and was happy with my decision to go with this skirt when I saw the pictures 🙂 I finalised this outfit by adding my everyday jewellery as well as some slippers and my Agneel bag, and that's actually it. The outfit itself is rich in details, so I didn't have to add a lot of accessories to make it an interesting outfit. And you know, how much I like it to keep it simple 😉 Leather, ruffles and a floral print are more than enough details for one outfit, aren't they? Guys, while I am enjoying the last hours in Amsterdam, you can now look at all the pictures we took. And I would love to read your thoughts about it. How do you like the outfit combination? Would you wear the outfit as well? Let me know what you think. xx