Looking at these pictures, I can't believe, that I was still wearing dresses only two weeks ago. The weather in Lisbon is definitely much better than in Berlin, and we got to enjoy some beautiful, sunny days the week we were there. Of course, it got quite chilly and windy in the afternoons, but until 4 pm, you could go outside wearing a dress only. At that time, temperatures in Berlin were already below 10°C. You probably can imagine how happy I was to get the chance to enjoy some more days with warmer temperatures after our trip to Bali and before heading back to Berlin!
I would have never guessed, that the weather in Europe can be that nice in November. But yep, in Lisbon it is! So whenever you want to escape the cold in Germany in November, make sure to travel to Portugal! Because there it is possible to wear a dress in November 😉 But I said that before… now that you know, that Portugal is worth a trip in November, let's talk about the outfit I was wearing on our second day in Lisbon about two weeks ago.
Wearing a lilac dress in Lisbon
I got this dress before we left for Bali in the mid of October, but I didn't bring it with me, because of the long sleeves and the layered fabric. I would have loved to bring it, but I knew, that I wouldn't be able to wear it due to the high temperatures in Indonesia. At the same time, our trip to Lisbon was already planned, and I was already hoping, that we would be lucky and have warm temperatures, so that I could bring it with me to Portugal. And that's obviously exactly what I did.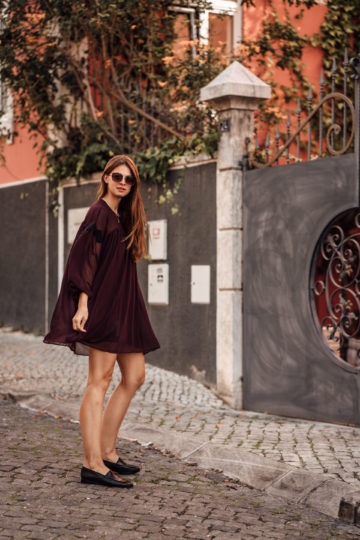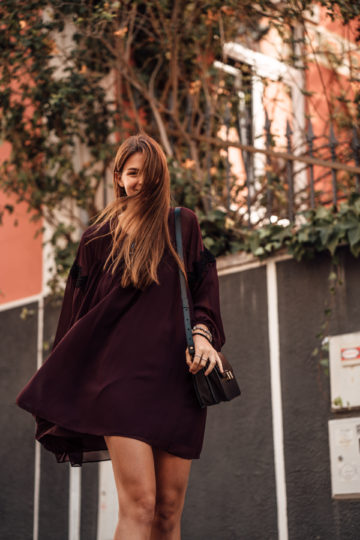 I have to admit, that 20°C and sunshine didn't feel that warm after being in Bali for two weeks. But, of course, 20°C was much better than less than 10°C so that I couldn't complain at all. And even though I didn't know whether I would be freezing or not, I wanted to give it a try and put on the lilac dress. And yes, it was a little bit chilly due to the wind that day, but I wasn't freezing – as long as I was out in the sun 😉 I kept it very simple that day and combined my new lilac dress from IKKS with a pair of black shoes, a black bag and a new pair of sunglasses I had to buy, because Iberia lost our luggage. Yep, you read right. We had a layover of more than five hours in Madrid, and they didn't manage to bring our luggage to Lisbon… we got it the next day in the evening, and since we didn't have anything with us, we had to buy clothes, washing things, etc. for the first day. I was super pissed, and even though we will get the money back, I had to pay everything in advance PLUS we lost half a day due to shopping. And believe me, I really don't like shopping.
But enough about our lost luggage and Ibera being incompetent, let's get back to the outfit I was wearing on day two in Lisbon. As you know by now, I wanted to keep it simple, and that's what I did. At the same time this outfit doesn't look boring at all, does it? I really like the dress and the sunglasses I got the day before are a perfect match. I am still not a hundred percent sure whether I like them or not because I am not used to wearing this kind of shape… I usually wear my round Ray-Ban sunglasses and nothing else. So how you like them? And how do you like the dress and the whole outfit?