Spring is just around the corner, and I am more than ready for the new season. It's not only the latest trends I am excited about; I also can't wait to wear all my spring basics again and style them with the new trends. You might think that outfits are all about trends, but it's actually how you style them with your basics, how you integrate them into your everyday life that's most important. Of course, you could just style all spring trends together, and if you are lucky, a really cool outfit will be the result.
I would always suggest: less is more and better be safe than sorry. That's why to me, basics are the key to a nice-looking outfit.
We will talk more about spring trends during the following weeks today; I want to share some of the basics I can't wait for this spring, which should be part of everyone's wardrobe-essentials.
The leather jacket
Those who've been following me for a while now know how much I love leather jackets. I actually haven't been wearing them that often during the last two years, but that will change in 2022 for sure. This year leather jackets are both a trend, but they also remain a basic piece.
It's not the classic leather jacket you will see everywhere this season; in 2022, they come in oversized fits, like bomber jackets or, as you can see me wearing here, in a slightly chicer cut but still with lots of biker-inspired details such as the pockets or epaulettes. I will stick to the trendier leather jackets this year, and you will most probably see me wearing this one a lot. I am currently also looking for an oversized leather jacket as I think it's a style I would not only wear one season but at least a couple of years.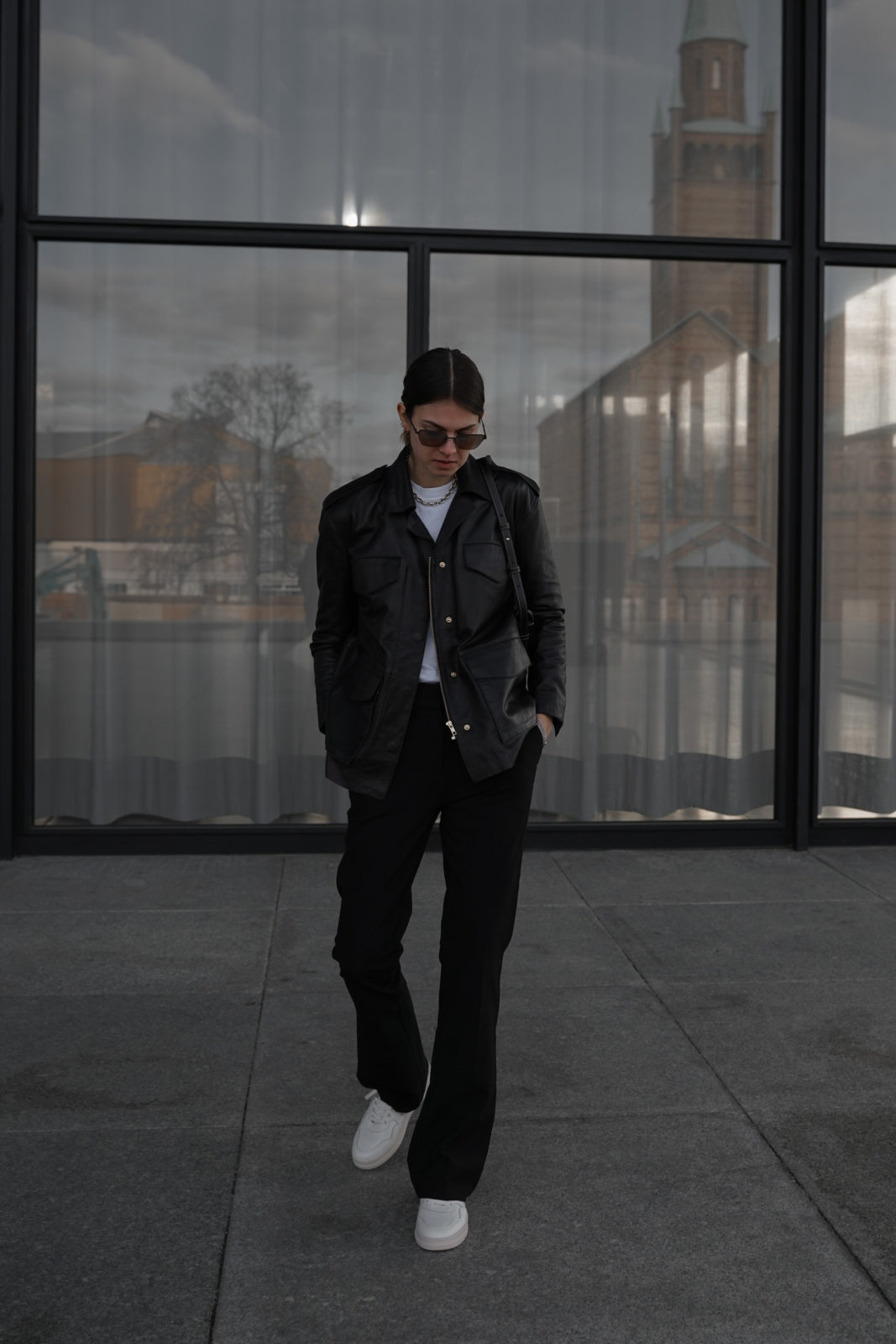 Classic black pants
Another essential everyone needs in their wardrobe, no matter the season, is a pair of black pants. First, you should start with a fit you feel most comfortable in; this can be a pair of black jeans, wide-leg pants, or leggings, just to name a few options. I have at least one pair of these styles in my wardrobe since you can never go wrong with them, and they all create totally different looks.
In 2022 I will continue wearing these, but I will also add some more trendy versions, such as flared pants in black. I found this perfect pair of black pants online at Omoda and think it is ideal for both chicer and more casual looks.
It is most important that the flared pants are long enough on you, so it can be tricky to find a nice pair when you are tall. But as you can see, I did – it's nothing impossible 😉 I wouldn't style them with heeled shoes, but I love how they work with sneakers.
White sneakers
This brings us to the next spring basic: white sneakers. In winter, when it's often raining or snowing, I don't really wear white sneakers because I am always worried I will ruin them. But as soon as the sun is shining more often again and the weather, in general, is just much better, I can't wait to wear white sneakers again. It also is my go-to shoe style whenever I don't know what shoe to wear with an outfit. Some classic styles always work, such as Converse or Adidas Stan Smith. I recently added these super nice HUB sneakers I found at Omoda to my sneaker collection. The fit is very classy and can be styled with almost everything. What I like a lot about these is that it comes with a tiny touch of color. This makes them just a bit more fun 🙂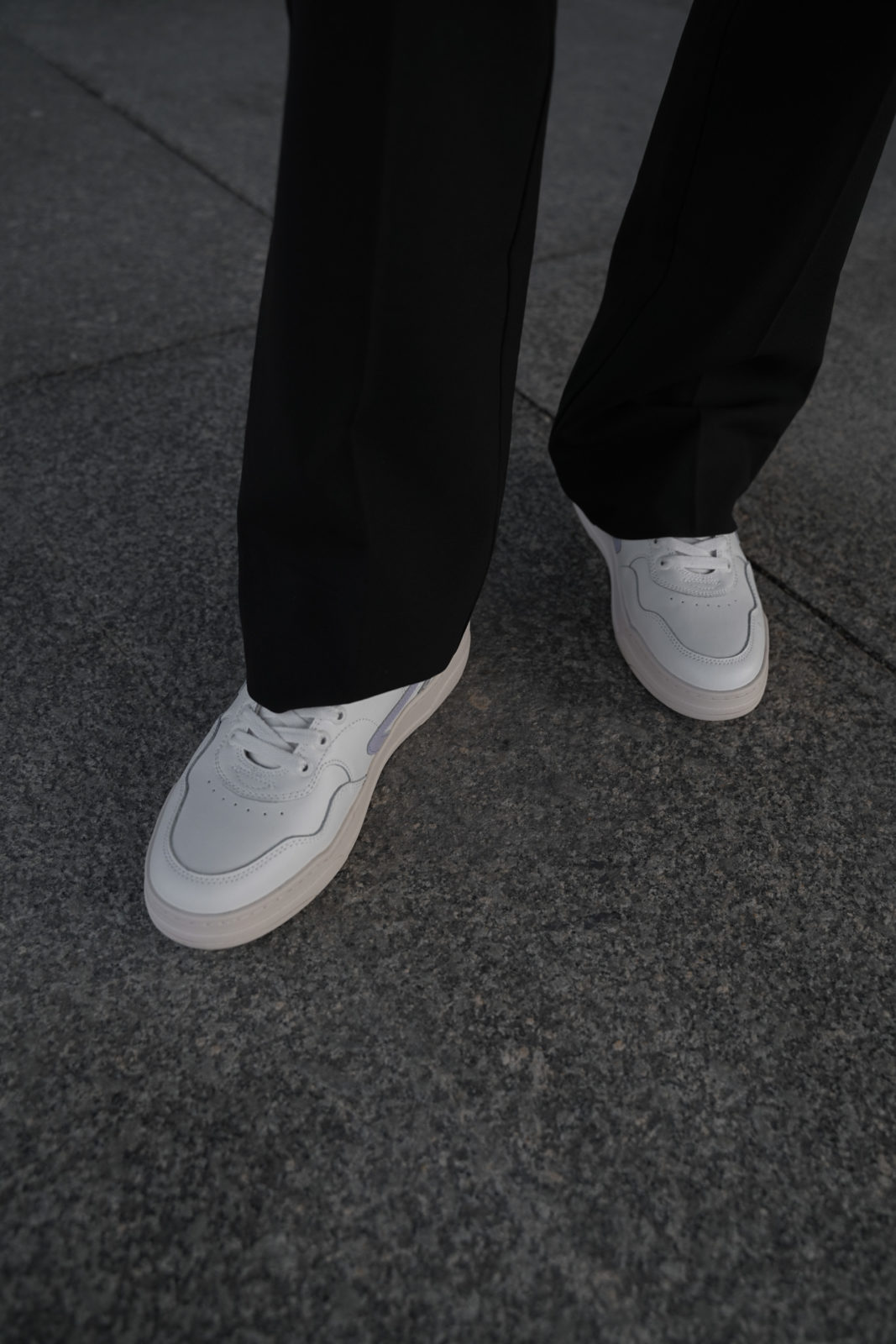 A white t-shirt
Let me tell you, finding the perfect white t-shirt isn't as easy as you would think it is. Is there even THE ONE white shirt we all should have in our wardrobe? Honestly, I don't know. But I know that a white shirt is an essential and I will keep collecting them no matter if I will end up finding the perfect one or not.
Having a few options actually isn't that bad either. I have an oversized white t-shirt I am wearing a lot, a cropped one and one in a more basic fit, such as the one I am wearing here. A white t-shirt is something you can always wear and style with almost everything.
How to make a basic outfit appear more fashionable
Wearing only basics might seem boring at first, but you can make it appear more fashionable with only a few things. You could choose more trendy basics for once, such as I did with this leather jacket. And you could add some more eye-catching accessories. I still kept it pretty simple with the bag and sunglasses I opted for, but while the bag is a classic black bag, the sunglasses are a trend in 2022.
Still too basic? Add colors! Wear a bag in a bold color, add sunglasses with colored frames. You could also wear more jewelry to make it a fancier outfit. Or wear trends such as huge bags or bags with fringes. The options are endless, and when you decide to go for an outfit that consists primarily of basics, you can go wild with the accessories, and the result will always look good, promised.