Who else is ready to pack away all the coats and winter clothes? I can't wait for spring to be here finally, so I can get all my spring clothes out again and also try the new trends of the season. If you are just like me and can't wait anymore, you'll love what we've prepared for the upcoming weeks: many posts about the upcoming fashion trends in spring 2022. The trends have a lot to offer for all of you, and there's more than just one reason to get excited about the new season.
Together with deBijenkorf, we want to introduce one of the spring trends 2022: the big totes trend.
What you need to know about the big tote trend
This spring isn't the first season bags in bigger sizes are in fashion; they had their comeback in 2021 already. And after years of tiny bags that don't really fit a thing, it is a nice change to have bigger bags back in fashion again.
Last year it was all about supersized bags, bags that are actually too big to carry around in everyday life. This year, the sizes are still big, but they are closer to normal. So now you can actually integrate this fashion trend into your daily life, and it's even a very practical one.
Oversized totes come in all kinds of shapes and colors. There will definitely be one style for each of you. This also means that there are actually no limits. But if you want to go all-in with the fashion trends, I would suggest getting a big tote in one of the trending colors such as lime, orange, yellow or green or a trending print like logo all-over, contrasty stripes, florals, or micro checks.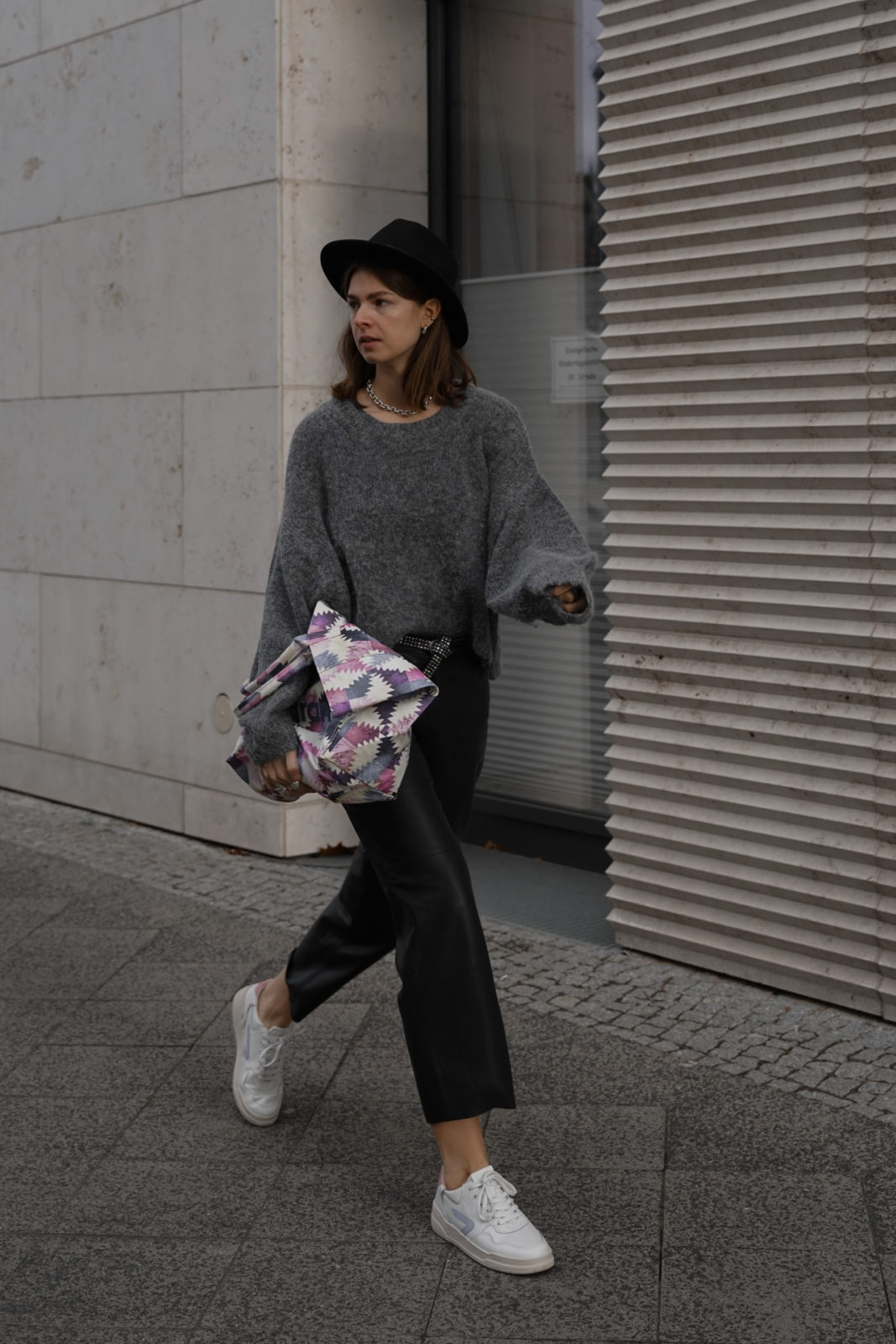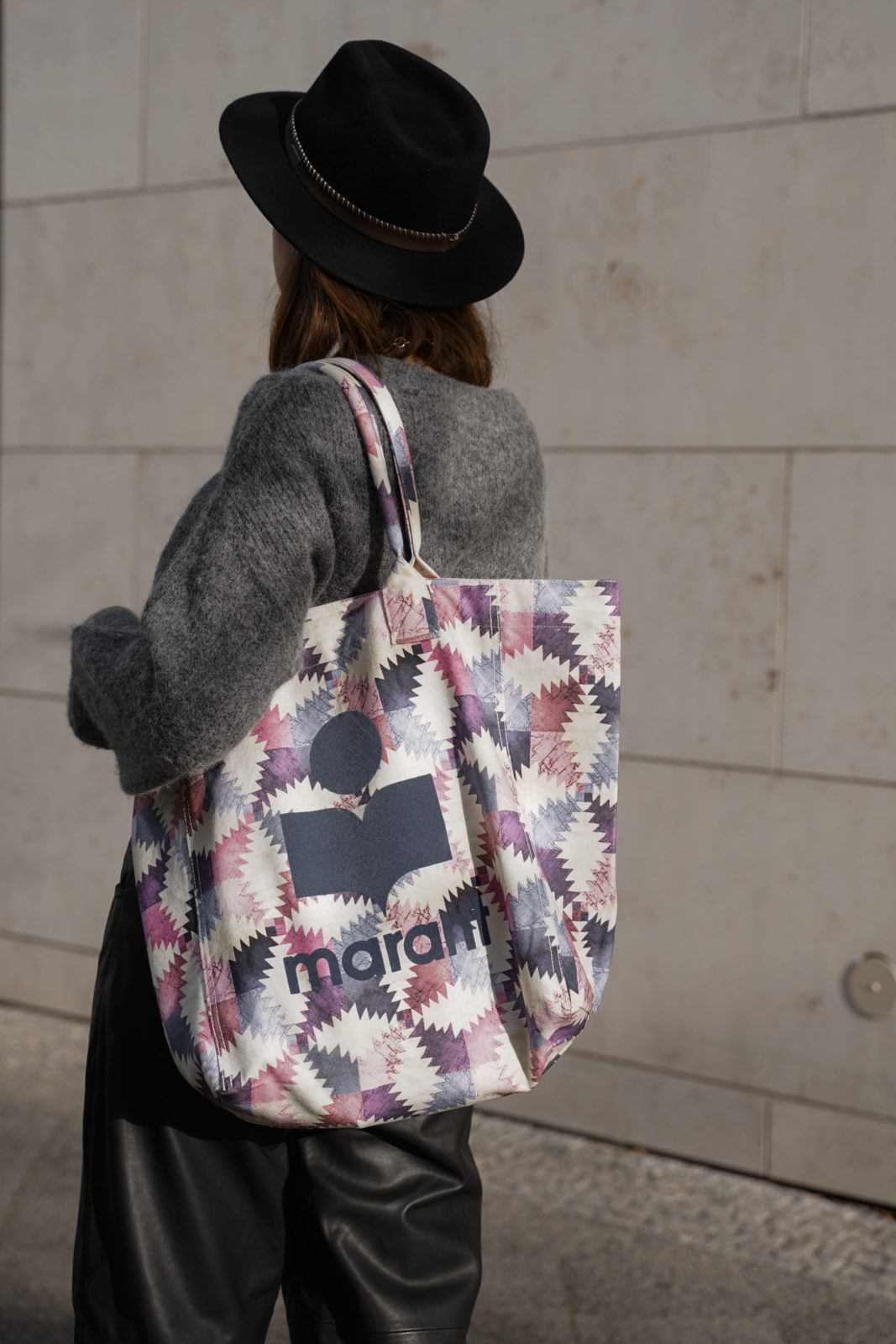 How to wear the big-tote trend in spring 2022
There are endless ways to style your big tote this spring. Generally said, you can wear your big tote like every other bag you have. There's nothing you need to consider when styling a big tote; treat it like every other bag.
So how you combine it depends on the bag's shape, colors, and material. Is it a chic or a more casual bag? Would you bring the style to a date, or is it one to wear in everyday life when running errands or to spend the day in the office? Ask yourself these questions and start from there.
Adding some colors to my casual look with an Isabel Marant big tote
Of course, I also styled an outfit with a big tote for you. I did it in collaboration with deBijenkorf and searched their shop for the hottest new styles for spring 2022. This Isabel Marant tote immediately caught my eye. I love the colors, I love its size, and it's the perfect bag for everyday life. You can bring it to work when grocery shopping, use it as a gym bag, or bring it with you on a plane. This bag will be a loyal companion for sure, no matter where you'll bring it.
I styled it for a day in the city, and my outfit definitely was inspired by the Rock'n'Roll vibes Isabel Marant has in all her collections. It's an outfit you can wear to work, for a coffee date with friends, or for running errands – just to name a few.
Since the bag itself is a real eye-catcher with all the colors and the print, I decided to keep the rest of the outfit simple. I was wearing a pair of black leather pants, a grey knit, and white sneakers. The accessories give the outfit the rock'n'roll vibes and make it even more eye-catching. Playing with accessories is always the best way to make an outfit more interesting and give it a specific vibe.
I can promise you already that you will not only see me wearing the big tote a lot this spring, but also the hat.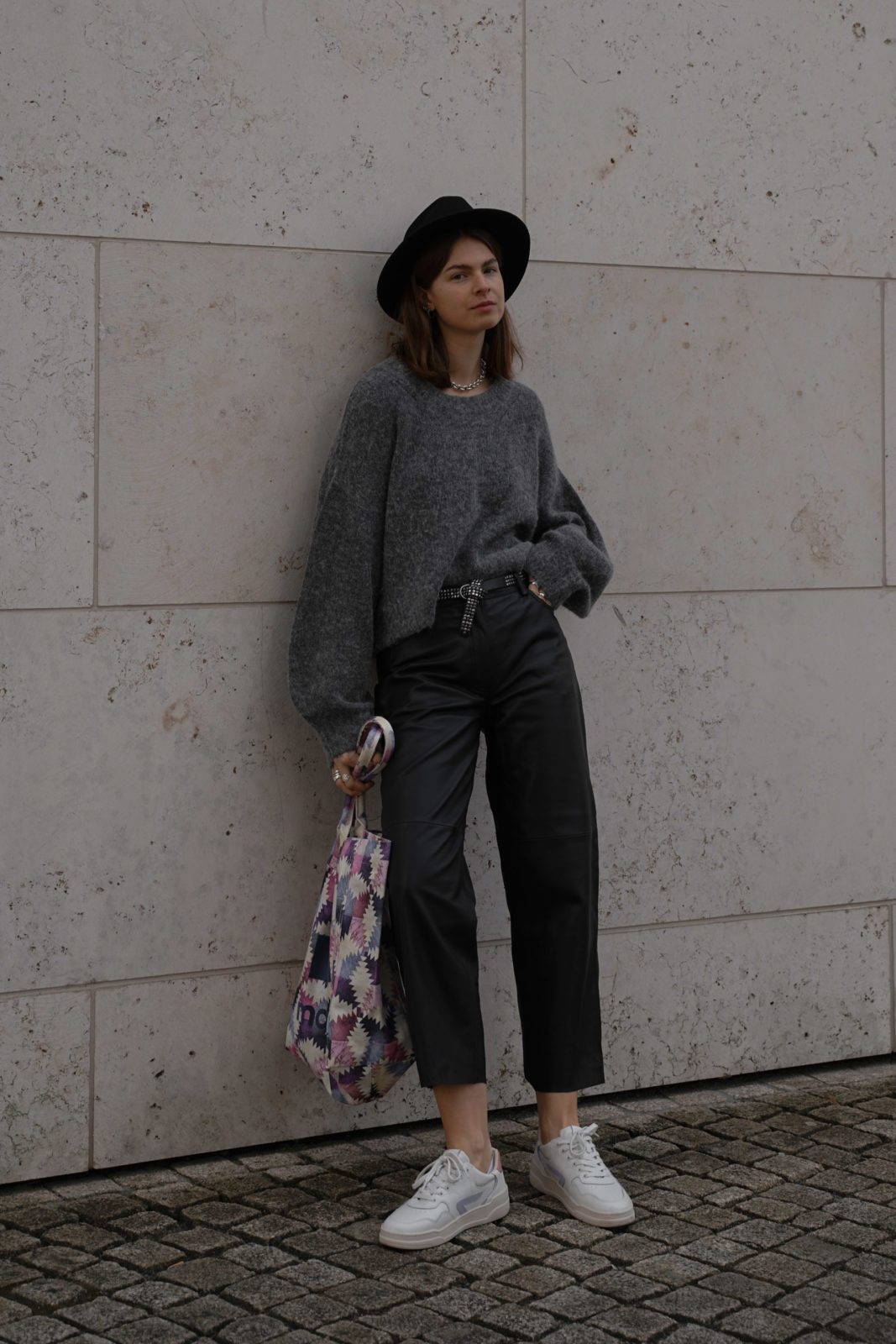 What do you think about the big-tote trend? Is it one of the trends you will try yourself, or will you stick to smaller bags in 2022? Leave me a comment and let me know what you think. Also, don't forget to leave me your feedback on the outfit I styled with my Isabel Marant tote. x