Happy Thursday guys! Fashion Week is in full swing, and I am having such a busy time. BUT I didn't want to leave you without a post on the blog, and that's why you can find everything about my second Italy outfit on the blog today. As I mentioned before, we didn't have enough time to take lots of outfit pictures when we were in Turin and Milan two weeks ago. We shot only two outfits, so today's outfit is not only the second but also the last outfit from Italy.
It is one of the outfits I was wearing on our second day in Turin, for dinner to be exact. Even that evening we actually didn't have the time to take outfit pictures, but we brought the camera and just wanted to give it a try. The conditions weren't the best, we had five minutes, and the light was already very faint. But this location was too beautiful not to use it for outfit pictures for the blog. And guess what? The pictures turned out so lovely, I do like them a lot, and I hope you will love them as much as I do.
How to put together a smart casual outfit
Yep, that was the question I had to ask myself when I saw the dress code for this evening. I have to be honest, I've never been a fashion expert. I don't know much about fashion, all I know is what I like to wear, what I feel comfortable in and what I don't like. Due to that, I can't tell you a lot about dress codes. Well, it often is self-explaining. But I truly wasn't quite sure what smart casual means. Casual is something I know very well, that's not the problem. The "smart" was what made me unsure regarding what to wear.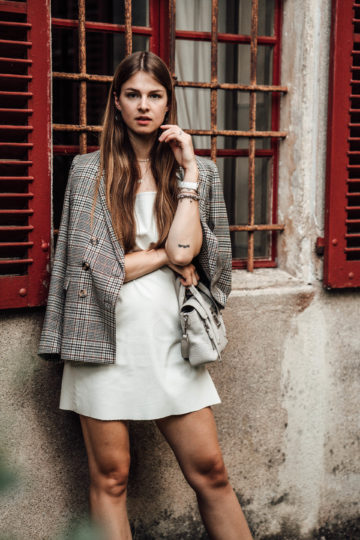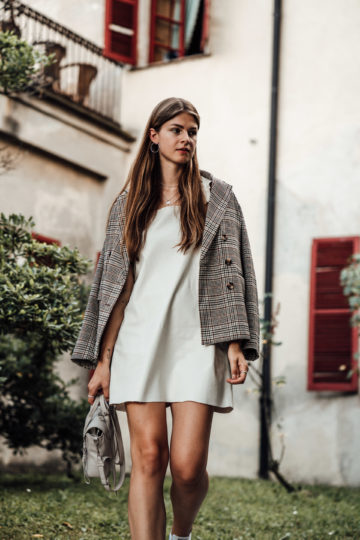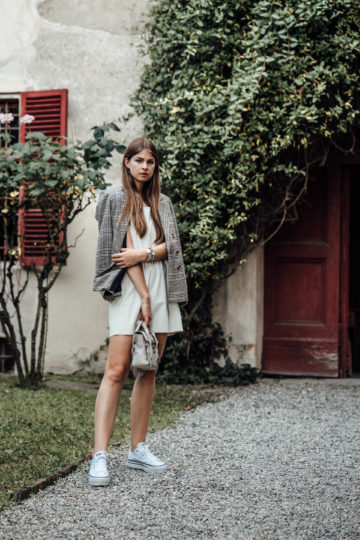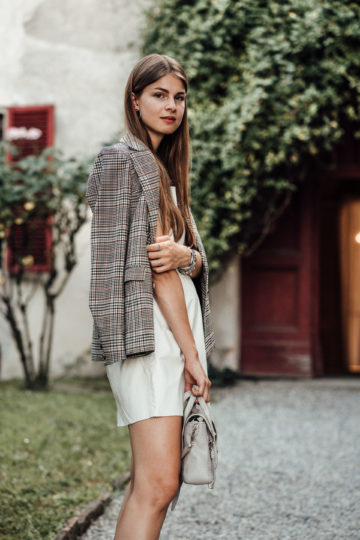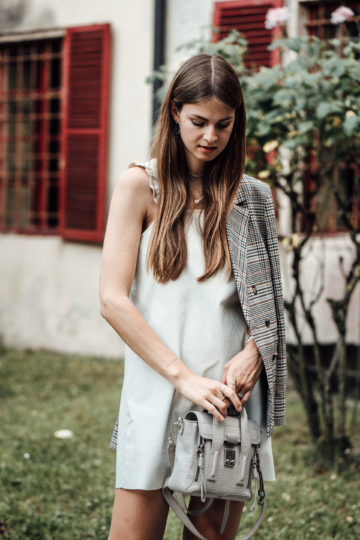 I still can't explain smart casual, but I would just wear something casual chic. And that's what I did this evening. It's the kind of outfit I feel most comfortable in, and to me, that's what is most important. But if you know how to define "smart casual" don't hesitate to leave me a comment. 😉
Combining a white summer dress with a plaid blazer and platform sneakers
The casual chic outfit I was wearing this evening is the combination of a white summer dress, a plaid blazer and my white platform sneakers. I was also wearing my Phillip Lim bag since it was the only bag I had with me in Italy.
What I like best about this outfit are all the light tones. It is such a summery outfit, with and without the blazer. The platform sneakers break the outfit; they make it appear more casual and are in contrast to all the other pieces such as the dress and the blazer. I could have worn a different pair of shoes, but I had only black ones with me, and I didn't like the black shoes in combination with the lighter colours of the rest of the outfit. I also didn't want to put together a chic outfit. The dress code was casual smart, and I took the "casual" part very seriously. 😉 How do you guys like this outfit? Is it something you would wear as well? And would you combine this look with white sneakers or would you opt for another pair of shoes?