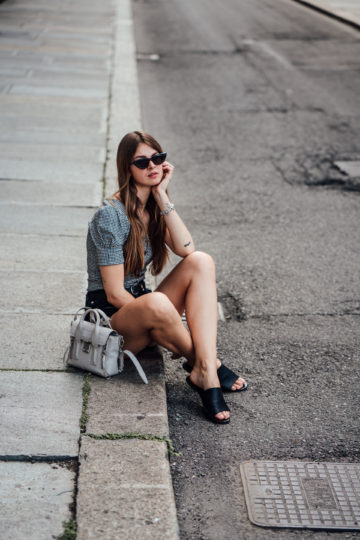 It's Fashion Week in Berlin, but before I share everything about it with you, I first want to share the two outfits we took pictures of when we were in Italy two weeks. Those who follow me on Instagram might have seen what we were doing, and I also shared quite a lot about this trip in my weekly review (No.24). We had a very busy schedule when we were in Turin as well as Milan, that's why we couldn't take more pictures to share with you on the blog. But two outfits is better than nothing, isn't it? So let's get straight to the first outfit.
It is the outfit I was wearing on our arrival day. We had a couple of hours of free time before our tour through Turin and dinner. Since we were quite hungry, we decided to get changed (didn't want to walk around on my aeroplane look) and grab something to eat. Of course, we had something typical Italian: piadina. But let's not talk about the Italian food even though it is something I could talk about for hours. Let's get straight to the outfit details.
Is gingham still a thing?
Last year the gingham print was such a big trend. You could find it in every store as well as online and in any shape. Every kind of clothing was available in gingham print; dresses, shorts, skirts as well as shirts and these are just the most common ones. I got myself a few pieces last year because it is one of the trends I liked a lot. But is it still a thing?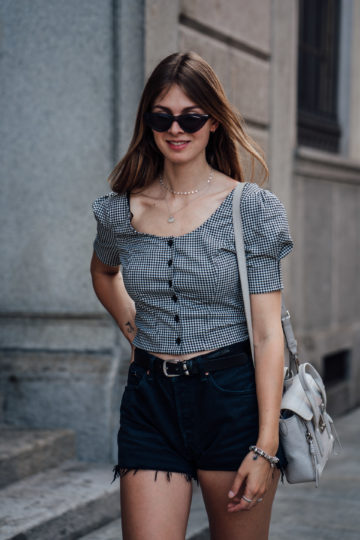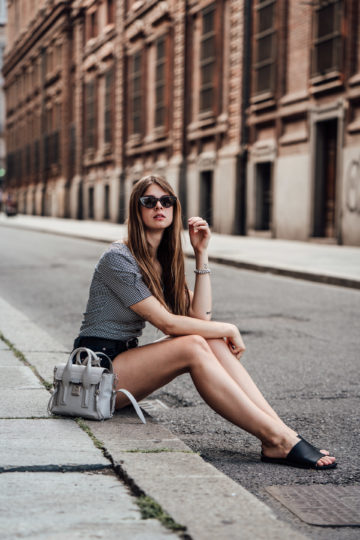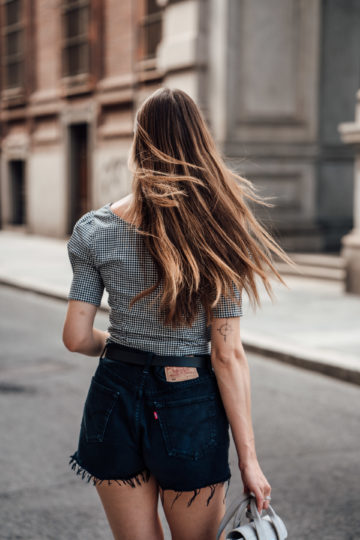 I would say yes. And even though it isn't, I would wear it since I still like it. Gingham is one of the prints you can never go wrong with and combine with so many styles. Keep it simple and wear you gingham print piece with black, white or denim. Or go all in and create a print mix outfit. Dots and gingham work very well such as stripes and gingham. Something a little bit more daring would be the combination of gingham and leo print. But well, if you like bold outfits, you could definitely give it a try.
Gingham blouse combined with black shorts
If you've been following me for a while now, you will know that bold outfits are never my first choice. And yep, in Turin, I opted for a more simple outfit again. I combined my gingham blouse with black denim shorts, black slippers and my Phillip Lim bag.
Even though I kept this outfit simple, it doesn't look boring due to the gingham print. Another detail that makes this outfit and especially the blouse a little bit more interesting is the buttons as well as the cut of the blouse.
In the evening I was wearing the same blouse, but I changed into a pair of black pants. I was wearing the same shoes, and the same bag and this outfit worked very well too. You can find it on my Instagram or in the 24 hours a day, 7 days a week post #24, if you want to see it.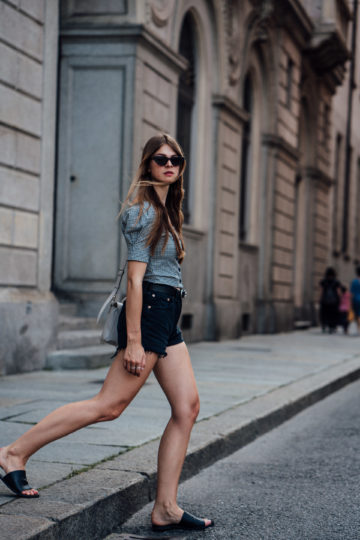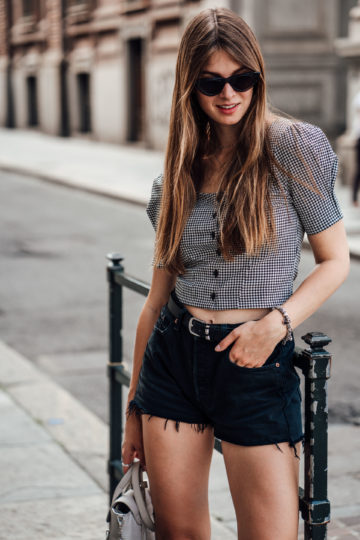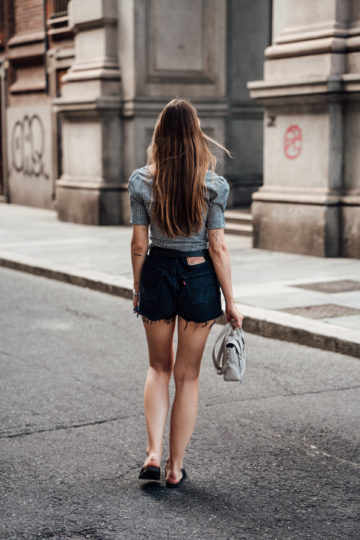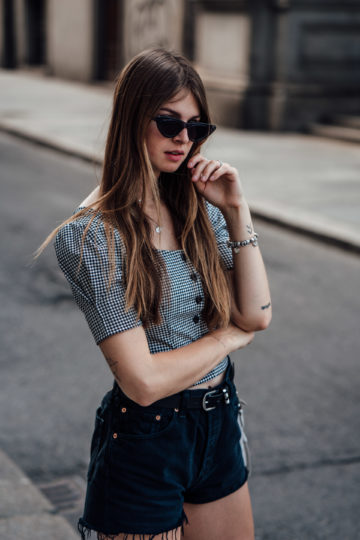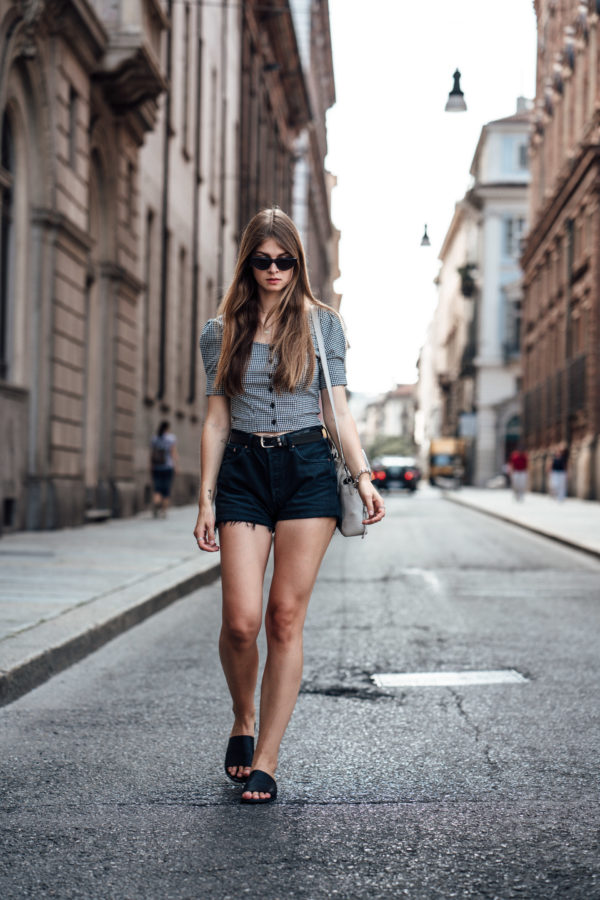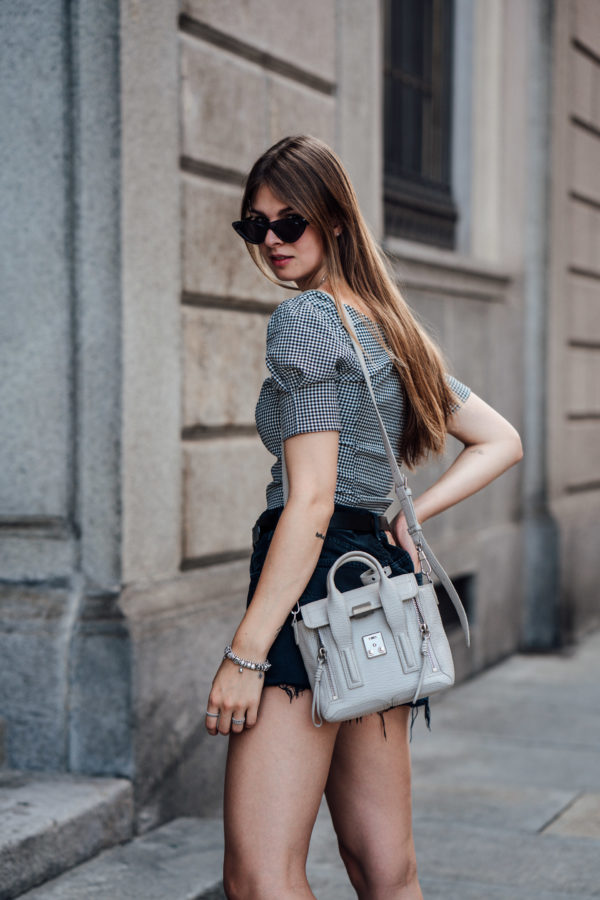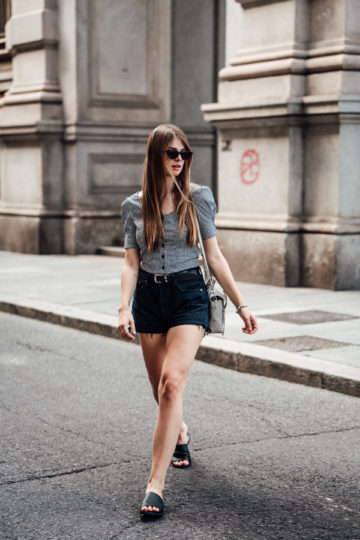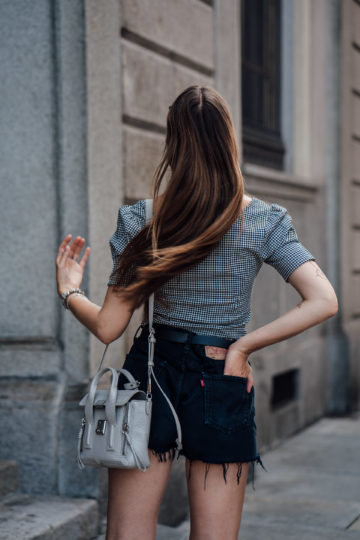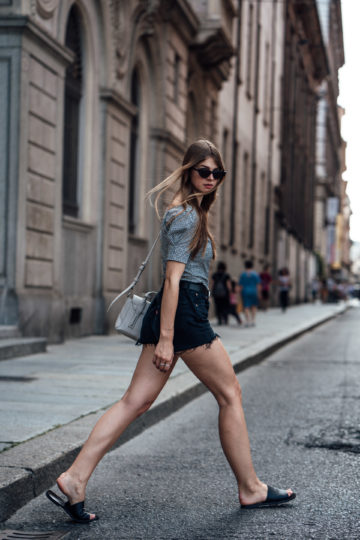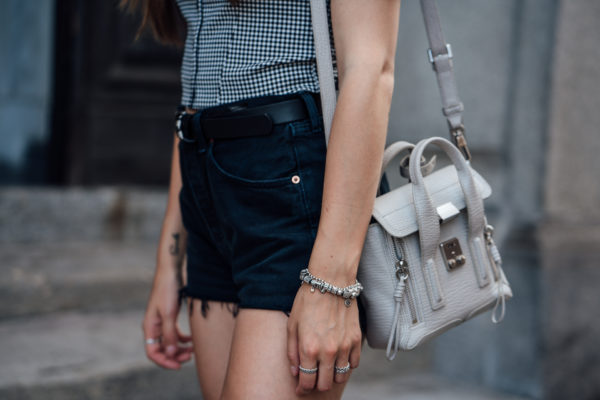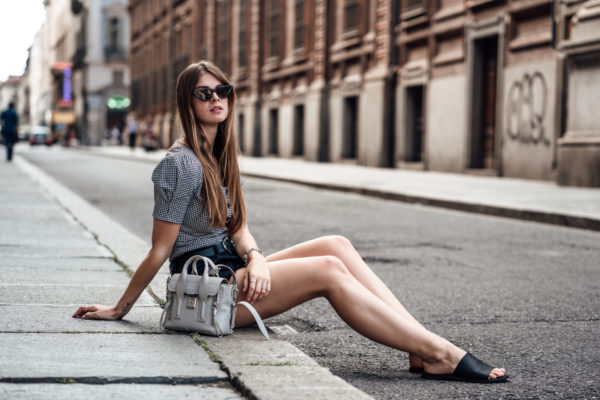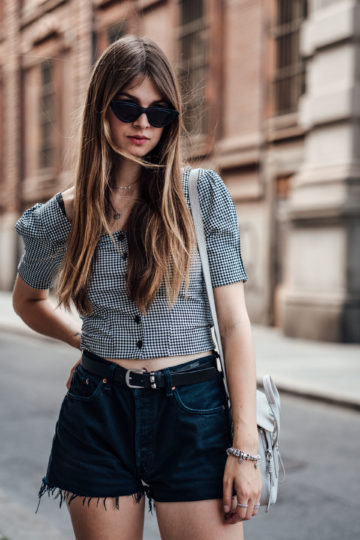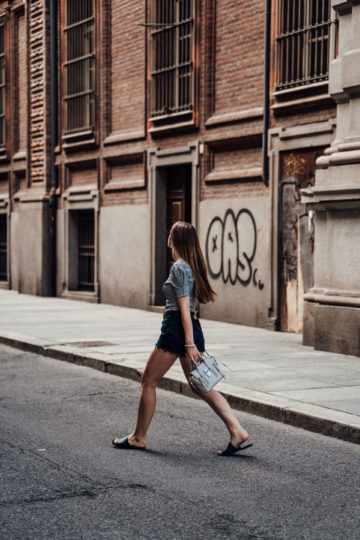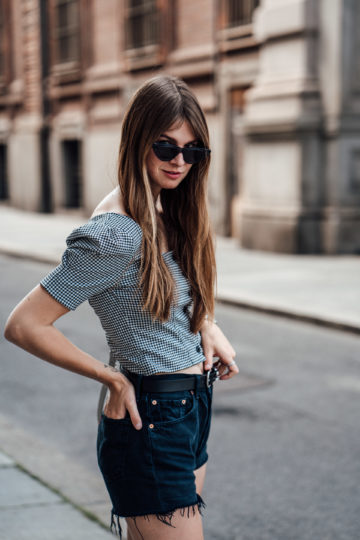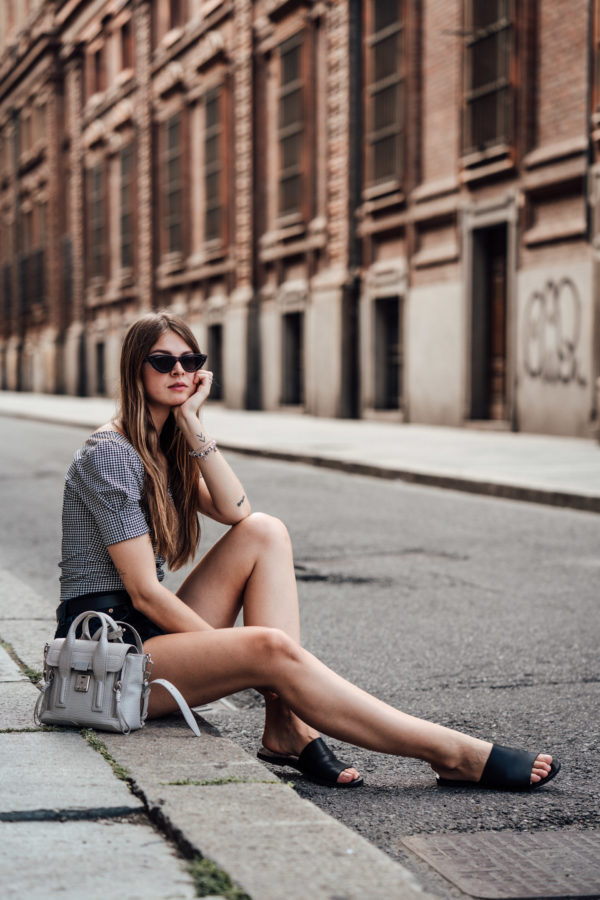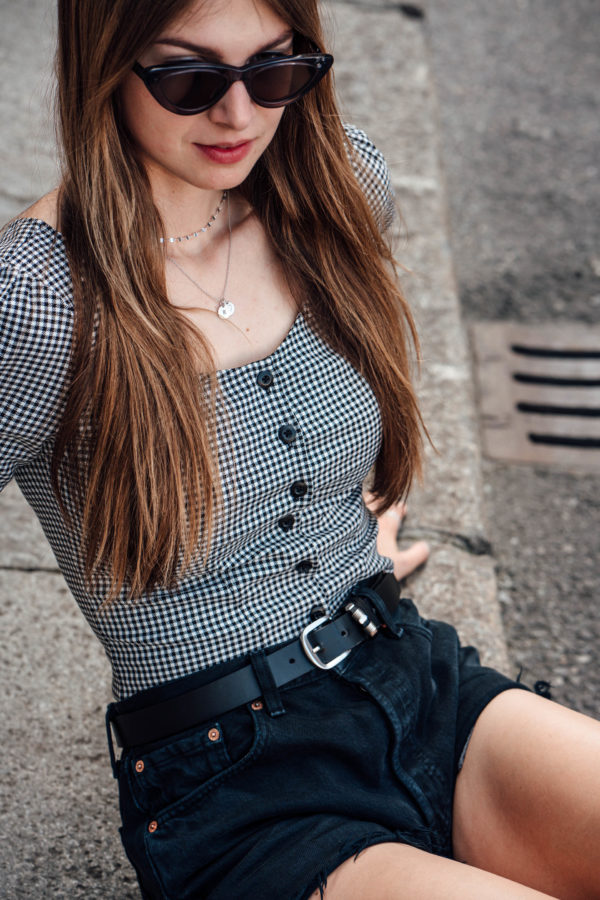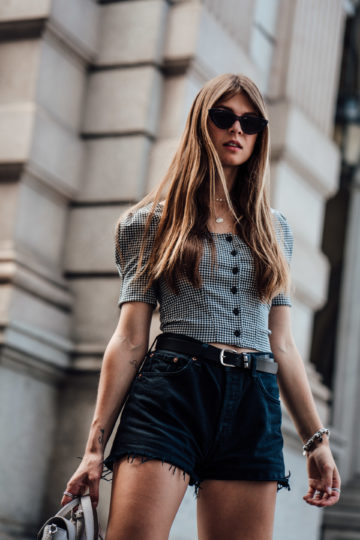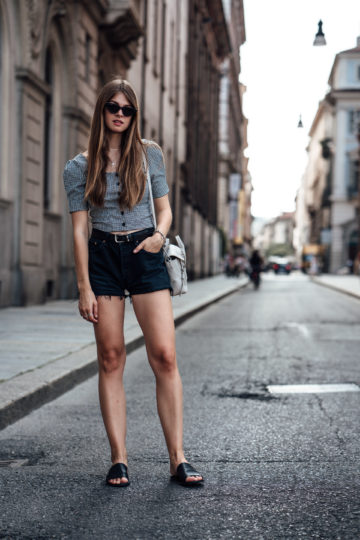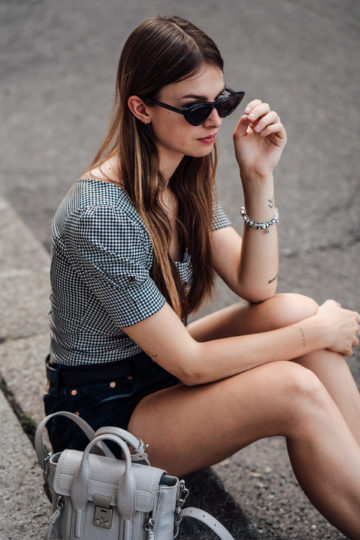 *PR Samples contained – &other stories blouse || Levi's shorts || Sol Sana shoes || Phillip Lim bag || Chimi Eyewear sunglasses