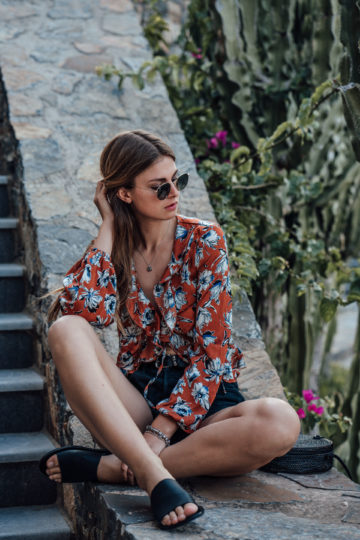 Happy Tuesday everyone! We came back from Greece almost a week ago, and that's why it's about time to finally share the first outfit pictures we took in Crete. We were on this beautiful island for business, a collaboration to be exact, but we also had some time to shoot some summer outfits I will share this and the following week with you guys. I will also talk about the reason we were in Crete next week, but it will take a little bit longer to edit and prepare everything. You know, good things take time 😉
So for today, I will leave you with one of the summer outfits I was wearing in Crete. It's one of the looks I was wearing for dinner. To be honest, on our "free" days dinner and breakfast were the only times I was wearing more than a bikini or swimsuit haha.
Black Denim Shorts and Flower Shirt
We had great weather in Greece, and even in the evenings it was still toasty outside, so I got to wear my summer outfits all day long. Of course, as soon as the sun was gone, it got quite chilly, but the simple solution was to wear something with sleeves such as I did the day we took these outfit pictures. I didn't want to wear a simple short and t-shirt combination; I wanted to wear something a little bit chicer. I also opted for a little bit of colour, that would match the beautiful locations at the hotel.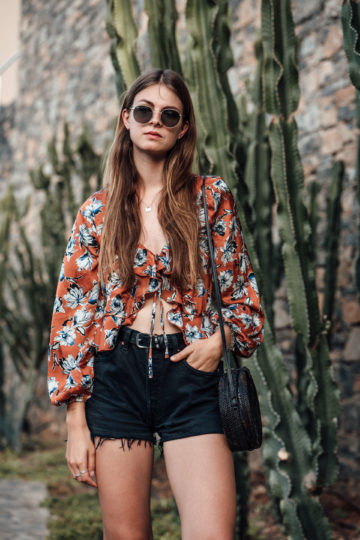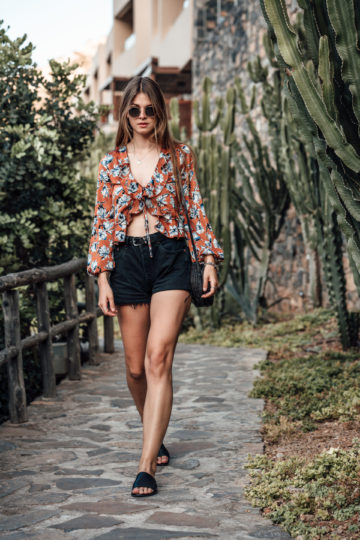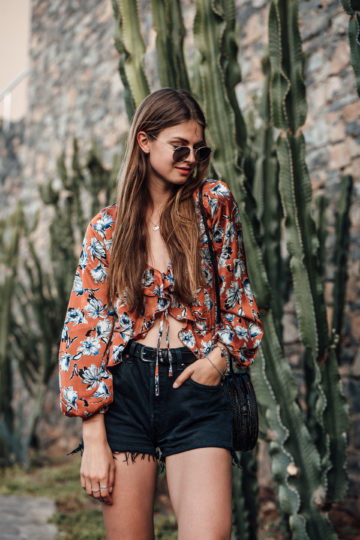 I ended up wearing black denim shorts in combination with a flower print shirt. You've seen me wearing both pieces before, but not in combination. The black denim shorts are my go-to-piece whenever I don't know what to wear in summer. Then I either wear a pair of black or blue denim shorts and combine them with a t-shirt or tank top. But as I mentioned before, that evening I didn't want to wear a simple t-shirt or top. I wanted to wear something a bit more eye-catching. And what would be better to serve this purpose but a flower print shirt?
I do like this flower shirt a lot and the fact, that I can wear it in multiple ways. I can either wear it as a belly shirt as I did here, or I can knot it a little bit more, and my belly would be more covered. Another way to wear this shirt is by leaving it unknotted and wearing it as a jacket. I haven't tried it yet, but I actually like the idea. I think I might wear this shirt as a jacket with a white crop top underneath next time… 🙂
To finalise this outfit, I just added a few accessories such as my round sunglasses, my Ata bag from Bali as well as some pieces of jewellery and that's it. And to be honest, you don't have to wear a lot of details with this shirt. So I didn't need much more that day. Now it's your turn. Let me know, how you like this summer outfit in the comments. xx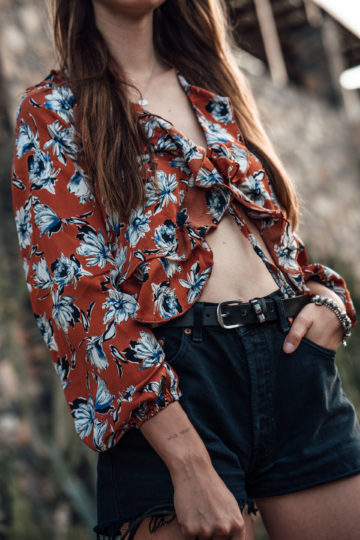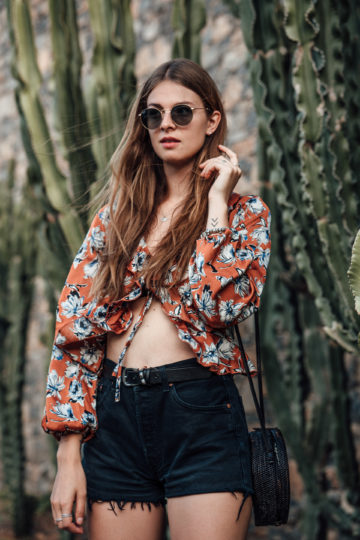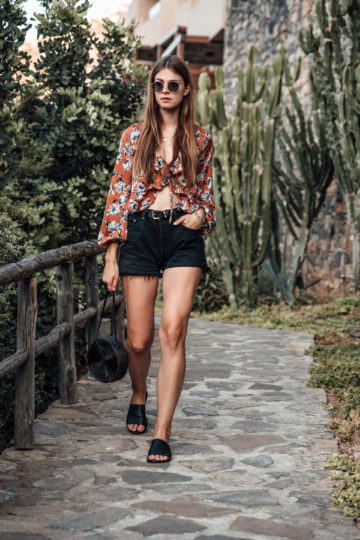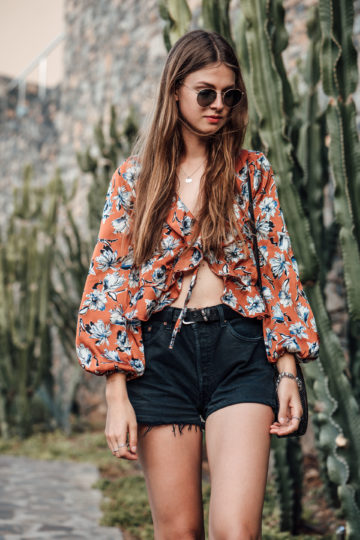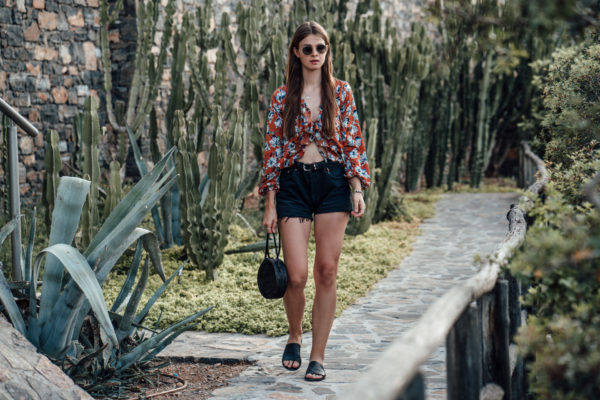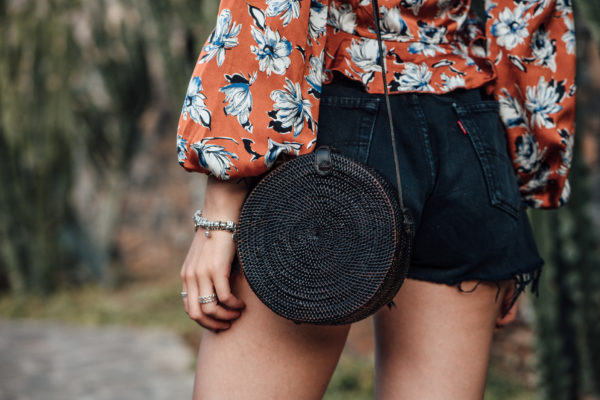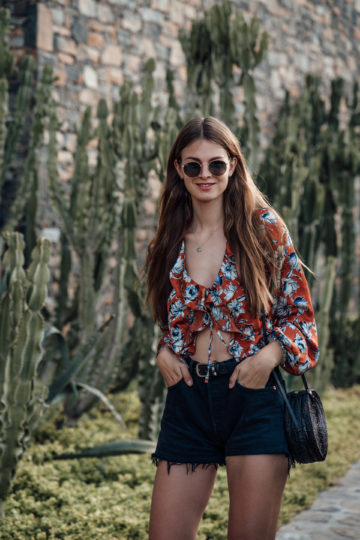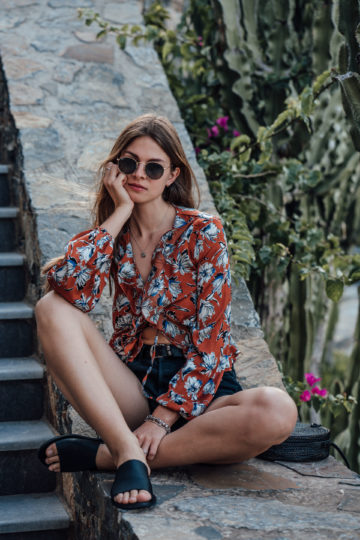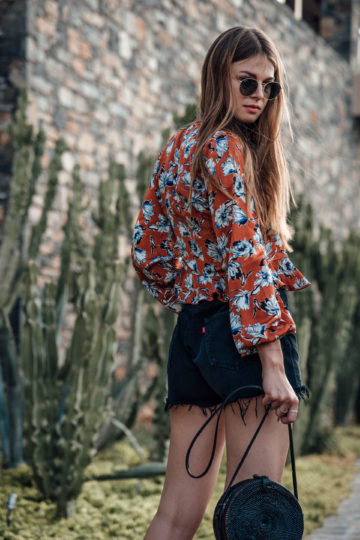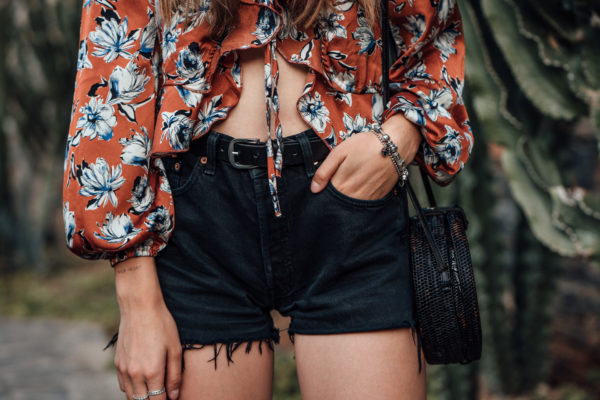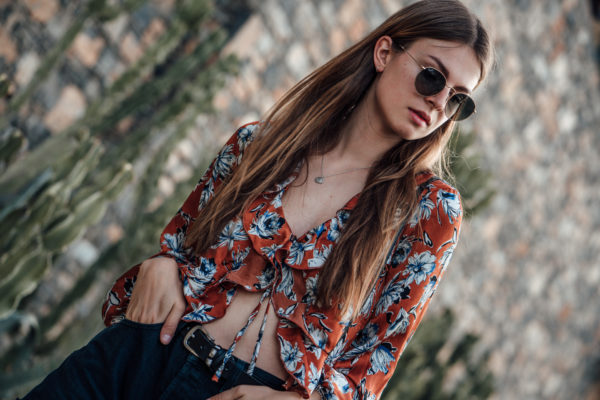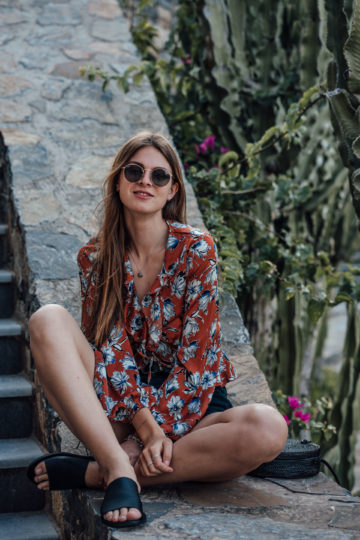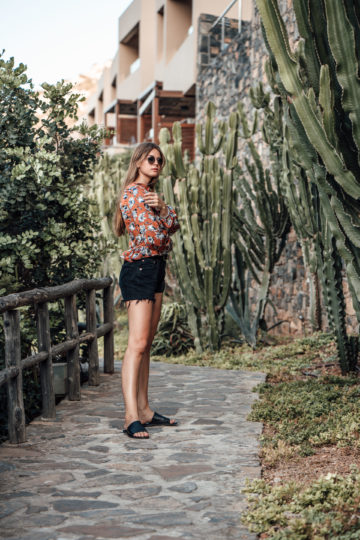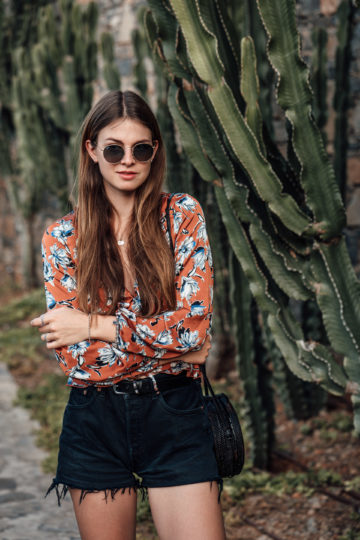 *PR Samples contained – Missguided Shirt || Levi's Shorts || Sol Sana Shoes || Ray Ban Sunglasses