As I mentioned yesterday, this week I am sharing two outfits I was wearing in Crete. I shared the first one yesterday, and it was one of the outfits I was wearing for dinner, denim shorts and flower print shirt combination. And the outfit I am sharing with you today is another dinner outfit. But it is a little bit chicer and plainer. Make sure to have a look at yesterday's post as well and let me know which one you like best in the comments.
Keeping it simple with a black summer dress
As much as I enjoy wearing more colourful clothes in summer, I also enjoy sticking to the basics. And what is more basic than a black summer dress? It is one of the pieces everyone needs in their closet. I have a few black dresses, but I never was fully satisfied with the selection. The other day I browsed through the Zara online shop and ordered a couple of things – as always. I ended up sending everything back but one piece. And this one piece is the black dress you can see me wearing here. It was love at first sight, and I couldn't wait to try it.
It is a little bit shorter than expected, but that's something I always have to deal with due to my height of 180 cm. But it still is long enough, so I feel comfortable wearing it. The cut is quite loose, what makes it perfect for warm summer days and I do like the buttons as well as the ruffled sleeves and the v-neck a lot. It is a simple dress, but with a few details that make it the perfect go-to dress. I will most definitely wear it quite often this summer, especially when I don't know what to wear.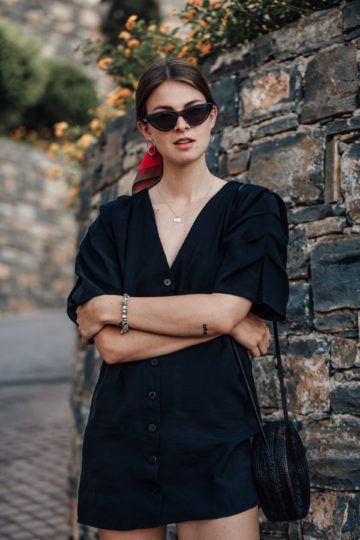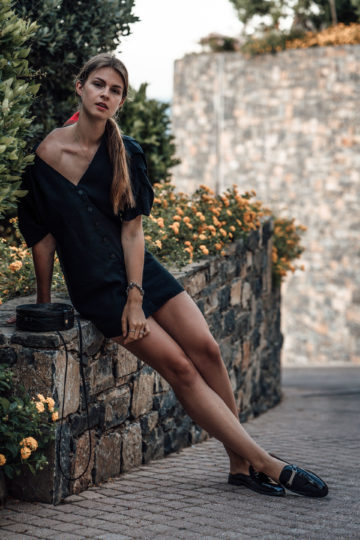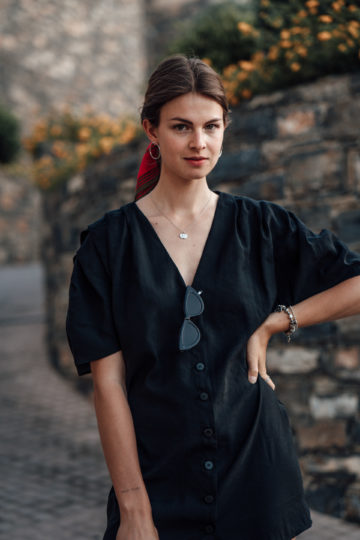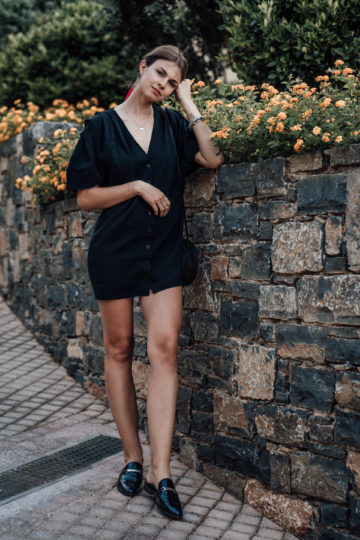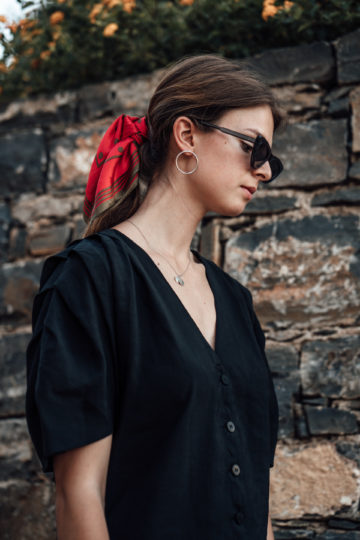 It's all about the details: red hair band
Even though this dress has enough details not to make it look boring, I wanted to add one more detail to the whole look. I opted for a little bit of colour and ended up with this red hair band. I have to admit, and I first wasn't sure about this look. I usually (aka always) don't wear my hair in a ponytail, because I only like it until my baby hair starts doing what it wants hahaha. But that day I just wanted to give it another try, I just really felt like wearing a ponytail. And to upgrade the look, I added the red hair band. And guess what? I really liked it, and I enjoyed wearing my hair like this all evening and night. Maybe I will wear my hair in a ponytail more often this summer.. it definitely would sweeten my summer days when my hair isn't stuck on my neck anymore. I do love my long hair, but in summer I sometimes wish I had shorter hair.
Other than the dress and the hair band, I was also wearing a pair of mule sandals and my Ata bag from Bali. The shoes are quite chic and contrast with the bag, which always reminds me of summer, beaches and relaxing days. But I somehow liked the contrast and decided to go for this combination even though I wasn't a hundred percent sure. What do you think guys, how do you like this travel outfit from Greece?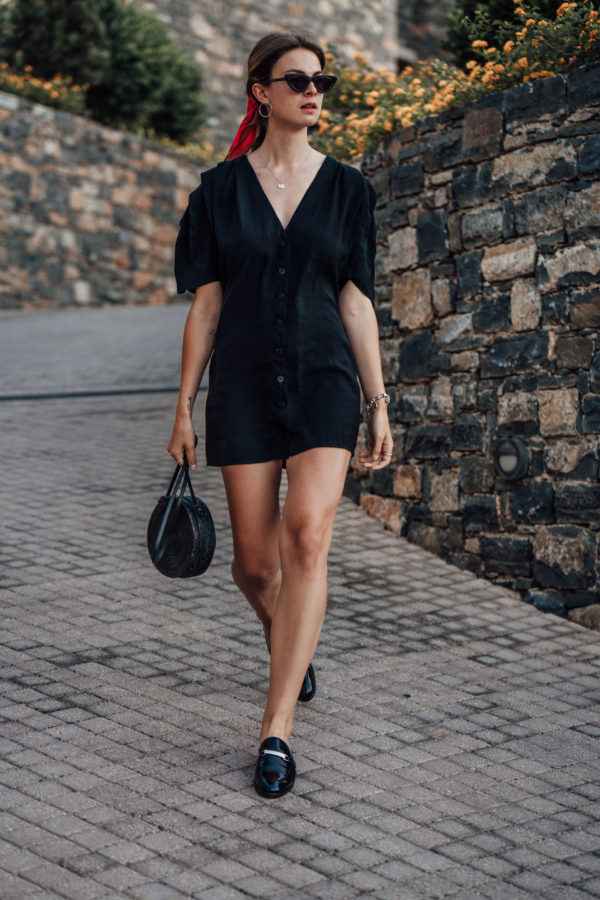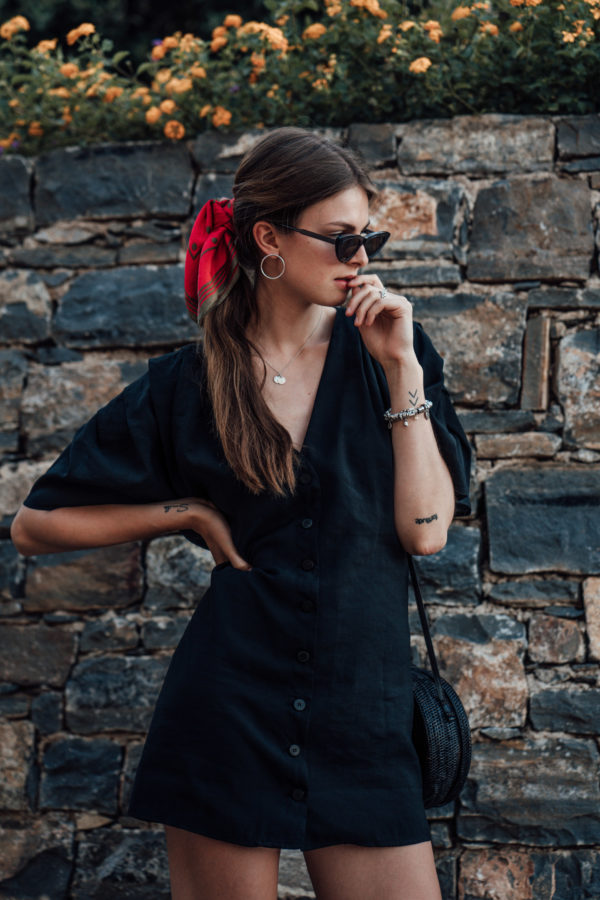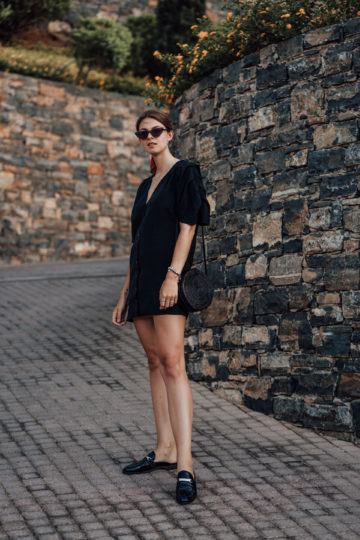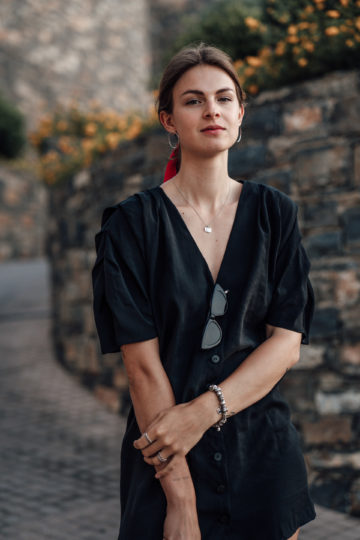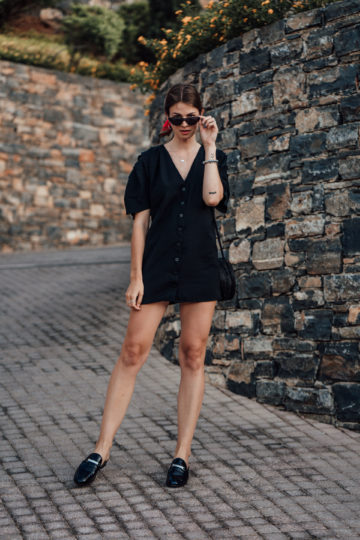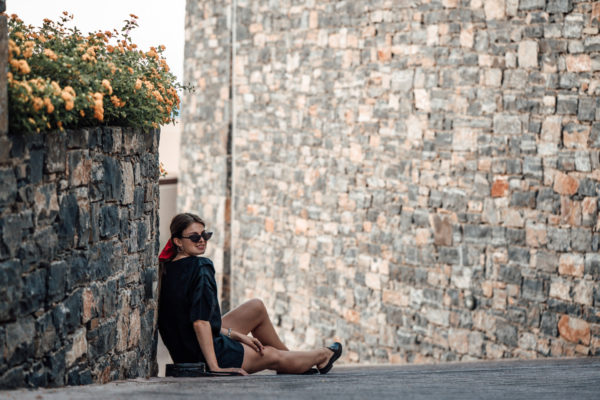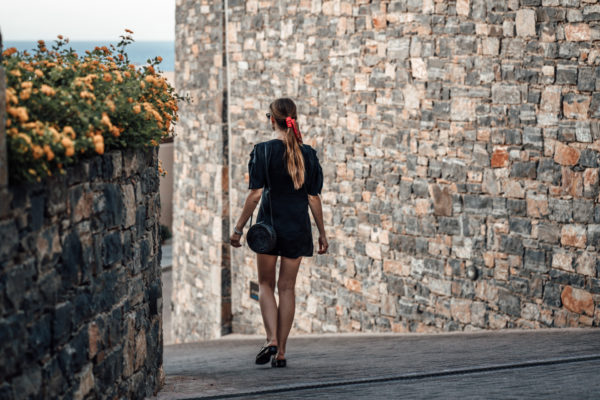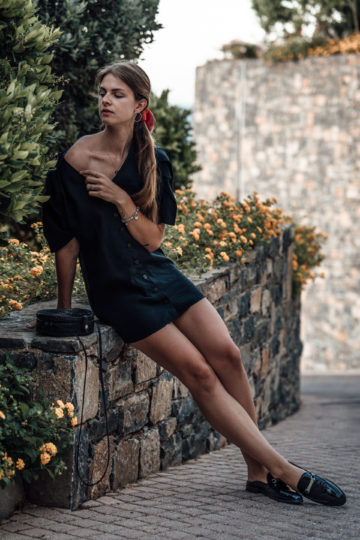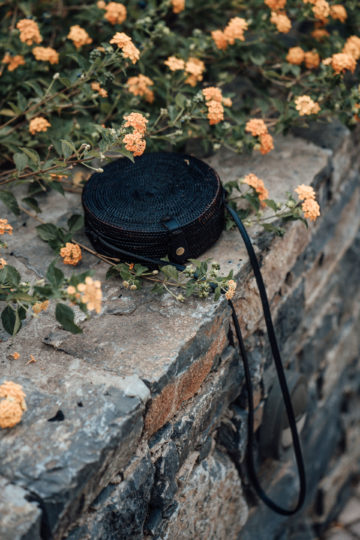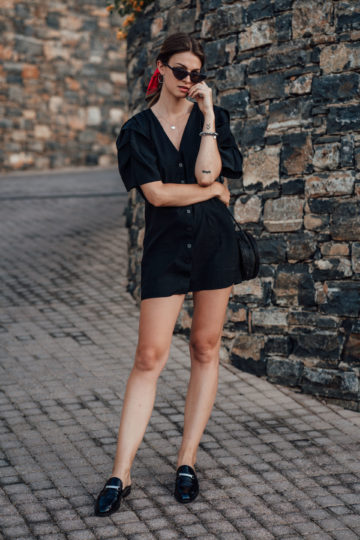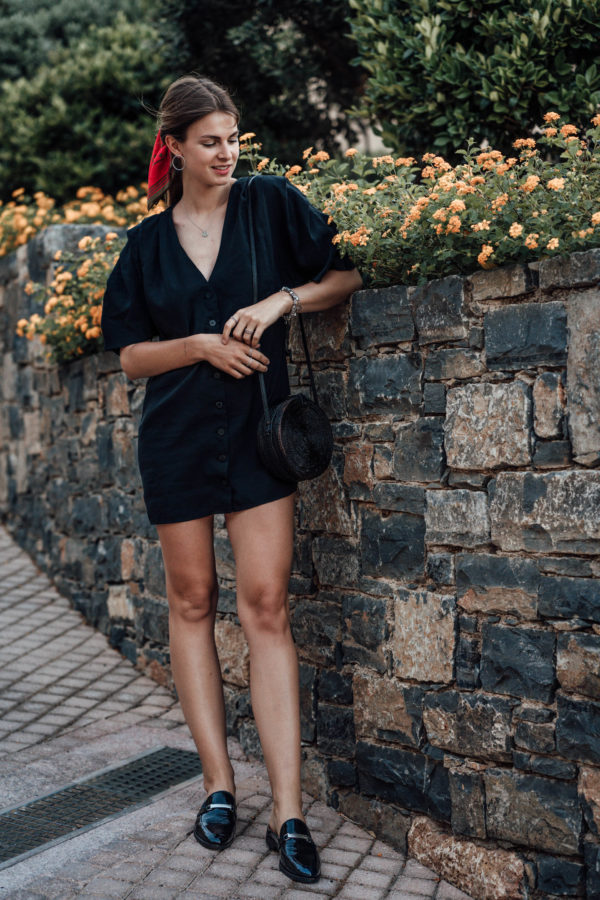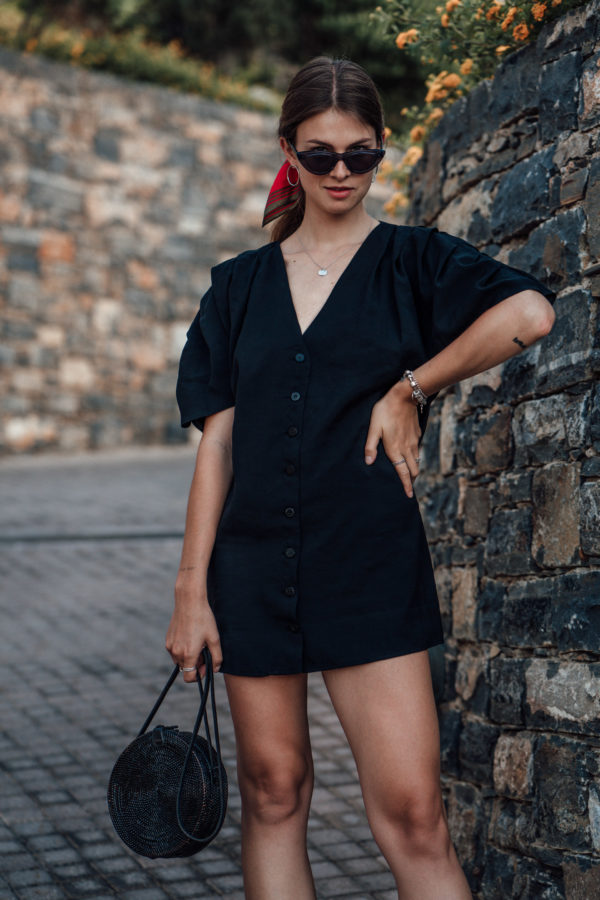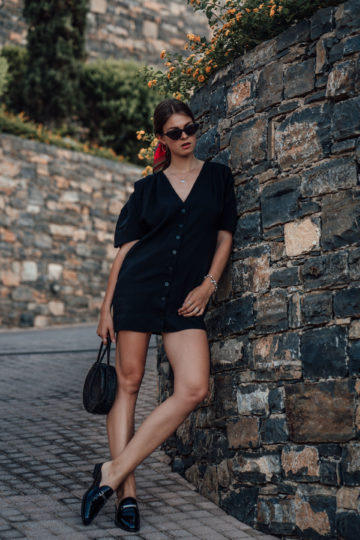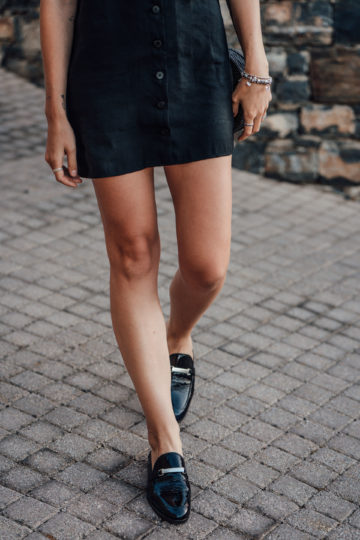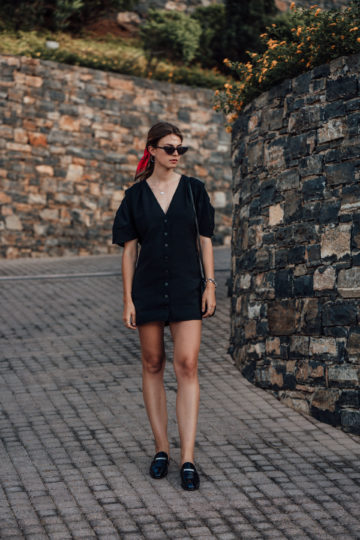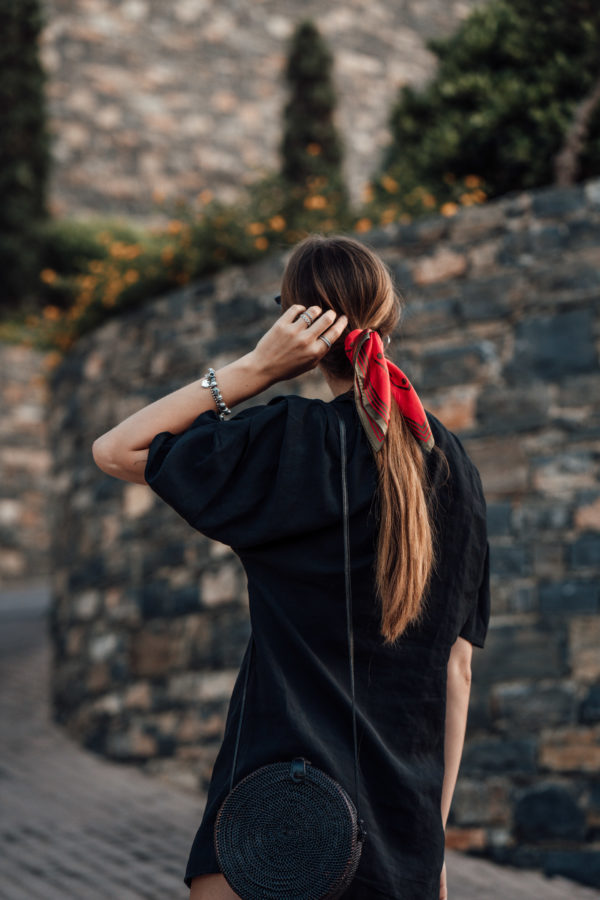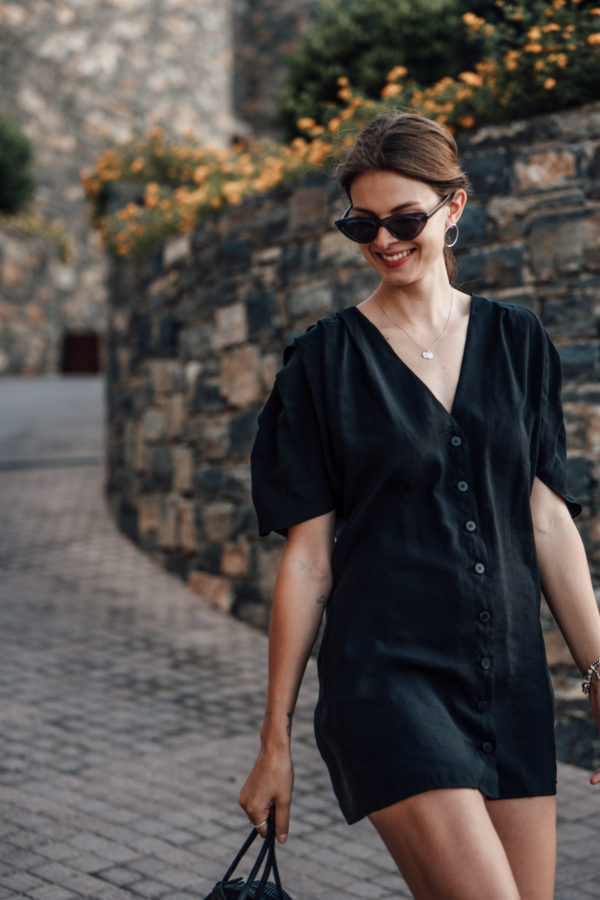 *PR Samples contained – Zara dress || Gant shoes || Ata bag from Bali || Manila Grace scarf || Chimi Eyewear Sunglasses