It's time to come to an end with all the posts from Bali, and I want to end with sharing two more accommodations. But this time I won't share private pool villas we stayed at, this time I want to talk about two hotels we stayed at when we were in Bali. And even though these two accommodations are hotels, we still got our private pool! I am actually happy that we didn't stay at usual hotels where we "only" had our own room. I really enjoyed the comfort of having a private pool villa or at the hotels a room with a private pool. You don't have to take care of other guests, what was way more relaxing. Not that I have a problem with other guests or other people in general. I just like it better to be on my own (well, with my boyfriend) when I want to calm down and relax. Even when I am in Berlin, I go home when I need some relaxing time, because nobody but me or us is at home. Do you get, what I am trying to say? 🙂
To cut a long story short, there is nothing better than having a private pool when on vacation. And the two hotels we stayed at in Bali where two of the most amazing hotels I have stayed at so far.
Our stay at Komaneka at Keramas Beach
Let's begin with my favorite hotel of all times, the Komaneka at Keramas Beach. Unfortunately we had only one night at this amazingly beautiful hotel, but believe me, we enjoyed it to the fullest! It actually isn't finished yet; they are still building parts of the hotel. At the moment, you can only book their private pool suites with sea view, and when everything is done, you can also book other hotel rooms, that are a little bit further from the ocean and beach. But you don't hear anything of the construction work; it is very calm and peaceful at the hotel. Everything you need already builds, so you can enjoy delicious food at their restaurant or use the big main pool when you are bored of your private pool suite 😉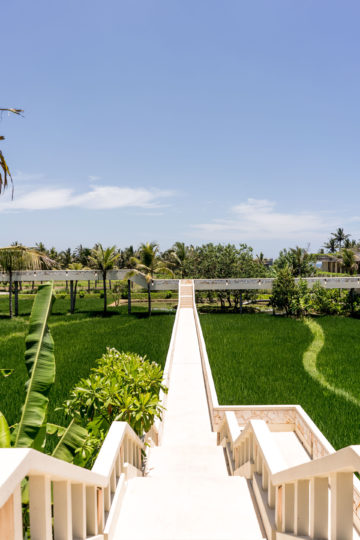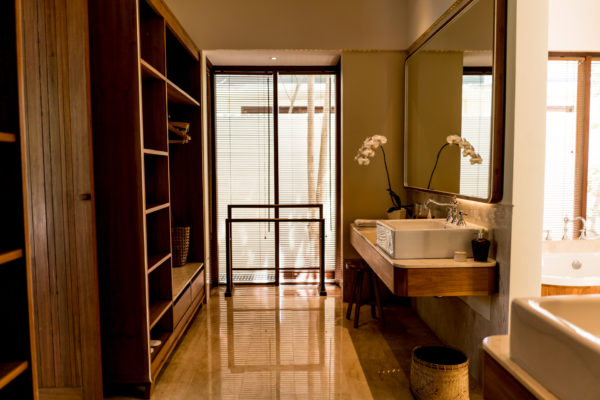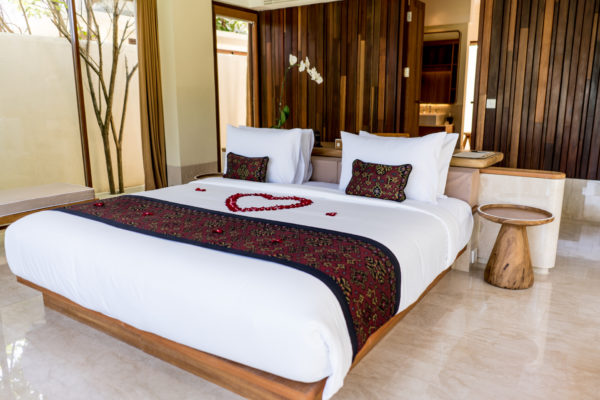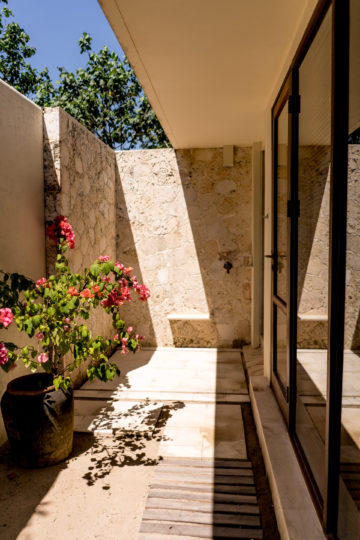 The Facilities
The Komaneka at Keramas Beach has a big pool close to the beach, daybeds with a sea view as well as hammocks. At the pool area, you will also find a pool club and a whirlpool. You can have breakfast, lunch, dinner and a snack in between at their restaurant called Timur Kitchen I will later tell you more about. They also have a library, a meeting room, a music and entertainment pavilion, the Segara Wangi Spa with Indonesian beauty and massage treatments and a gym.
The Room/ Villa
We stayed at the Ocean Pool Villa, a private villa with a private 33 square meters swimming pool and a total area of 200 square meters. Do I have to say anything more about this villa? Okay, I will! When you enter the room, you do not only have an amazing pool as well as sea view; you will also find a little fish basin in the entrance. How cool is that? I was quite surprised when I saw them haha.
In addition to the fish basin, the ocean pool villa also has a lounge area, two sunbeds as well as one big outside lounge on the other side of the pool. From this lounge, you can walk to the back of the villa to the outdoor shower or enter the bathroom. And the bathroom was almost as big as my whole apartment here in Berlin haha. You have a bathtub, a shower, a separate toilet room and two sinks as well as a wardrobe inside the bathroom. A bathroom like this truly is every girl's dream!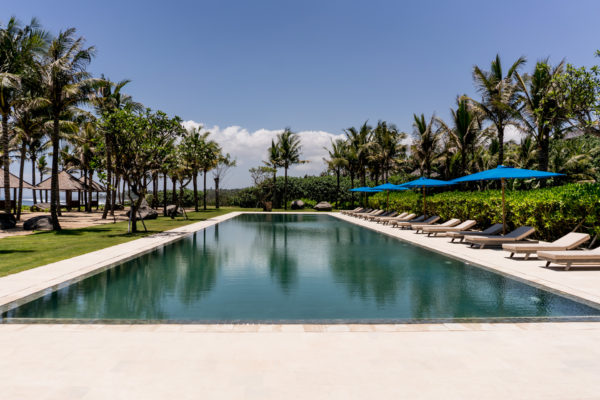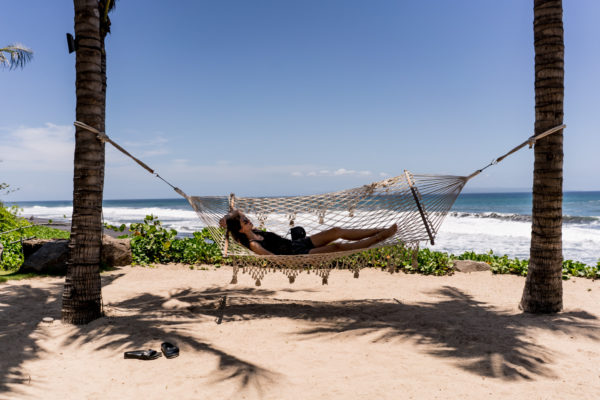 The last room is the bedroom with a comfortable double bed, a small work desk as well as two chairs. From the bedroom, you have a fantastic view of the pool as well as the ocean. And you can open the windows to the pool and jump right into it if you want 😉
The Location
Komaneka at Keramas Beach is located in the east of Bali. It is about 30 minutes from the airport by car. It is a very calm area with a beautiful black sand beach. We actually didn't leave the hotel, so I can't say anything about the neighborhood, but I think there are only other hotels and maybe a few restaurants around. So you can't compare it to areas like Kuta, Seminyak or Canggu.
The Food
We had both dinner and breakfast at Komaneka at Keramas Beach, and both were amazing! We had dinner at Timur Kitchen overlooking the beach and ocean. They serve Indonesian cuisine and some international dishes all prepared by their Executive Chef. We both ate fish dishes, my boyfriend had fish and chips, and I tried their salmon, and both were very delicious.
The dinner already was a highlight, but the breakfast was even better! We had breakfast at our ocean pool villa, and everything was served by the pool. We got plenty of choice including orange waffles, fresh fruits, yogurt, bircher muesli, bread, and egg. I couldn't have asked for more! This truly was the best breakfast I had in Bali. Well, the smoothie bowls weren't bad either. 😉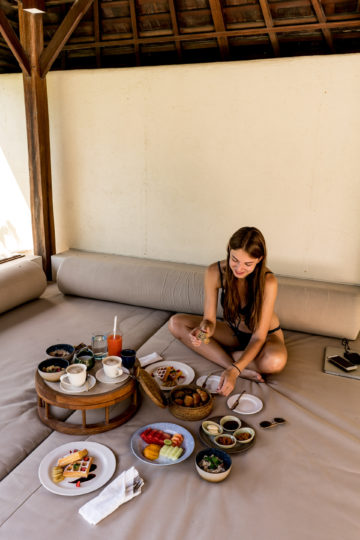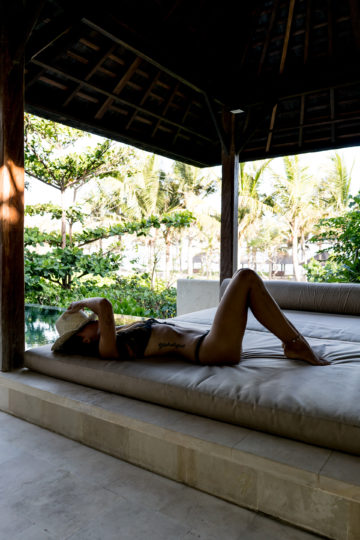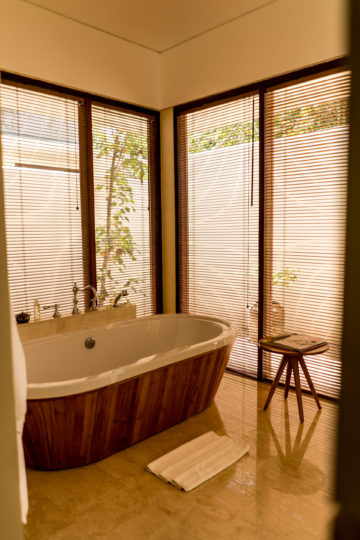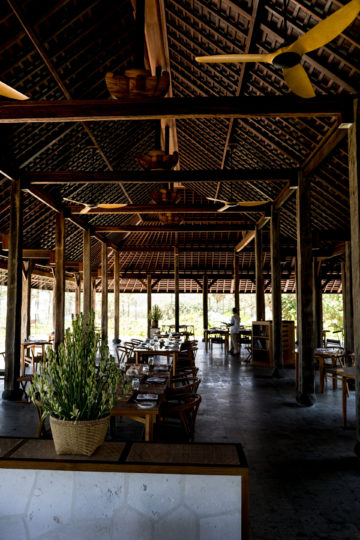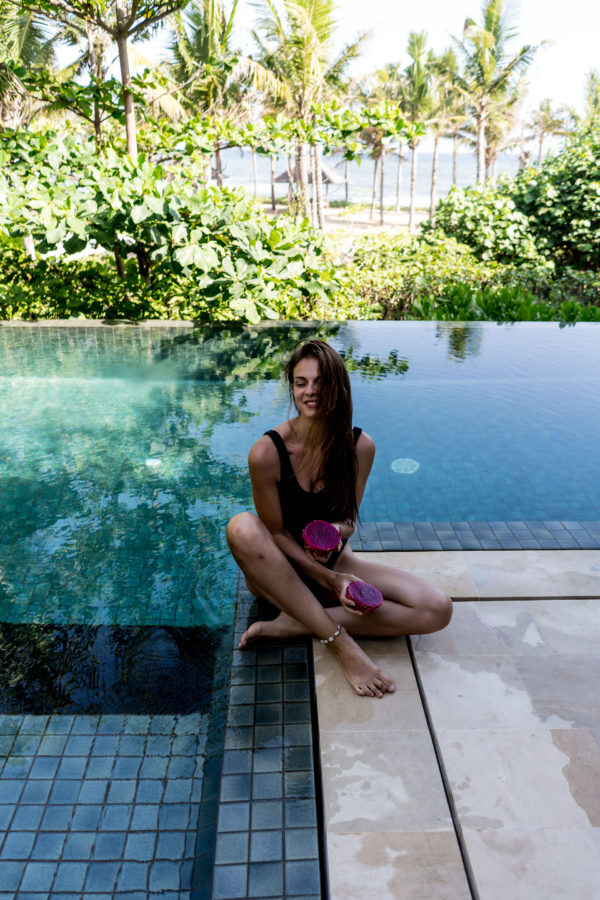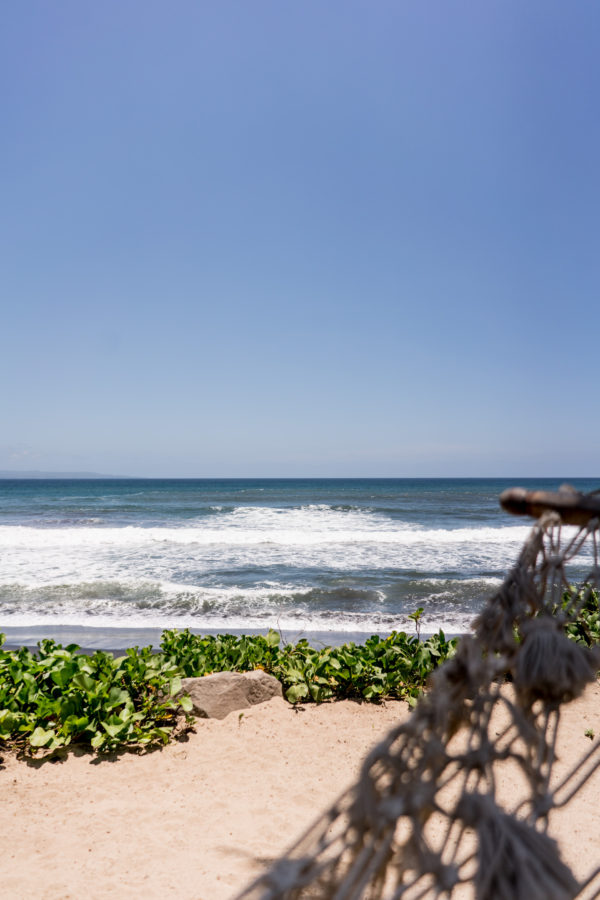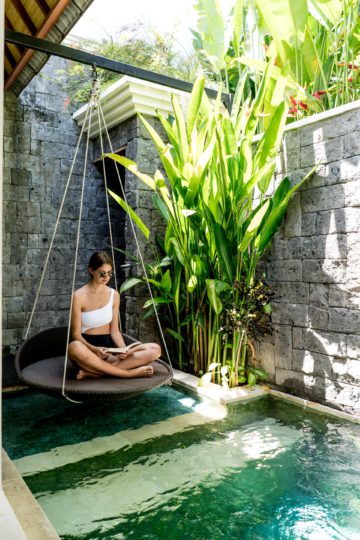 Our stay at Ini Vie Villas
Our last accommodation was Ini Vie Villas, a hotel that offers private pool villas only. It is located in a very calm area in Kuta. The hotel itself is quite small, and they don't have a lot of facilities. They have a lobby, but no common areas or a restaurant. You can order room service, but when you are staying at the hotel, you are staying at your private villa. Not that that's a bad thing. You have everything you need in your villa 🙂
The Room/ Villa
They have one and two room villas, and we stayed at a one-room villa. The one-room villa has a size of 90 square meters and includes a private pool as well as a jacuzzi. In the outside area, you also have a swing and a hammock, where I spent most time at. You have one big room with a kitchenette, a dining table, a living area as well as a double bed. And at the back of the one room villa, you can find the bathroom with a rain shower and two sinks. It is not a big place, but you have everything you need including free wifi, tea and coffee, a DVD Player, air conditioning, an iPod dock station and a LED TV there.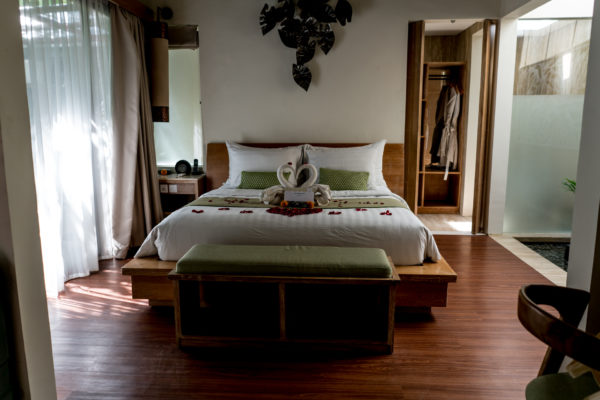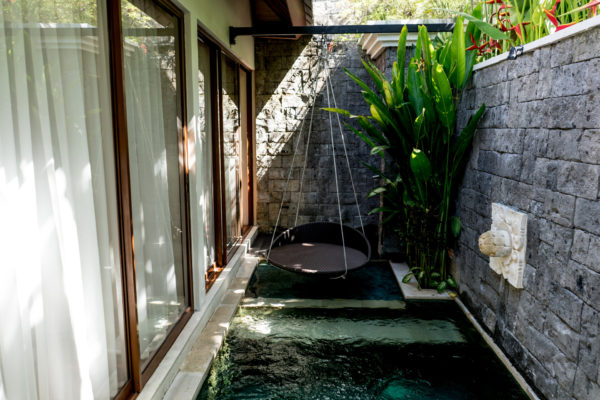 The Location
Ini Vie Villas is located in Kuta in a very calm area. It is not that close to the main area with all the hotels and shopping malls, and the beach is a five to ten minutes drive by scooter or car away (depending on the traffic). But we actually enjoyed the calm. And even though it is located in a calm area, there are some good restaurants as well as small supermarkets around.
The Food
We didn't eat anything but breakfast at Ini Vie Villas because we were spending the afternoons and evenings in Kuta. But the breakfast is a true highlight, especially when you are booking the floating breakfast. We had the floating breakfast in our first morning at Ini Vie Villas, and I was super excited and couldn't wait to have breakfast inside the pool. Well, I ended up sitting by the pool, because it's healthier to eat when you are sitting than when you are standing 😉 But it definitely is something special.
We got to choose from different breakfast menus, and I went for the smoothie bowl as well as the french toast, that were both very good. My boyfriend had scrambled egg with bread and vegetables and that one tasted delicious as well. But they have many more options you can choose from, so you will for sure find something you like. You just need to know, that the floating breakfast costs around 4$ extra and you have to take care you won't break anything. It is quite unstable, and the glass gets broken easily. It happened to us, and they charged us 50K IDR, which is quite a big price for a broken glass…