Today is the day I am sharing the last outfit pictures we took in Bali. And with today's post, I want to talk about my favorite beaches in Bali. Unfortunately, I didn't take any pictures of all the beaches we have seen in Bali, but I can tell you a little bit more about them. The only beach we took pictures at is Keramas Beach, a beach on the east coast of Bali.
Bali has plenty of beautiful beaches. And I just realized that we didn't see many of them. We actually went to four beaches only: Echo Beach, Batu Bolong, Kuta Beach and Keramas Beach. I also realized that we didn't spend a lot of time at those beaches. We went to Echo Beach to see whether it is a good surf spot for us or not. And at Batu Bolong and Kuta Beach, we only went surfing but didn't relax at the beach. Keramas Beach was the only one we actually spent time at. But maybe that's just because you can't go there for a swim or surfing as a beginner-intermediate surfer.
So the thing is, I can't give you a proper review of all the Bali beaches. But I can tell you more about the ones we went to regarding what we did there. So I will tell you what surfing at Kuta Beach and Batu Bolong was like and whether Keramas Beach is worth a visit or not.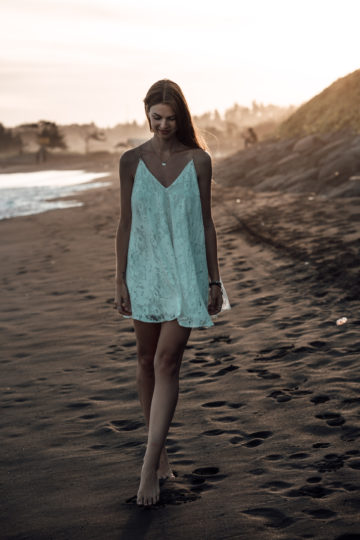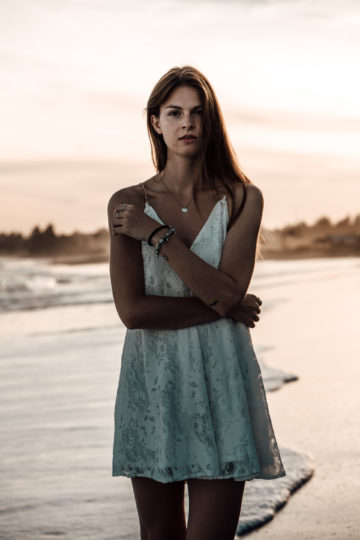 Surfing at Batu Bolong in Bali
When we were in Canggu, we had two options for surfing: Echo Beach and Batu Bolong. We first went to Echo Beach to see how the waves are, but it actually didn't look like the perfect conditions for beginner to intermediate surfers. We also didn't see any rentals close to where we entered the beach, so we decided not to go there. The other beach close to our private pool villa was Batu Bolong, and it also was the beach our host recommended for surfing. So that's why we went there.
And yes, there are plenty of surfboard rentals along Batu Bolong Beach, and you pay around 50K IDR for two hours or 100K for a whole day. There are also some surf coaches around, but I have no idea how much they want for a surf lesson. I even don't know whether they really know what they are talking about our not. To be honest, what we saw didn't look they are good surf coaches haha.
The waves at Batu Bolong beach are perfect for beginners. But if you already know how to surf and are more intermediate than a beginner, it might not be the right beach for you. We couldn't enjoy it and were a little bit bored. We went there twice at two different times, and none was better than the other time.
Said in a nutshell: if you are not a surfer and want to try it, Batu Bolong might be the right choice. It also is a nice beach to hang out and relax a little bit or to go for a swim. But if you want to go for a swim you should do this a little bit further from the surf spot. 🙂 Close to the beach you can also find nice restaurants and bars to hang out at when the sun is about to go down or at night.
Surfing at Kuta Beach in Bali
Kuta Beach is way more crowded than Batu Bolong, but that's probably because Kuta is a little bit bigger than Canggu and they have some kind of a beach promenade there. It also is close to some bigger hotels.
We went to Kuta Beach twice. The first time we were there to go surfing and the second time to watch the sunset. But you can also go for a swim at Kuta Beach or have something to eat or drink there.
You can find surf rentals all along the beach, and some of them are also offering surf lessons. We rented two surfboards for an hour (costs: 50K IDR) and tried our luck. To be honest, the waves didn't look promising, and the guy from the surf rental said, that Kuta Beach is a good spot for beginners. But once we were inside the water, I wasn't that sure about it. The waves were bigger than they looked from the outside and the current quite strong. We had way more fun surfing there than at Batu Bolong. But we also saw a lot of beginners out there, and as long as you didn't go out to far, the waves were perfect for beginners. So I would say, that Kuta Beach is a nice spot for beginners to intermediate surfers. If you are an intermediate surfer, you should check the waves before you go there. I was happy that we went to Kuta Beach on our last day and went surfing there.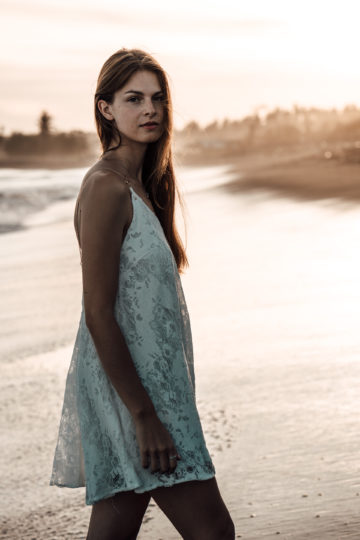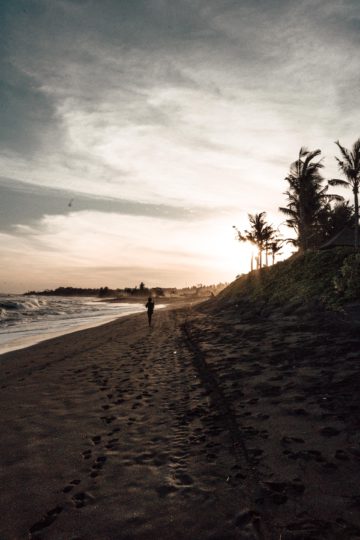 We also came back for sunset and guys, this view was amazing. I haven't seen such a beautiful sunset in a while. You can sit down on the beach or rent a chair from the locals. They also sell drinks as well as pedicures or massages at the beach. And how amazing does a massage on the beach at sunset sound?! Does it get any better?
Said in a nutshell: If you are looking for an empty beach, Kuta Beach isn't the right choice. But if you want to go surfing, learn it, go for a swim or just hang out by the beach and watch the sunset, Kuta Beach will serve the purpose.
Black Sand at Keramas Beach in Bali
Keramas Beach is the exact opposite of Kuta Beach and Batu Bolong. First of all: the sand here is black and not white! And secondly: we barely saw anybody at Keramas Beach. We saw some locals in the evening, but that's it. The hotel staff told us, that you can't go for a swim at Keramas Beach, but that it's perfect for surfing. And yes, the waves looked quite good, but actually a little bit too high for me. I didn't want to go surfing there, but if you would, you could find a surf rental close to the Komaneka hotel.
Said in a nutshell: Keramas Beach is a beautiful beach and worth a visit, but you can only go there for a walk or to lay down. You can't go swimming at Keramas Beach. Surfing is possible, but we didn't see anybody surfing there, and it doesn't seem to be qualified for beginners or intermediate surfers.