The meaning of Thanksgiving 
Thanksgiving is considered the most important holiday in America when the whole family gathers for Thanksgiving dinner. In America, this day is even a national holiday where everyone is free to celebrate. Thanksgiving is always on the fourth Thursday of November. The families sit together and give thanks for all the good things in their lives. Officially, the American president announces the holiday with a speech summarizing important events of the year. He is then presented with a turkey, which he pardons.
It is quite funny to know that this turkey lives in Disneyland then and takes part in the annual Thanksgiving parade.
Thanksgiving in Germany
Thanksgiving does not officially exist in Germany. But you can compare it to our harvest festival. Nevertheless, there are numerous differences between both festivals and the customs that go with them. Nonetheless, we think that even non-Americans can invite their families to a Thanksgiving meal!
Thanksgiving Recipes
Thanksgiving in America is usually served with traditionally prepared turkey for dinner, but the national vegetable pumpkin is also a must for the real Thanksgiving meal! For all veggies and vegans among us, Thanksgiving is a little more complicated, so we have created a vegan three-course menu 'vegan pumpkin recipes'. These three pumpkin recipes vegan are not only delicious but also very practical because we made sure that you can reuse as many ingredients as possible and thus buy sustainable! So how about a vegan 3-course menu for friends, aka vegan party food for Thanksgiving?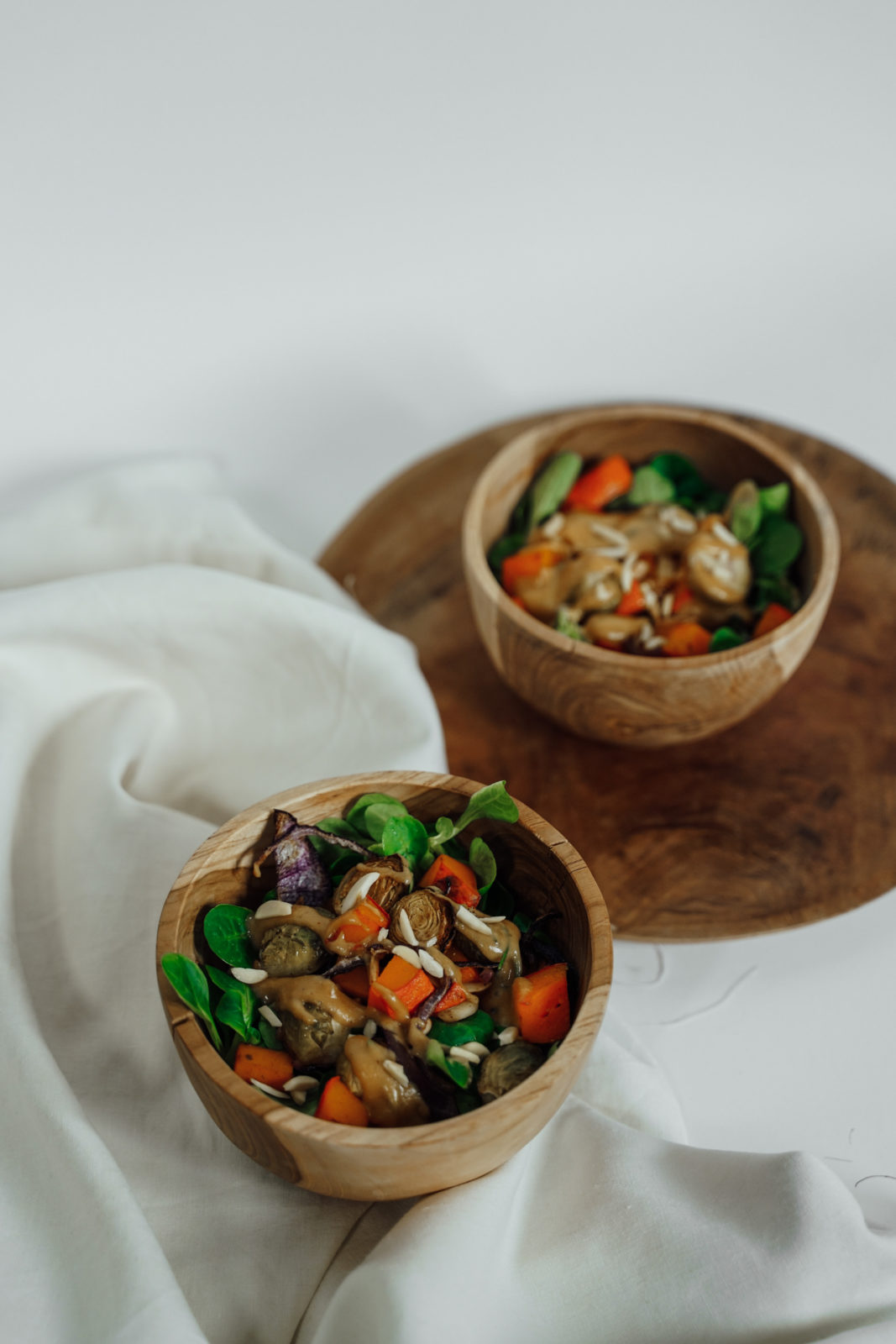 Vegan Thanksgiving Menu with Pumpkin Recipes
The first vegan pumpkin dish, your Thanksgiving appetizer, combines the pumpkin with brussels sprouts. It is a vegan brussels sprout salad that combines different tastes for the perfect Thanksgiving menu appetizer.
Brussels sprouts salad recipe with marinated pumpkin
(4 Portions)
Olive oil 
4 tbs balsamic or white wine vinegar
4 tbs maple syrup or agave syrup
2 tbs almond butter
2 tbs mustard
⅓ pumpkin
2 big hand full of brussels sprouts
1 red onion
almond slivers
lamb's lettuce
pinch of cinnamon and pepper
Preheat the oven to 180 degrees. Remove the outer leaves from the brussels sprouts and put them into an oven dish. Chop pumpkin and red onion and add. Mix some olive oil, half of the maple syrup and balsamic vinegar with cinnamon and pepper and put it into the baking dish. Cook the pumpkin salad vegan for about 20-25 minutes in the oven. In the meantime, prepare a dressing with the remaining maple syrup and balsamic vinegar, almond paste and mustard. Serve the finished pumpkin sprouts salad on some lamb's lettuce, topped with almonds and the dressing. Serve the Brussels sprouts salad lukewarm.
Follow with the vegan main course: vegan cheese macaroni or vegan mac and cheese with a cashew cheese sauce.
Vegan Main Dishes – Mac n Cheese vegan
320 g makkaroni
olive oil
1 small onion
400 g pumpkin puree
100 g cashews
4 tablespoons yeast flakes
½ tsp turmeric
1 tsp mustard
200 ml vegetable broth
Cook the pasta in salted water for about 8 minutes. In the meantime, cut the onion and pumpkin. Heat some oil in a pan and fry the onion briefly. For the pumpkin puree, just cook the pumpkin until they are soft. It is best to directly bake or boil 200 grams more pumpkin for the muffins. For the vegan cheese sauce, add cashew, yeast flakes and the remaining ingredients. Gladly top the dish with some fresh herbs or bake in the oven with some vegan cheese for a short time. Your vegan Mac and Cheese is ready!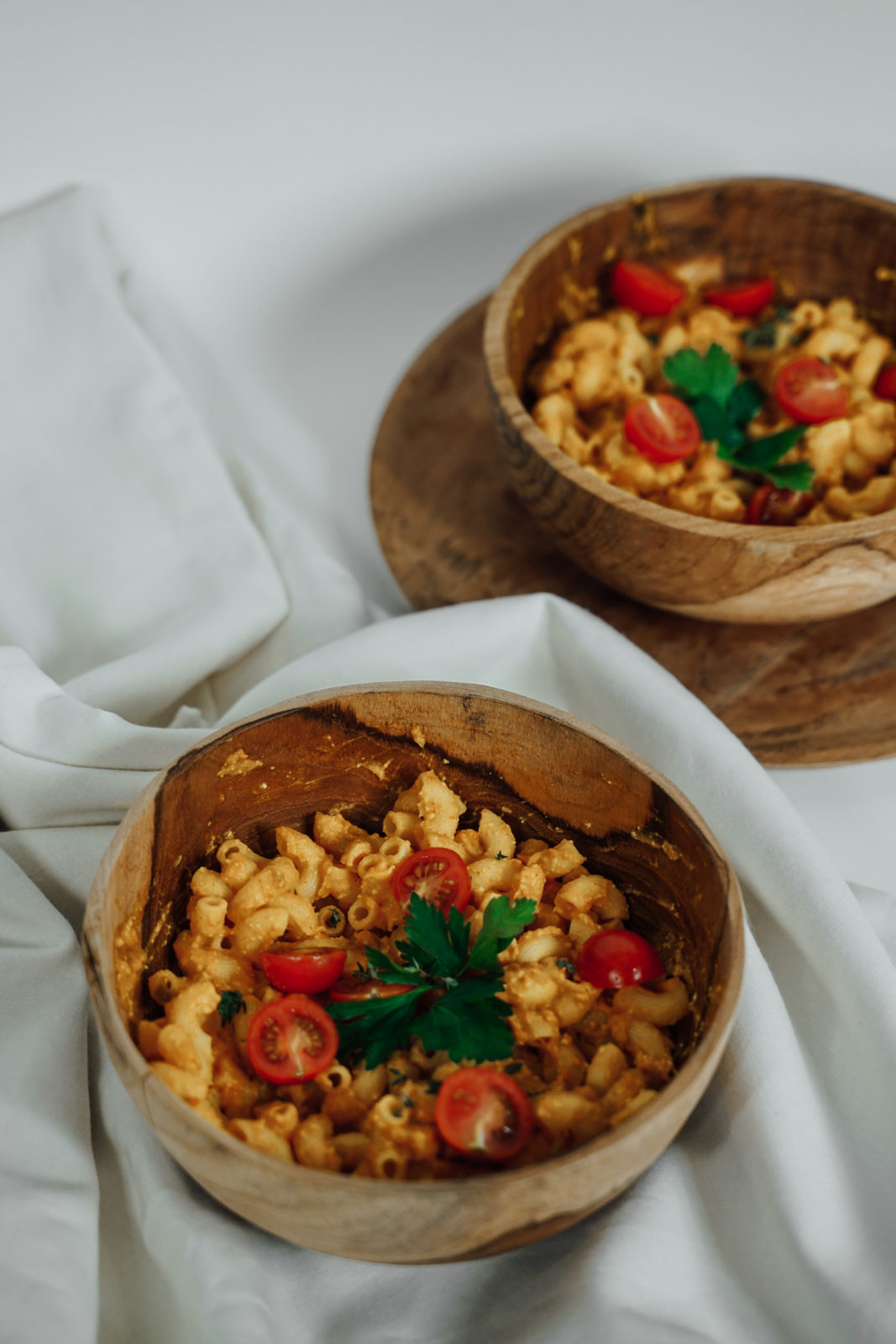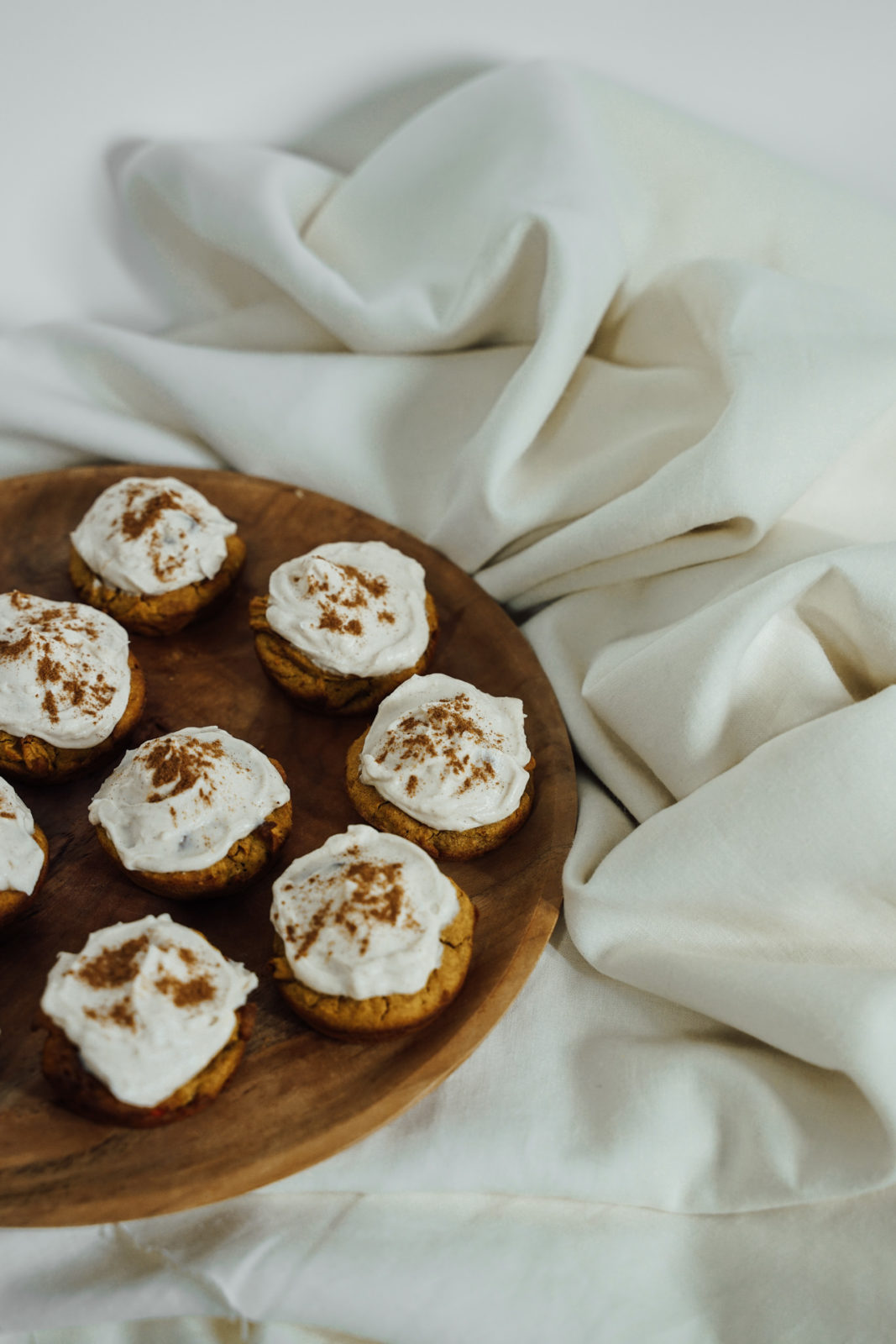 A Thanksgiving menu will never be complete without a dessert. And to stick to the topic of our vegan Thanksgiving menu, it will be a pumpkin dessert. Baking with pumpkin is super delicious and healthy!
Pumpkin Muffins vegan and healthy
200 g pumpkin puree
100 g vegan butter or margarine
50 ml + 2 tablespoons maple syrup or agave syrup
2 teaspoons baking powder
200 g buckwheat flour
50 g almond flour
cinnamon
nutmeg
cardamom 
4 tablespoons plant milk
200 g vegan cream cheese
Preheat the oven to 180 degrees. For the dough, mix the dry ingredients first. Then mix the pumpkin puree with 80 grams of butter, 50 milliliters of maple syrup and milk and add to the dry ingredients. Mix everything well, add some more plant milk if needed and fill it into muffin cups. Bake the dough for about 20-25 minutes. It is a good idea to bake the muffins directly with the brussels sprouts to save time. Let the muffins cool down. For the Frosting, whip up the vegan cream cheese with the rest of the butter, 2 tablespoons of maple syrup and a pinch of cinnamon. Garnish the pumpkin muffin vegan with frosting and enjoy it!
The pumpkin salad recipe, vegan Mac n Cheese and healthy vegan muffins can also be prepared as a vegan Christmas menu.  Simply take out these Hokkaido Pumpkin Recipes for Christmas and enjoy them again!
If you try our menu, let us know in the comments. We would love to hear how you like it and what's your favorite dish.
P.S.: All vegan dishes were served on tableware made of teak wood. You can find them online at Onvacay.