Happy Monday and Happy new week everyone! I am back in Berlin and have a lot of work to get done before driving to Cologne on Thursday. But while I am just sitting at the office, doing mostly boring stuff such as writing new posts and editing the Sri Lanka as well as Morocco videos, I'll share the last pictures taken in Morocco with you here on the blog. I have enough pictures left to fill this whole week, and I hope you'll enjoy it! 🙂
Let's start the week with an outfit I first wasn't pretty sure about but liked a lot in the end:
Striped Shirt Dress and White Sneakers
I got this striped shirt dress from Reserved a while ago, but that time it was already too cold in Berlin to wear it outside. But since I knew I had a couple of trips to warmer places coming up, I couldn't resist and had to get it. I didn't bring it to Sri Lanka because I thought it would be a little bit too warm there to wear it, but Morocco seemed like the perfect place to finally wear it. And it definitely was. It was super warm as long as the sun was shining, and it wasn't too windy, but especially in the evenings and mornings, it got a little bit chilly. The day I was wearing this outfit on a nice and sunny day, but it was a little bit windy. Due to the wind, it was too cold to wear shorts and a shirt, that's why I opted for my striped shirt dress instead. I didn't bring a lot of shoes with me to Morocco and (as always) I didn't have the time to plan all the outfits I wanted to wear during the trip before I packed my bag. Due to this I first didn't know which shoes to wear, I wasn't completely happy with all the shoes.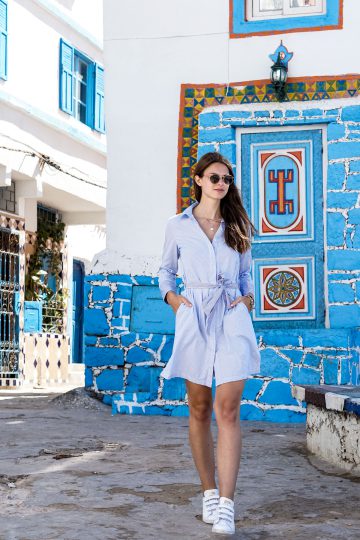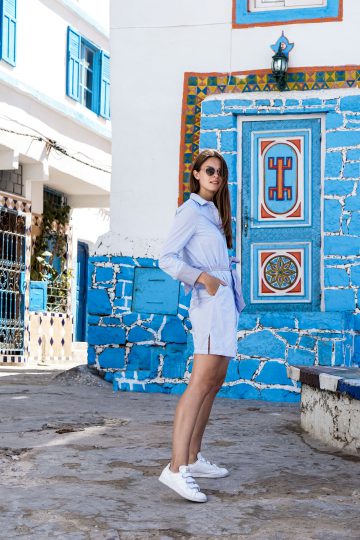 In the end, I decided to go for my Velcro Stan Smith and even though I first wasn't sure if I like this combination or not, I'm now quite happy with the final outfit. 🙂 I think I would wear it the exact same way again.
If I had had the choice, I would have combined it with white sneakers as well, but not with the Velcro ones. I just think, that my feet look even bigger when I'm wearing them x) Anyways, I'll probably wear this shirt dress again when it's warm enough here in Berlin, so let's see which shoes I'll choose next time.
As you can see, I didn't wear any other clothes. I simply combined the shirt dress and my white sneakers with some pieces of jewellery and my beloved round Ray Ban sunglasses. Once again it's a very simple outfit, perfect for warm summer days. I think it works perfectly for a summer day in the city as well as somewhere close to the beach. And you can easily change to shoes to create a different looking outfit by changing only one piece and maybe a couple of accessories. Oh, I can't wait to wear it again and try to create completely different outfits with this shirt dress during summer and maybe already spring here in Berlin.