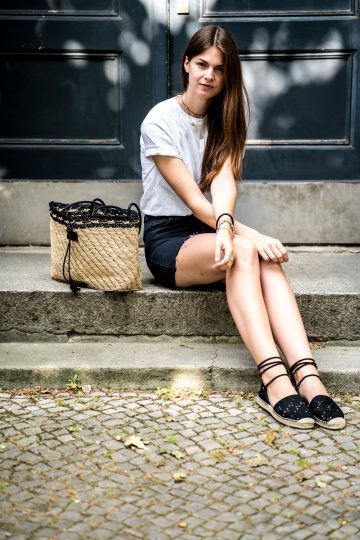 Did I mention how happy I am about these summer days? How happy I am, that I don't have to wear jeans and several layers if I don't want to freeze? And how happy I am that I can finally wear all my summer clothes instead? Oh yes, I am happy about that! That's why I am sharing another summer outfit with you today. I am sure; you are at least as happy as I am about summer finally having arrived in Europe, aren't you?
The outfit I am sharing with you today is another very simple one. It is the perfect outfit for a day by the lake or in a park when you're just sitting or laying down, enjoying the perfect weather with some friends or your beloved ones. I wish I were doing this that day, but instead, I was sitting at the office all day. At least we drove to the office a little bit later to take these pictures for you, so I got to enjoy the sunshine at least a little bit 😉 And around noon the weather fully changed. It was warm and sunny all morning, and then it started pouring rain. I can't believe I have ever seen that much rain coming down. It was crazy. After an hour everything was over, and the sun came out again… super strange weather conditions.
Straw Bag, Black Skirt and White Tee
The key piece of this outfit definitely is the straw bag I received weeks ago from ba&sh. I wanted to wear it for so long, but I had all the other outfits in mind I wore first… anyways, the other day I woke up, saw the bag hanging in front of the bed and knew that I would wear it that day.
Okay, that sounds super weird. So let's proceed and talk about the outfit combination I opted for.
I created the whole outfit starting with the bag. I had this outfit in mind for quite a while, but I first wanted to wear it with a blue denim skirt and not with a black one. I wanted to keep it simple, so it was for sure that I would wear a white tee and a denim skirt. I tried on the blue denim skirt, but I wasn't quite happy with the look. So I tried it on with the black denim skirt, and this look worked so much better. And as you can see it is the one I went for. I finalised the outfit with some pieces of jewellery and my Michael Kors Espadrilles because they have the match the bag perfectly. Don't they?
Now I have said enough about the outfit combination, but let's get back to the straw bag. Straw bags are one of the big trends this season, so you either have seen them already, or you will see them pretty often this summer. I first wasn't quite sure about this trend, but when I received this lovely ba&sh straw bag, it was love at first sight. I've been wearing small bags only the past months, so I am not used to this size anymore. I have to admit, it was a little bit strange, and I first didn't know how to wear it when we were taking the outfit pictures. But I think it worked out very well in the end 😉 How do you like the bag and what do you think about the outfit combination I was wearing that summer day in Berlin?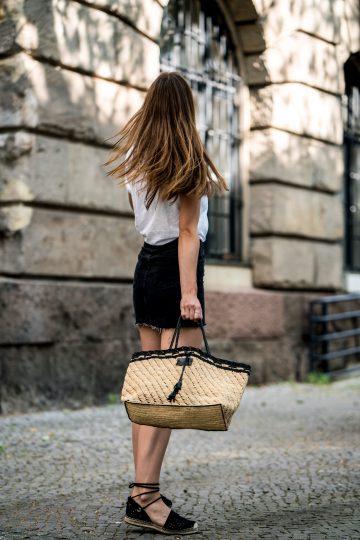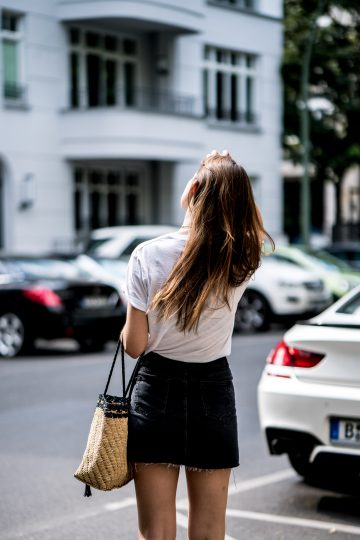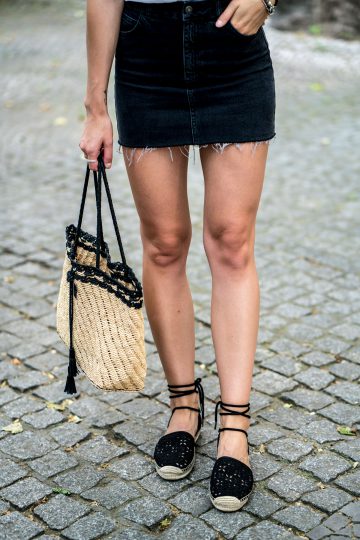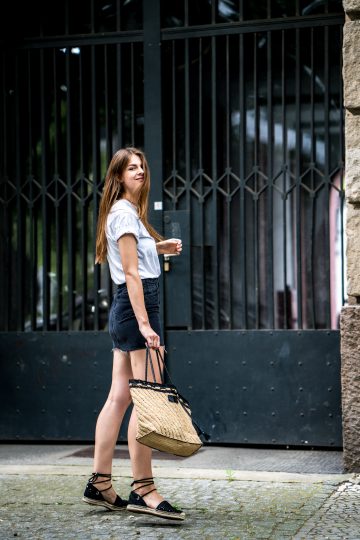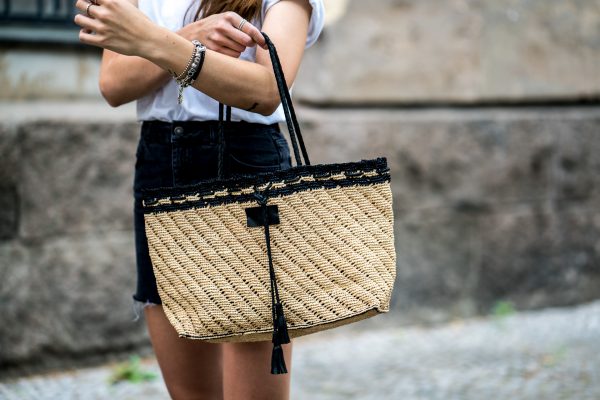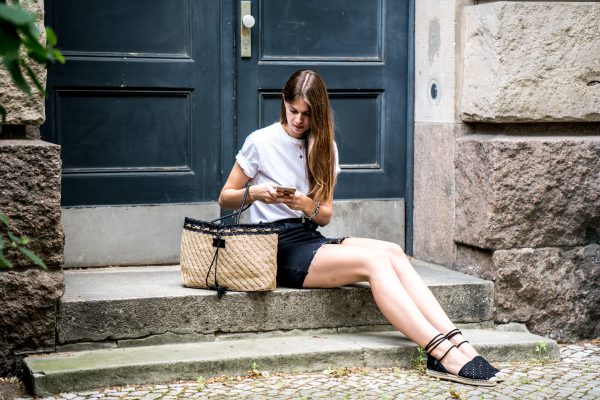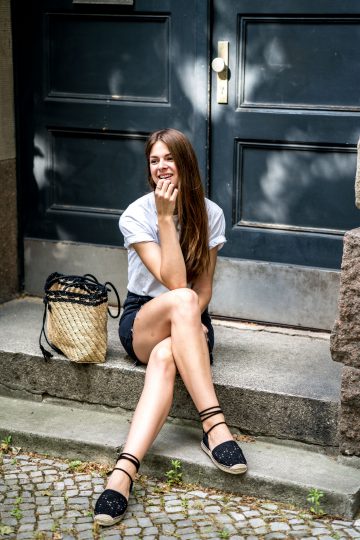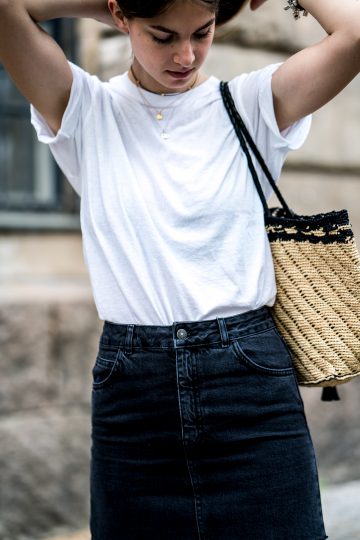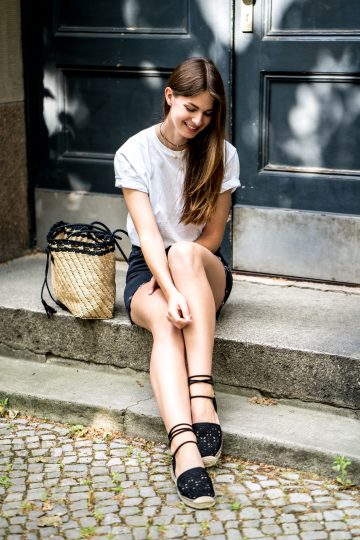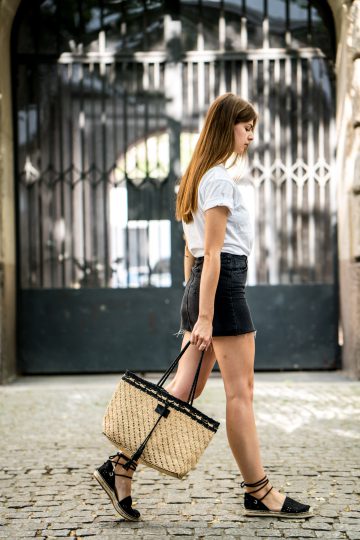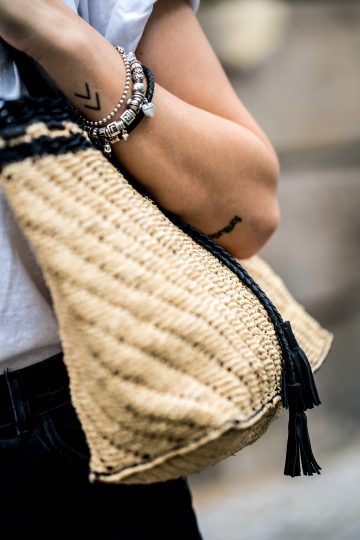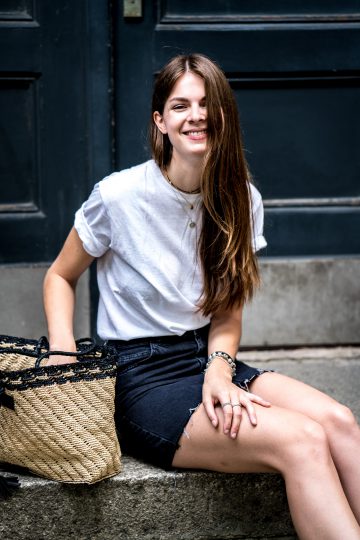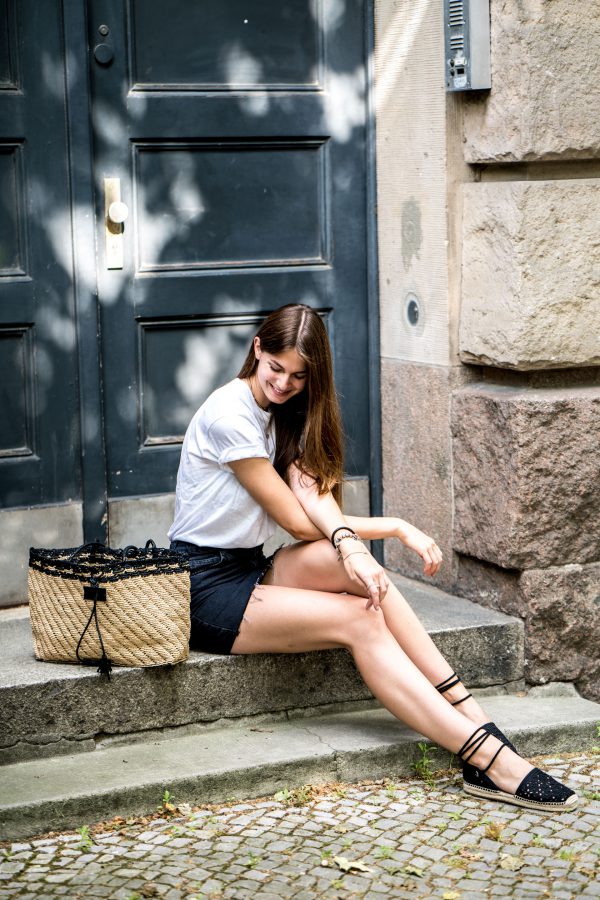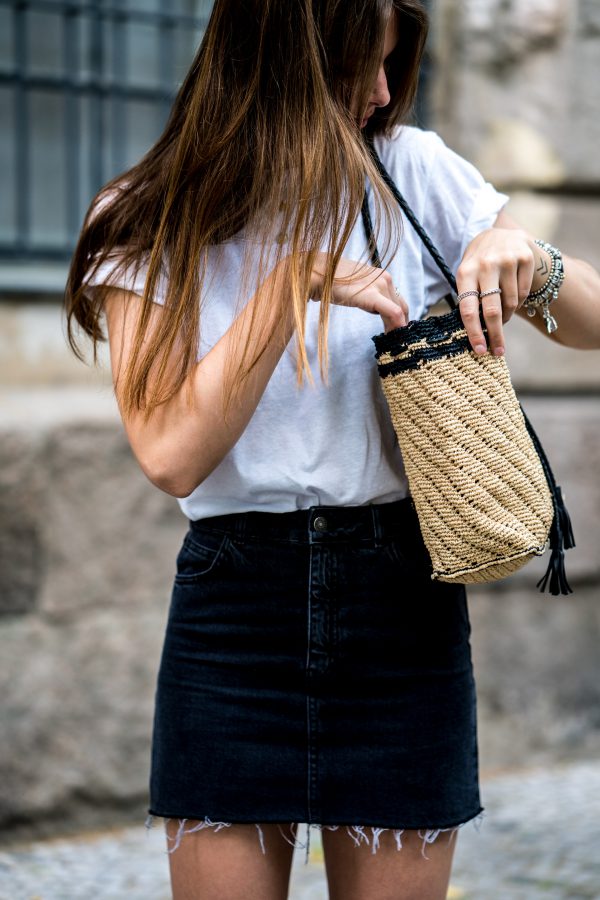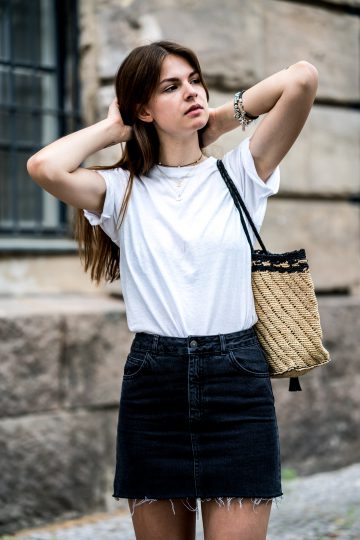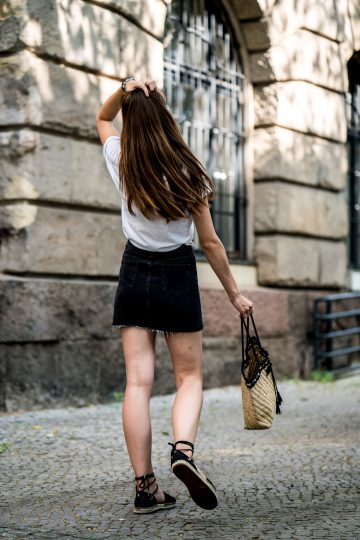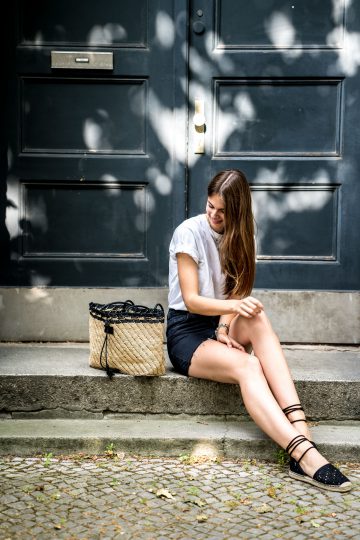 Sponsored Products: skirt from Subdued, bag from ba&sh.