Happy first day of June everyone! I can't believe the sixth month of the year just started, where has the time gone? There were so many things I wanted to do in the first half of the year and even though some of them worked out, and I am working on others, there are some things I haven't even started to work on. Well, that's just how it always is… we often have to reschedule, and as long as we don't give up on what we wanted to do an achieve, that's totally fine. Rome wasn't built in a day either. 😉 But let's not talk about what I did and didn't do these first five months of the year, let's talk about another outfit I want to share with you today instead. This is the outfit I was wearing on Saturday, a super hot day in Berlin. Temperatures rose up to 30°C, and we actually didn't want to do anything but laying in the sun next to the water. And after running some errands that day, we drove to a lake to just enjoy this perfect summer day.
Shades of Blue – Blue dress, blue shoes and blue headscarf
Before I changed and put on a bikini that day, I was wearing this summer outfit. I was dressed in different shades of blue only even though wearing the same colour all over can look very boring. But sometimes I like wearing matching clothes and so did I last Saturday. I was wearing a blue dress from Zara, blue velvet shoes from Chiara Ferragni collection and an Alexander Wang scarf. The scarf actually isn't supposed to be worn as a head scarf, and I have to admit, that it was a little bit thick. It was tricky to put it on in a nice looking way 😉 And even though I really liked the look, I had to take it off after a while, because it just got too warm haha. Wearing a head scarf in summer might not be the best idea…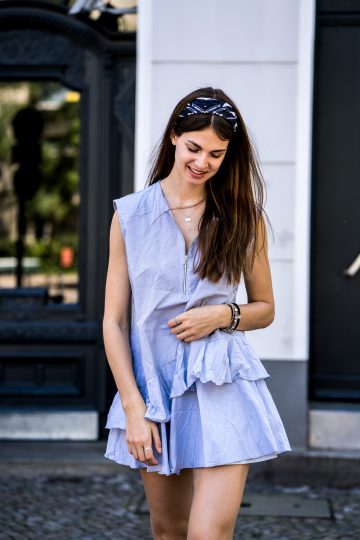 Regarding the dress, you should know that I got it in size L. I usually wear size S to M, but this one was already sold out in these sizes. It still was available in Large, and since I really like wearing oversized clothes, I just ordered it and wanted to give it a try. I tried it on and, of course, it is a little bit too wide and super loose, but isn't that exactly what we need for warm summer days?!
I tried on the dress with a belt as well, and it looks very nice but wearing a belt that day would have been a little bit too much. Adding a belt in addition to the headscarf would have to make the outfit look overloaded, and you know that I always prefer simple outfit combinations 😉 So I will wear this dress with a belt another day and, of course, I will take outfit pictures and share the look with you here on the blog.
But for now, you can have a closer look at this outfit combination. It is very simple but has a lot of details that make the outfit look everything but boring. It also looks very girly and chic, and that is very uncommon for me, isn't it? I would love to read your thoughts about this outfit. Do you like this kind of outfits and should I wear them more often? Or do you want to see me in my denim shorts and white tees again? 😉