Before it's time to go into the weekend and enjoy some free time, I want to share one more outfit post with you. I was wearing this outfit last weekend right after receiving my new vintage bag from Chanel. I obviously couldn't wait to wear it finally, but I also wanted to take some photos for the blog, so I had some photos I could use for a post about statement bags as well as vintage bags. So yep, today's post will be all about these two topics as I think we all need not only a statement bag in our closet but also at least one vintage designer bag.
Also, the outfit I was wearing with my new vintage statement bag (yes, this Chanel bag is both!), is one of my favourite looks for a summer day in the city. I would slightly adjust it for temperature above 25°C, but that's easily made.
Why you need a statement bag in your closet
I am constantly changing my style and discover new things I enjoy wearing and currently, I definitely have a thing for statement bags. There was a time when I would only get the most basic and classic pieces as I always felt like getting anything eye-catching would come with the risk of me not wearing it, and I never wanted to waste any money on these kinds of things. At the same time, I always felt like my outfits are a bit too boring and basic until I finally realised, that it is nice to have some more eye-catching pieces in my closet to add them to my simple outfits. I started with some more colourful clothes and recently discovered statement bags for me. And with statement bags, I am actually talking about more colourful bags.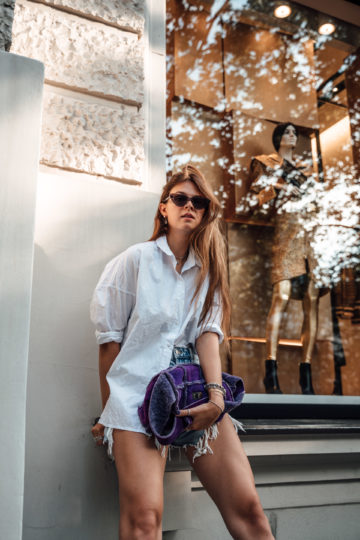 You might have noticed that I've been wearing more colourful bags. I first started with non-designer bags because I didn't want to invest in something I might only like for a couple of weeks. I have to say that I still have most of the bags and that I also was wearing them more than only once. Later on, I started looking for vintage designer bags that are more colourful. First I got a dark green Fendi bag (and I am wearing that one a looooot), and now I also have my very first vintage Chanel, and it's a purple bag. I would have never guessed that my first Chanel bag would be a vintage one in the colour purple. But here I am, 27 years old, finally holding my own Chanel in my hands and it's purple.
There are two main reasons why I am that much into statement bags at the moment. First of all, they make every outfit way more interesting, even the most simple ones. And the other reason is that they are special. It is nice to have a very classic bag, but having a statement bag makes it even more special, and they make you stand out.
How I styled my vintage Chanel bag
Last but not least I just want to add a few words about the outfit as I really like wearing this kind of look during summer. To me, you can never have too many denim shorts in your closet, and I actually got about ten pairs. At the moment I am mostly wearing the ones you can see me wearing here as they are super comfortable and I love that they are a bit longer in the back. In summer I usually style my denim shorts with either a white t-shirt, top or an oversized shirt as well as a pair of sneakers or boots. When I was putting together an outfit for my new vintage Chanel bag, I opted for an oversized shirt and a pair of white boots. How do you like it?
*Ad, brands named – Minimum Shirt || Zara Shorts || Chanel Bag || Dr. Martens Boots || Chimi Sunglasses