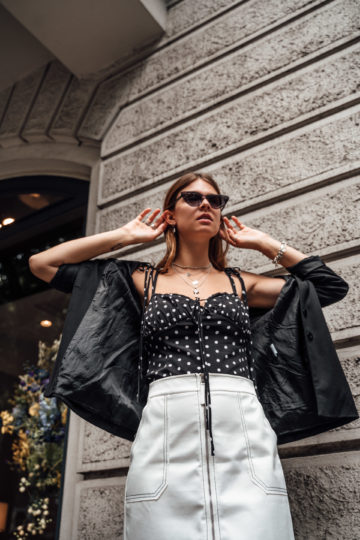 As I already mentioned last week, we are finally coming to summer mode here on the blog and that means that I am going to share a lot of summer outfits the upcoming weeks. I will start with the first two real summer outfits from Berlin this week and already can't wait to share some more next week and to put together and photograph even more outfits during the upcoming weeks. But before I will create more summer outfits for the city, it's Fashion Week in Berlin and I will also make sure to take photos of the outfits I am wearing during BFW and share them with you on the blog.
But for now, it's all about one of the summer outfits I was wearing recently. It was a gloomy yet very hot day in Berlin and I wanted to brighten up the day a little bit by wearing at least one bright piece of clothing. I ended up combining a polka dot top with a white skirt and if you want to know more about the outfit, make sure to continue reading.
How to combine a polka dot top in summer
Polka dots are not the kind of print I am wearing a lot, I actually can't remember the last time I was wearing a polka dot top or shirt before I got this one. It is a nice print, but it just isn't something that catches my eye and screams "get me" when I see it haha. BUT when I saw this top, I definitely needed to get it. I already could see me wearing it and had several outfit ideas in mind, so there were enough reasons to get it.
One of the ideas I had in mind where to combine it with white. I was thinking about either white shorts, a pair of white pants or a white skirt. I have to admit, that I tried on a lot of different white and creme coloured pieces and I didn't like all of them. Last but not least I went for this skirt, I actually had in mind for another outfit and I ended up liking this combination the most. So that's how I ended up combining a polka dot top with a white skirt.
Other than that, you can combine a polka dot top with almost everything. it also works with light blue denim or black. If you want it a bit bolder, you can also wear some more colourful pieces. The print itself works with everything and this top in particular also works with a lot due to the simple colours.
Casual chic summer outfit
I was wearing this outfit on a day at the office, but I also had an event in the evening. That's why I opted for a casual chic outfit. In addition to the polka dot top and the white skirt, I was also wearing a black blazer (it was supposed to rain that day, that's why I brought the blazer), a blue bag for a touch of colour, a pair of black slides and black sunglasses. I was also wearing the pieces of jewellery I am wearing every day and I love how to make each and every outfit look more interesting.
How do you like this outfit? Let me know what you think and how you would combine a polka dot top. I am looking forward to reading your comments. xx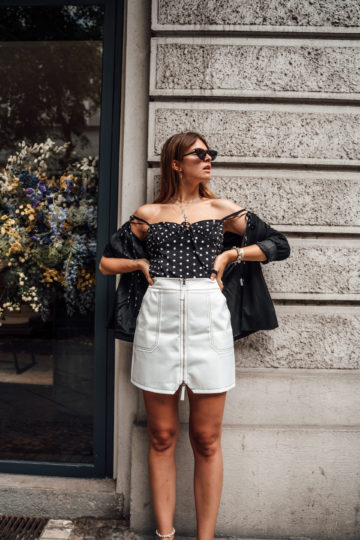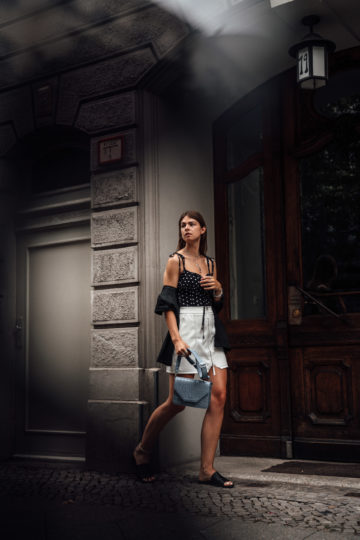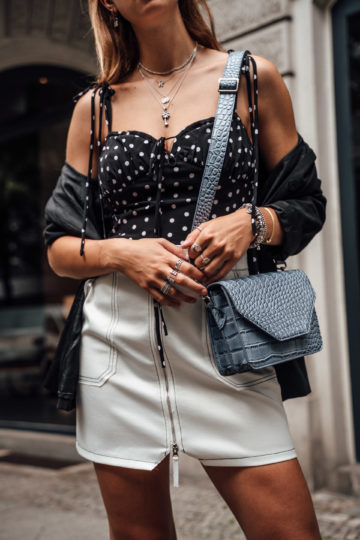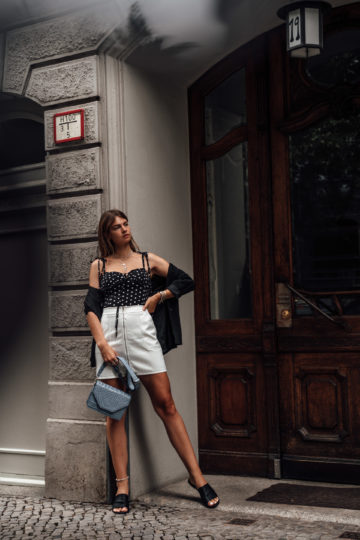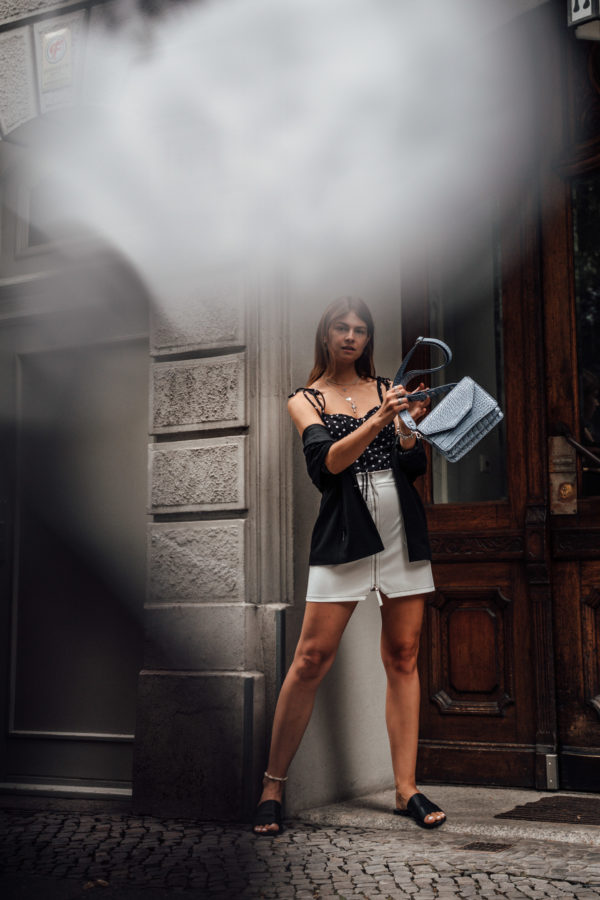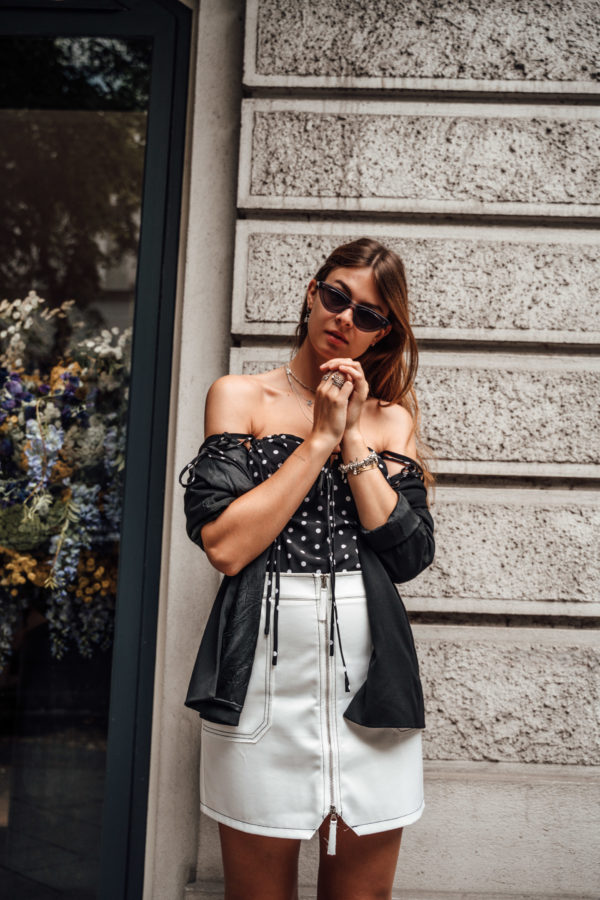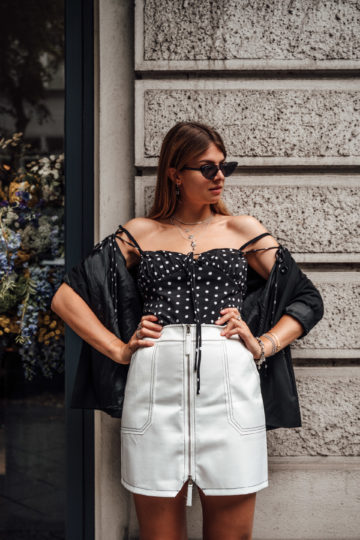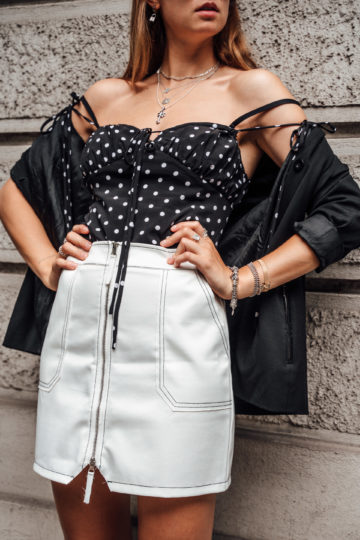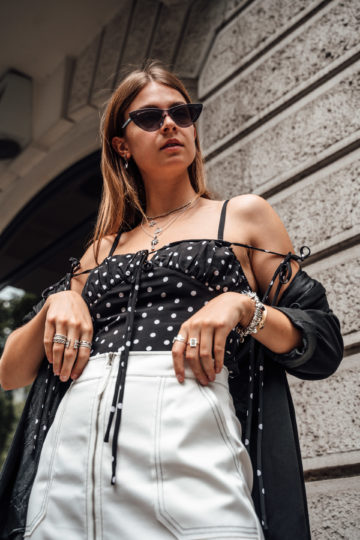 *Ad, brands named – Loavies Top || Missguided Skirt || Sol Sana Shoes || Unlimit Bag || Chimi Sunglasses