Two things you've seen quite often on the blog lately: bomber jackets and velvet. And once again I want to share an outfit here on the blog, in which I combined a velvet bomber jacket. But don't worry, I also got some new clothes that are not made of velvet and that are not bomber jackets 😉 But for today, you have to put up with another velvet bomber jacket. Luckily it's quite different to the ones I shared before. I have one blue velvet bomber jacket and a black one, but this one is silver, and this makes it a very rare piece of clothing in my wardrobe. You know, that I most often wear black, grey or white. I prefer simple outfits, combinations of simple colours and barely wear pieces that stand out. But this silver bomber jacket caught my eye when I saw it online and this simple outfit I'm sharing with you today popped up in my head. So here you go, here's another simple and super casual outfit you can wear on a daily basis:
Silver Bomber Jacket and an all black outfit
The question is: how to combine a silver bomber jacket? The combination that always works is the one with all black! I told you before that you can never go wrong with an all black outfit and this is true for a silver bomber jacket as well. I absolutely love the shiny silver jacket in contrast to the all black outfit, it really stands out and makes this outfit look everything but boring, doesn't it?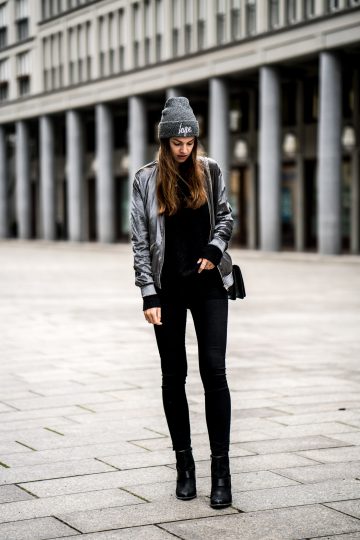 There is actually not a lot I could say about this outfit because it's super simple and all I did is combining black jeans with a black sweater, black boots, my silver bomber jacket and a grey beanie. I was also wearing my Agneel bag again, but that's actually it. Maybe I could say a few words about my wearing a beanie since it was the first and probably only time this winter. I have a couple of beanies in my closet, but this winter I just didn't feel like wearing them. I wanted to fight winter and barely wore winter clothes such as warm coats and boots as well as beanies when we were taking outfit pictures for the blog. Winter isn't my favourite season, and I actually don't like getting dressed for cold weather. I prefer spring and summer and can't wait for these seasons! That's why I would love to live somewhere warm and sunny during the winter months in Berlin and come back to Berlin just in time for spring – that is a huge dream AND goal of mine!
But enough about that. Let's get back to the main topic of this post: my silver bomber jacket. This time I combined it with an all black outfit, but I'm already thinking about other combinations. I will probably wait until it is a little bit warmer outside before I wear it again because this bomber jacket is super thin. But as soon as it's warmer I will combine it with blue denim for a change and maybe with a nice summer dress or shorts when the temperatures rise even more. 🙂 But for now, I would like to know how you would combine this silver jacket. Would you even wear it or don't you like it at all? I'm looking forward to reading your comments. Have a lovely Tuesday and don't forget to seize the day. xx