It's coming to an end. I have only three more posts from Sri Lanka to share with you and guess what? I don't want it to be over. I wish I had more pictures I could share with you and I wish I had more pictures that would actually show how beautiful this island is. I've been writing on my Sri Lanka travel guide for days now, and I'm still not finished, that's why I'll share it on Thursday. It's going to be a very long post, but if you're planning to travel to Sri Lanka as well it might help you a lot 🙂 At least I hope so… but today I'm sharing another "outfit" we took pictures of at Secret Beach. A beach someone recommended when I already was in Sri Lanka, and since it was only a 30 minutes drive from our hotel in Ahangama, we just had to drive there.
Mesh Hoodie and the Ocean
The days in Sri Lanka were quite hot (always around 35°C), but it got a little bit chilly at night. The day we took these pictures it was a very calm day. We spent most of the time at Weligama Beach, went surfing and relaxed at the beach afterwards to get a tan. In the afternoon we drove home, to shower and change before heading to the place we wanted to spend the evening: Secret Beach. When we left it was still very warm, and I thought of going for one last swim at Secret Beach, that's why I still was wearing my bikini. I knew it would get colder as soon as the sun was gone, so I wore my mesh hoodie on top. Unfortunately, it took us longer than expected to arrive at Secret Beach so that I couldn't go for
one last swim of the day. But as you can see, it didn't keep me from getting into the water anyways when we took these pictures. I was just having so much fun, and when I sat down, I didn't care whether I would get wet or not. Well, one of the waves was much stronger than the ones before, and I got wet from head to toe. x) But I don't care because I love how the pictures turned out. What do you think?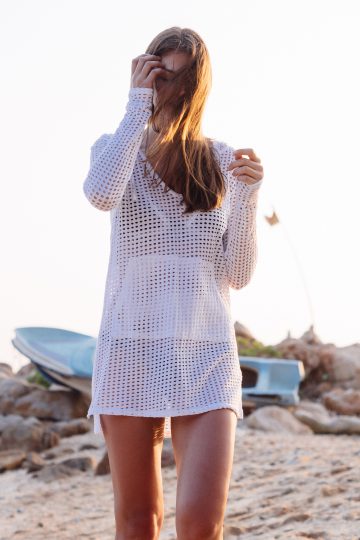 Secret Beach in Sri Lanka
Secret Beach is located south of Weligama. It's maybe a 10 to 15 minutes drive from Weligama, but not easy to find. The only thing you find on Maps is Secret Beach Bar, and that's actually where you have to go. It doesn't look like there's a beach, but there is. You have to drive along Beachside Rd, and after a few meters, you'll already see signs showing you where to go. You also pass a couple of houses, so there's always someone you can ask for the right way. We had to ask twice because we weren't sure if we were driving the right way, but we were! You have to drive up first, and at some point, there is a small road going down again, and that's the road you have to take if you want to go to Secret Beach. There's no sign, but the people living there will tell you if it's the right way when you ask 🙂 We weren't sure, if we're allowed to drive all the way down with our scooter, so we parked it and walked. When we arrived, we saw, that it's no problem to drive all the way up, so next time we would definitely do it. We walked pass the bar to enter the beach, and it truly is an amazing place! It's not the best beach to go for a swim because it's very rocky. But if you're looking for a place to enjoy the sunset and calm down for a while, you should go to Secret Beach, sit down in the bar and have a Lion Beer!