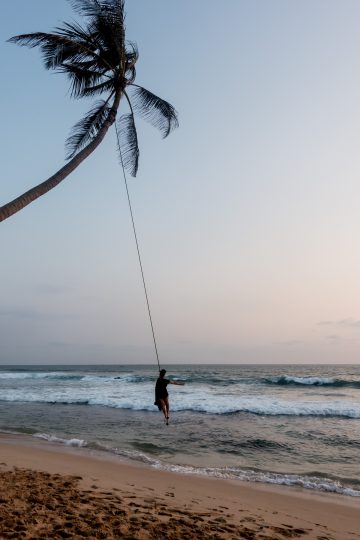 Today is the day I'm sharing the last outfit pictures taken in Sri Lanka, and these are my favourites I would say. I liked all the pictures we took and the looks, but nevertheless, these are the ones I like best. Not because of the outfit, because that's quite simple. It's because of the location and atmosphere. We were looking for this palm tree swing in Sri Lanka for quite a while. We saw some pictures on Instagram; all tagged at Unawatuna Beach, so we drove there to find it. When we arrived at Unawatuna Beach, we couldn't find either the palm tree swing or a place that looked like what we saw on the pictures. We also asked the lifeguards and a man working at the beach, but nobody knew about this swing. They told us that these pictures must be quite old, from before the tsunami destroyed a lot in Sri Lanka. Well, I knew, that this wasn't the case, but I also knew, that we wouldn't find the palm tree swing at Unawatuna Beach. We decided to drive back to the hotel, to change and go surfing in Weligama instead. In the evening I decided to google and also contacted some of the girls who shared these palm tree swing pictures on Instagram, and one actually answered. She could explain to me where the swing is, not exactly where, but that it isn't at Unawatuna Beach but Dalawella Beach. With this information, we gave it a second try and drove back direction Unawatuna Beach, but this time we went to Dalawella Beach.
And guess what? We found our
Palm Tree Swing in Sri Lanka
And, of course, we had to take pictures there. I mean, swinging is fun, but it's, even more, fun when you have some pretty nice pictures afterwards, isn't it? 😉 We took these pictures when the sun was about to set. We didn't only want to drive to Dalawella Beach to swing and take pictures, but also to have dinner at a nice restaurant called Wijaya. That's why we were at the palm tree swing quite late. But nothing to complain about, because the sunset that day was so beautiful and I'm happy we managed to capture the atmosphere (at least a little bit) in these pictures. For those, who would like to know what I was wearing: I opted for a very simple outfit and combined my black shorts with lace details with a simple black top, some jewellery and a Pitusa kimono I received just in time for our Sri Lanka trip. I like the Pitusa clothes a lot because the fabric is super light and they have the perfect pieces to throw on on a mild summer evening or night or when you just need something to throw on after some time at the beach or pool.
I hope you'll like the pictures as much as I do. Tomorrow I will finally share my Sri Lanka travel guide, and in a few weeks I'll probably share the videos, but it will take a little bit longer to edit everything! I want to get better in Premiere Pro before because I want the videos to turn out perfect! That's why you have to be patient a little longer 🙂 Oh and for those, who would like to see more summery content on the blog, I have great news. Next week (on Thursday) I'll fly to Morocco. Unfortunately, the weather forecast isn't very pleasant right now; it says it will rain all week when we're there and that we'll have around 15°C only. Fingers crossed that'll change because I could need some sunshine and warmer temperatures…