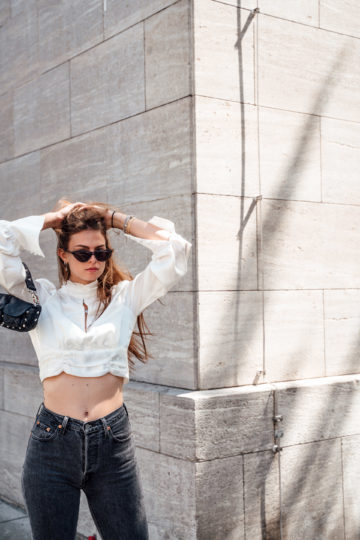 And again, I am pretty late with publishing my outfit posts this week. The actual plan was to share three new posts with you this week, but I ended up being busy with other stuff I had to prioritise and wasn't able to work on new posts until yesterday afternoon. But I didn't want to leave you without a new post at all this week, so I sat down, tried to concentrate and get this post done! 🙂 And, obviously, it worked otherwise this post wouldn't be online today. 😉
Today I want to share another outfit from Berlin with you. As you know, the weather is all summery, and I actually wouldn't be able to walk around in this outfit at the moment, BUT in between all those really hot summer days in Berlin, there are some colder days, and this outfit is just perfect for one of those colder days.
Satin blouse combined with Mom Jeans and Ugly Sneakers
It was love at first sight when I saw this satin blouse online, and I couldn't wait to wear it in different ways. Many outfit ideas came to my mind, some of them didn't work as well as expected, and others did work very well. Most outfit ideas are very summery, and the day I wanted to wear this blouse the first time, was a quite cold day compared to the current temperatures. I couldn't wear most of the outfit ideas I had in mind but found something else pretty fast. That day I decided to wear my new satin blouse in combination with grey mom jeans and a pair of ugly sneakers. I have to admit that I first wasn't quite sure if I should style this look with ugly sneakers, but I really felt like wearing something comfortable and also wanted to add a touch of colour and the first shoes that came to my mind where my Balenciaga Triple S in pink, black and white.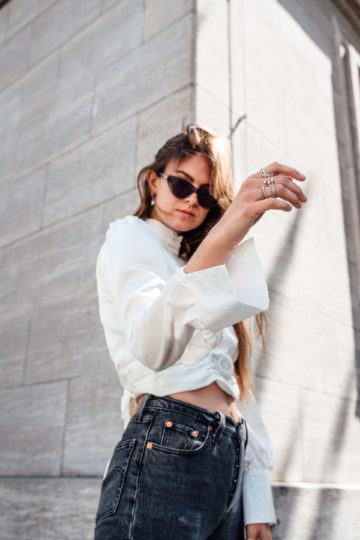 I definitely can't wait to create more outfits with this white satin blouse and to share them with you on Instagram and the blog. I might wear it on one of the summer days when it's 20 to 25°C outside, but at the moment it's just too hot with around 30°C. How would you guys wear this blouse?
Why you need a satin blouse
Generally speaking, having a few blouses in the wardrobe is always a good idea, because it's one of the essentials you should own. You can always wear it when you need to put on something chicer and don't know what to wear. Speaking of the blouse, you can see me wearing here, and why you need this one not only this summer but also all the other seasons, it's also easily explained. Having some basic blouses in the wardrobe is nice, but you always need to add a few more details and accessories to create an interesting outfit while having a blouse with lots of details creates an interesting look itself. The one I am wearing here has lots of details: a back neckline, a cut out in the front, ruffles as well as ties in the back. All these details make it a piece of clothing that will always stand out and make your outfits look more interesting.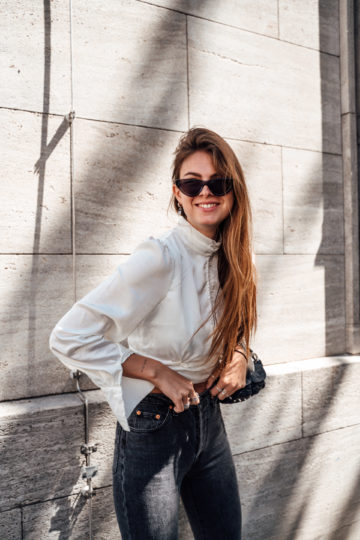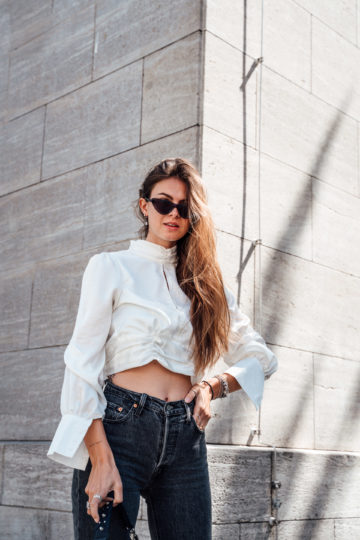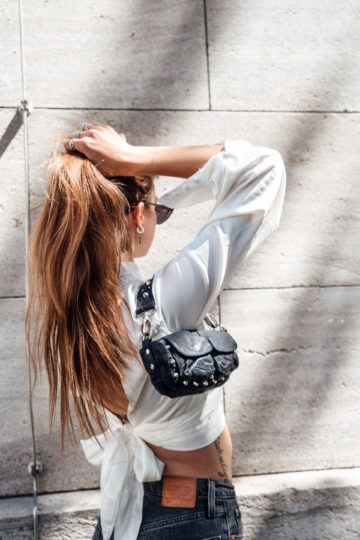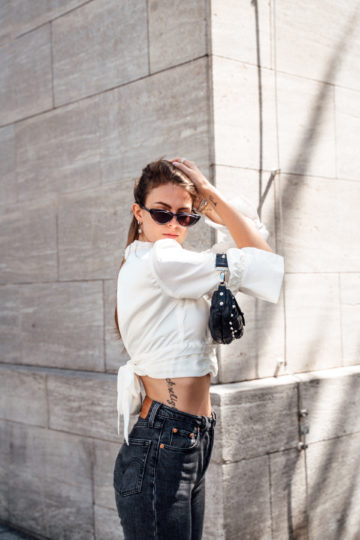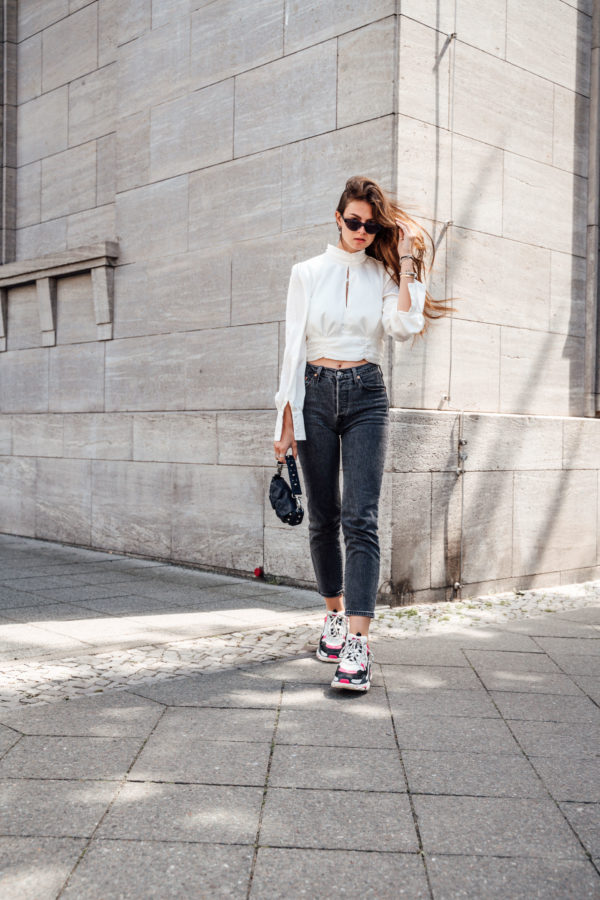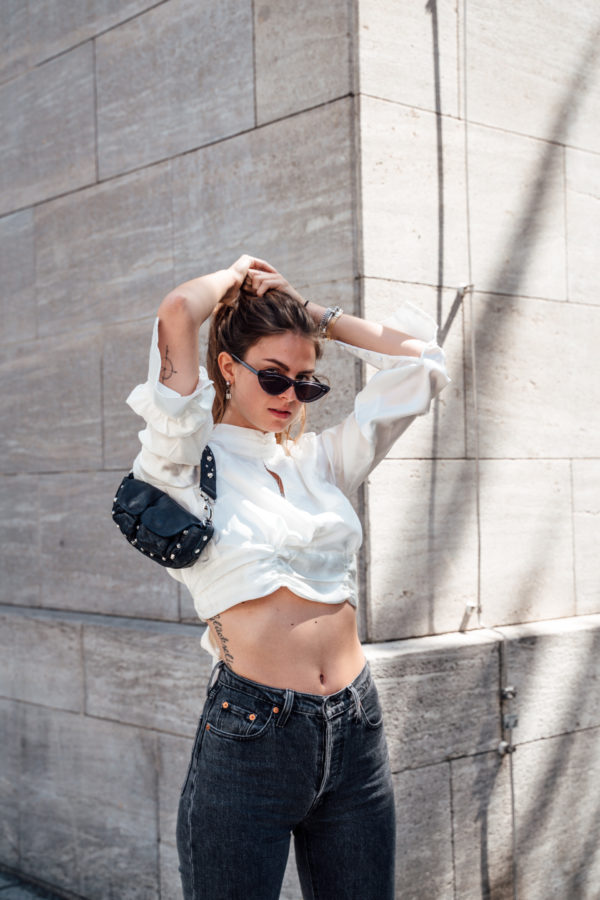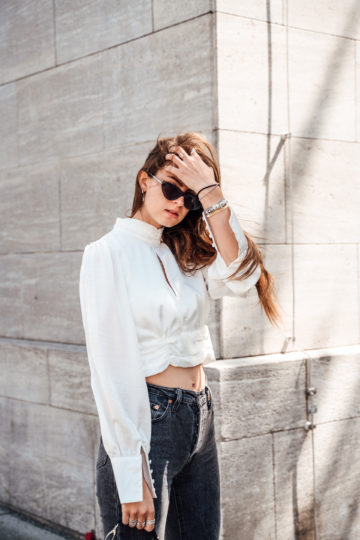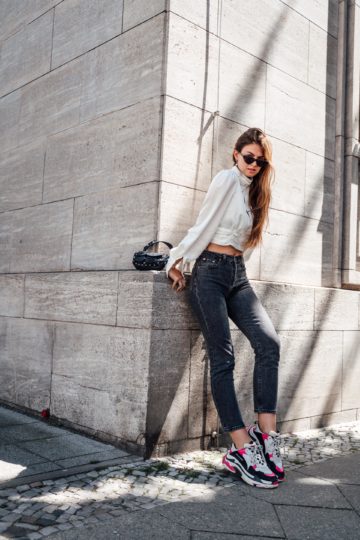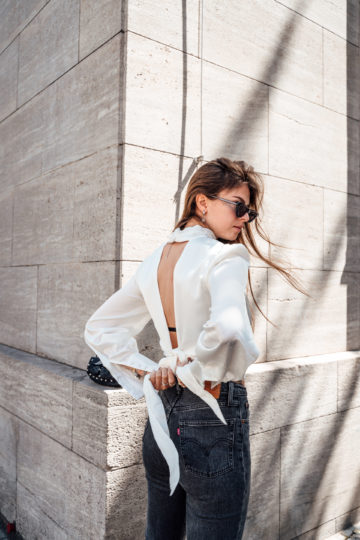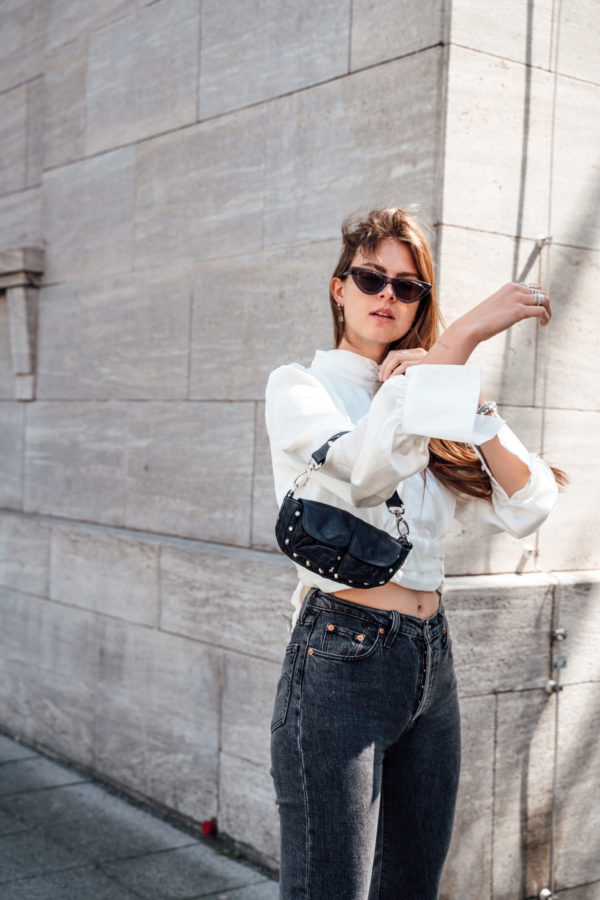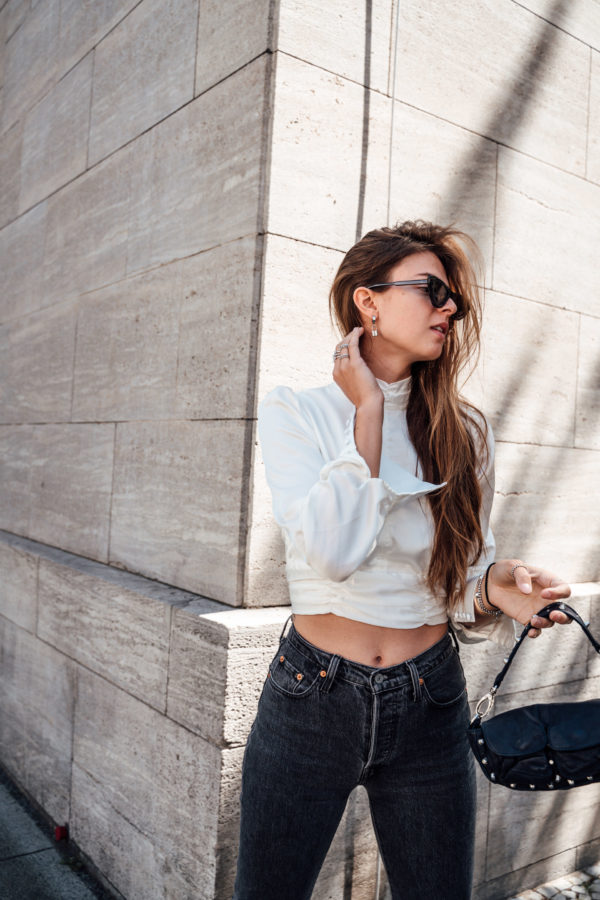 *Ad, brands named – Loavies Shirt || Levi's Jeans || Balenciaga Sneakers || UNLIMIT Bag || Chimi Sunglasses