Last but not least it's time to share my last Rome Travel Outfit with you today. While you're reading this, I'm probably already in London or on my way to this city. I'm spending the day in London, because of an event I'm attending this afternoon, and I have a couple of meetings before. I'll take you with me on Instagram, so make sure to follow me and check my Instagram stories regularly, if you want to know what I'm up to today. On the blog, it's still all about Rome, and I won't tell you more about my London trip today.
Back to Rome, back to the third and last outfit I was wearing during our time in Rome. It was a very hot day, a little bit too hot for a city trip to be honest, and I didn't know what to wear at all. In the following I'll tell you what outfit I chose in the end and why it still wasn't the best outfit choice for your last hours in Rome:
Rome Travel Outfit No. 3: denim shorts, white sneakers and an off-shoulder shirt
Let's be honest; this outfit was the worst idea for that last day in Rome. It was even hotter than the day before, and all I wanted to wear was a bikini. And I even didn't want to walk through the city; I just wanted to lay at a pool or a beach. But nevertheless I enjoyed this last day, so don't get me wrong. 🙂 I'll tell you a little bit more about every single day in Rome when I'm sharing the vlogs. Today it's all about the outfit I was wearing on day three in Rome.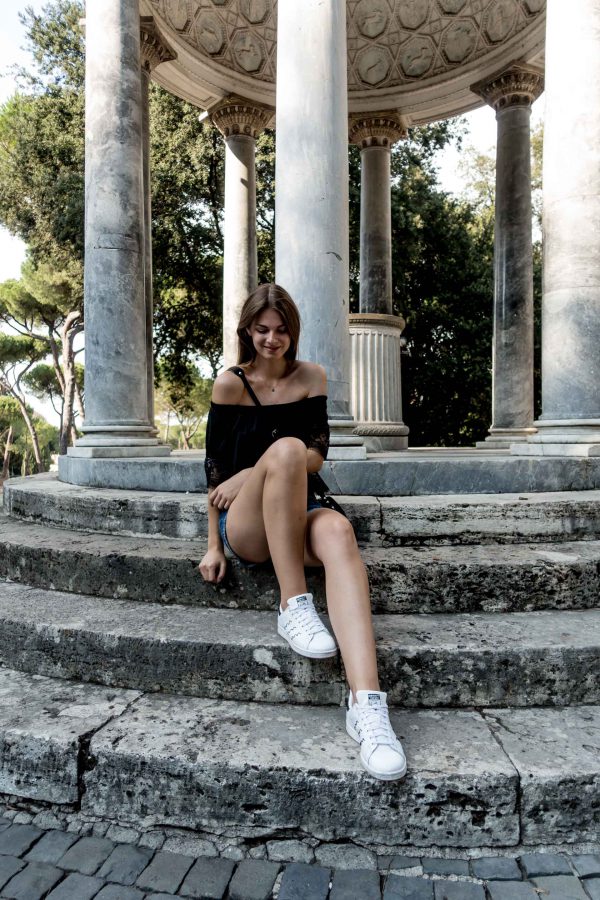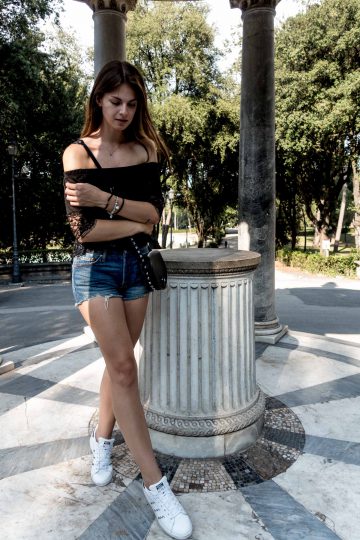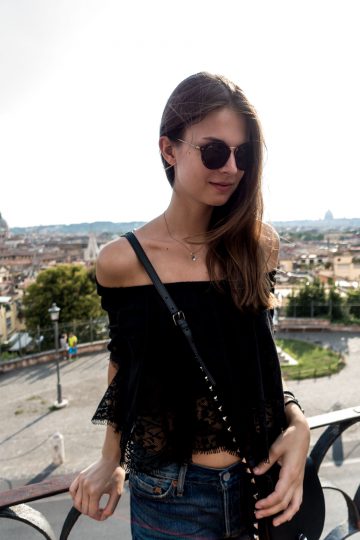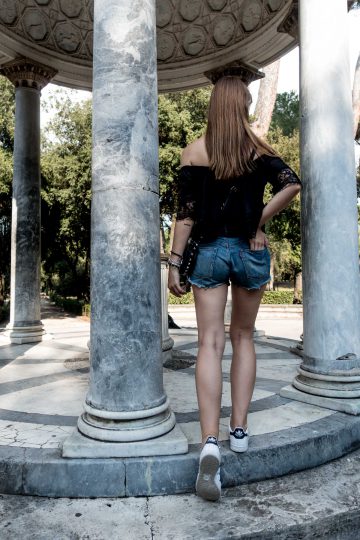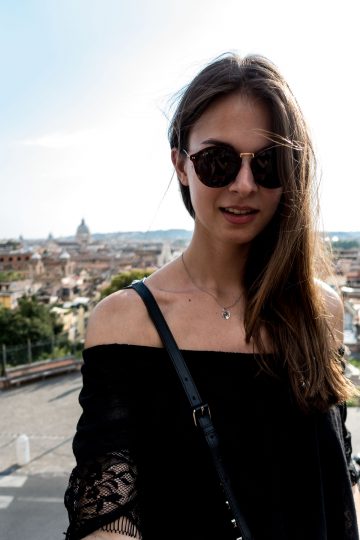 I was wearing my airy dress the day before and couldn't wear it again because it was too sweater after walking more than 16 kilometres on our second day in Rome. There were only two options left, and both were shorts. Since I had to wear that look on our flight back to Berlin as well, I went for the denim shorts instead of the lighter ones. I combined it with an off-shoulder shirt, what was an even worse decision than the denim shorts x) This off-shoulder shirt has two layers, both made of thick cotton… you probably can imagine that it isn't airy at all. But I'm not sure if the other options might have been better because everything I had with me is made of cotton and none of these tops is airy. Anyways, I made this decision and had to survive the day in the heat of Rome. I walked in the shadow whenever possible, and we had to make a lot of stops because of the heat. It was so hot; probably every outfit wouldn't have been the right choice.
Since my Rome Travel Outfit No. 3 is already the last outfit I was wearing during our city trip; I really would like to know which of these three looks you like best. Leave me a comment and let me know which of my Rome Travel Outfits is your favourite.