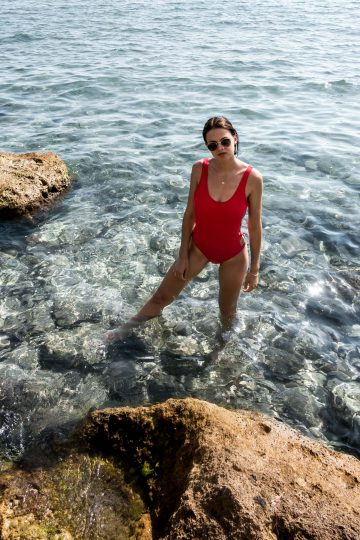 Happy Friday everyone! Only a few more hours before we can call it a day and start the weekend, yay. I will work on the blog all day, planning projects and write new blog posts and while I am doing this, you can have a closer look at the last pictures taken when we were in Spain I am sharing with you today. We didn't take many pictures when we were in Spain because we had only three full days and we wanted to relax and enjoy the perfect weather. I already shared all the outfits we took pictures of, and today I am sharing one last post with pictures of one of my beach outfits I was wearing in Spain.
Trend Watch: Red Swimsuit
I have to admit, that I was wearing bikinis most of the time because I was working on my tan when we were in Spain 😉 But I usually got changed in the afternoon, because my bikini was wet and we either wanted to drive home or wanted to have lunch at a restaurant, and I didn't want to sit in a restaurant with wet swimwear on.
That day we were looking for a restaurant to have lunch at, but we couldn't find one. I got changed anyway, but since we couldn't find a restaurant we just bought some cookies and headed back to the beach to spend some more hours there and go for another swim.
I was wearing a red swimsuit I received a couple of days before this trip to Spain. This summer everybody is wearing red swimsuits, it is a huge trend right now. I don't know if it's because of the new Baywatch movie or just because red swimsuits are such a beautiful eye-catcher. One thing is for sure: I love this trend! Red is my favourite colour, and even though I usually wear black, white, denim or grey, I love colourful pieces when it comes to swimwear. You might remember the orange/rusty coloured swimsuit I was wearing in Sri Lanka. I probably would never wear this colour in my everyday outfits, but I absolutely love it on the swimsuit. I actually could wear this swimsuit again… but let's get back to the red swimsuit I was wearing in Spain. Finding a red swimsuit actually isn't hard at all, they can be found everywhere online and in stores at the moment. Nevertheless, it took me quite a while to find the perfect model for me and my body shape. I tried on several styles I found online, but most of the didn't fit perfectly. Then I saw this one online at Missguided, and I just had to give it another try. The cut actually wasn't what I was looking for, but that's why I thought it might fit better than the other ones I tried. And as you can see, it does fit better! I still have to whip it on the sides, because it is a little bit too wide (I had to order one size up because otherwise, the swimsuit would have been too short). But apart from this, it is the perfect red swimsuit, and I know I will be wearing it all summer long this year.
How do you like this trend? Did you already get a red swimsuit yourself?