As I mentioned yesterday, I have one last outfit left to share with you. And it's another outfit we shot on a warmer autumn day last week. It's the outfit I was wearing a week ago when I had a very busy day full of events and other appointments. It was pretty cold in the morning that day, but when the sun came out around noon, it didn't feel that cold anymore. Of course, I wasn't wearing this outfit without a jacket. To be honest, I was wearing one of my oversized bomber jackets that day as well. But because I wanted to focus on this pyjama style jacket, I didn't wear the bomber jacket while we were taking the outfit pictures. It just doesn't make sense to cover the piece you want to focus on 😉
Pyjama Style Jacket
I like the pyjama style trend a lot and have been looking for some nice pyjama style shirts quite a while now. Well, I haven't found it yet, but I found two pretty nice pyjama style jackets instead. I showed you both in my Instagram Story, and some of you liked them, others didn't like them. I have to confess, that I first wasn't sure about the pyjama style trend. I still think it is a little bit too much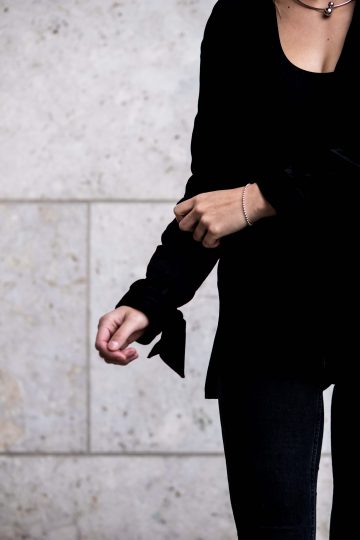 when people wear both pants and top in pyjama style (of course, it depends on the outfit and the pieces). But I really like the idea of combining one pyjama style pieces such as a shirt or jacket with jeans. When wearing a pyjama style all over outfit, it quickly looks too comfortable and not chic anymore. But do you think that the combination I chose the other day looks like I just left my bed? Of course, it's a comfortable outfit, but it definitely looks too comfy. I mostly wear casual outfits these days, but when I was wearing one of my pyjama style jackets for the first time, I opted for a chic outfit. A chic yet simple outfit to be exact. You know, that all the outfits I wear need to be simple.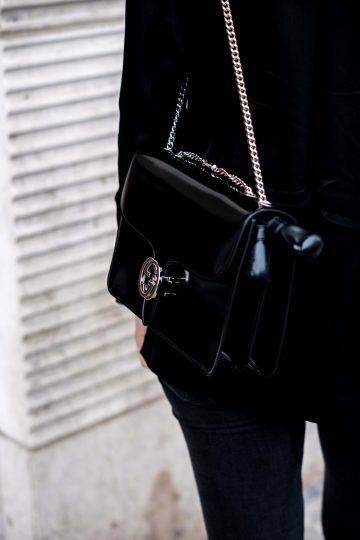 All black is always a good idea.
I combined my new pyjama style jacket with dark grey jeans, black boots a black tank top as well as my favorite black Gucci bag. I chose this kind of outfit combination because all black is always a good idea. Well, the jeans aren't black, they're dark grey, but they look almost black, don't they? 😉 When I like wearing all black outfits, why did I choose dark grey jeans? Well, sometimes all black is a little bit too boring. I wanted to have at least two different colour shades in this outfit because thereby the jacket, as well as the shoes, stand out a little bit more.
Have a look at the pictures and let me know what you think about this (almost) all black outfit. I would also like to know what you think about the pyjama style trend. Would you wear both pants and top in pyjama style or only one piece such as I did the other day? Or wouldn't you wear the pyjama style at all? I really would like to read what you think about it. Leave me a comment and, of course, enjoy your Friday as well as the upcoming weekend. xx