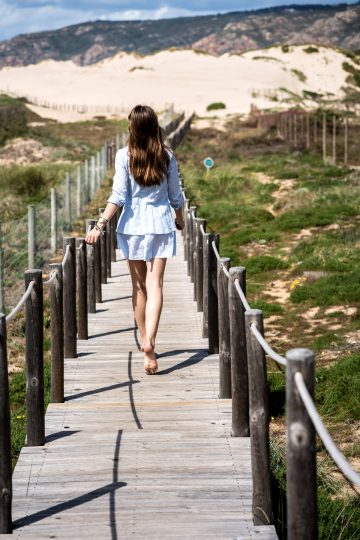 I have only three posts from Portugal to share with you left and today's post is one of them. The pictures were taken at one of my favourite places we discovered while we were in Portugal: Praia Grande do Guincho. I already mentioned this place in yesterday's post, because we wanted to take the outfit pictures of the look I shared yesterday at Praia Grande do Guincho first. Unfortunately, it was too windy that day, so we had to leave without taking outfit pictures that day. On our departure day, the sun was shining again, and it wasn't that windy anymore, so we decided to come back one last time. To not only take some pictures, but also do enjoy this beautiful view once again.
Praia Grande do Guincho in Portugal
Praia Grande do Guincho is pretty close to Cascais, the town we stayed at. It's only a ten minutes drive with the car, but you can also rent a bicycle. The Guincho Beach is part of the Sintra-Cascais Natural Park; it's surrounded by nature and for sure worth a visit. I absolutely love the contrast of the white sand to the Serra de Sintra hills; it looks insane! It usually also is a great place for surfers, because the wind usually is strong, and so are the waves. Unfortunately, it was a little bit too windy, and the weather, in general, was too bad, so there was no chance to go surfing there during our stay. Both times we drove to Praia Grande do Guincho; we didn't see any surfers down there. And whenever you can't see any surfers at a beach that's well-known for its great waves, you better don't go surfing there. There is always a reason why nobody is inside the water…
Shirt Dress with fine stripes
Last but not least let's talk about the outfit I was wearing. This isn't the outfit I was wearing all day because it was our departure day and I was already wearing something for the flight, something that worked for the colder temperatures in Berlin as well. But I wanted to wear this dress when taking pictures at Praia Grande do Guincho, so I got changed inside the car, walked down the planks, enjoyed the short period I was able to enjoy the sunshine like this, and we took these pictures.
This shirt dress is one of those dresses I will probably wear pretty often during summer. It's perfect for balmy summer evenings or colder days in summer. It's super comfortable, and the fabric feels so good on the skin because it's very light. But what I like even more is the cut, the contrast of the ruffles to the button border and the collar. It speaks pretty much for itself, so I didn't add any more clothes or accessories. All I was wearing are my round sunglasses – yes, again! – and that's it. Can't wait to wear it more often and try different looks. 🙂 Now it's your turn: have a look at the pictures and let me know what you think. How do you like the location and what do you say about the outfit I chose? I'm looking forward to reading your comments. xx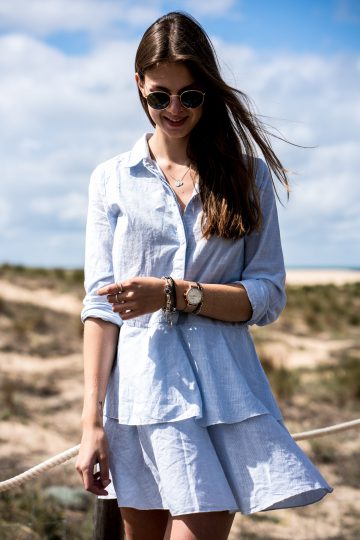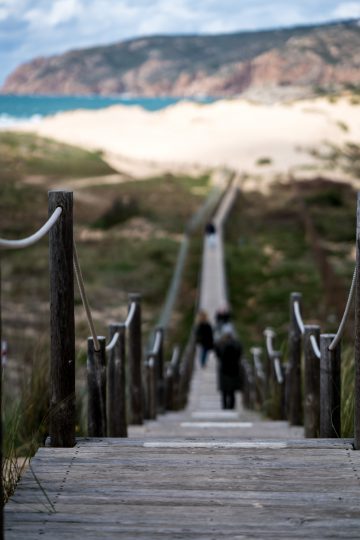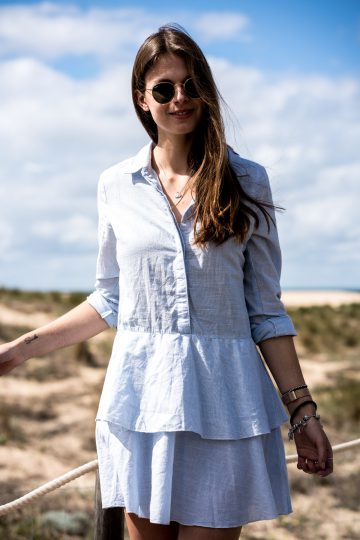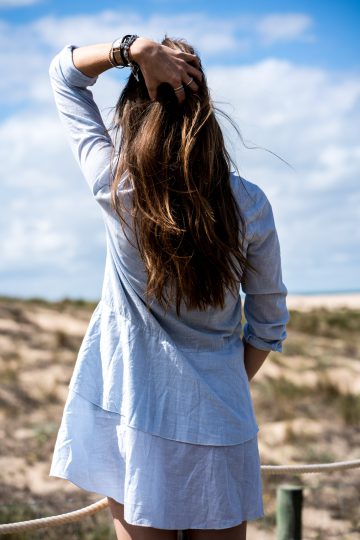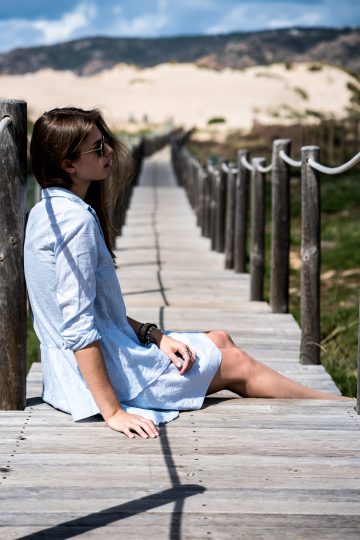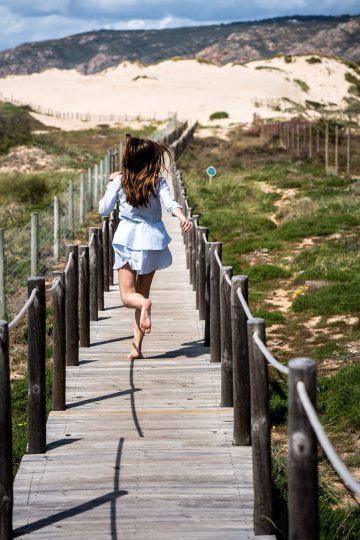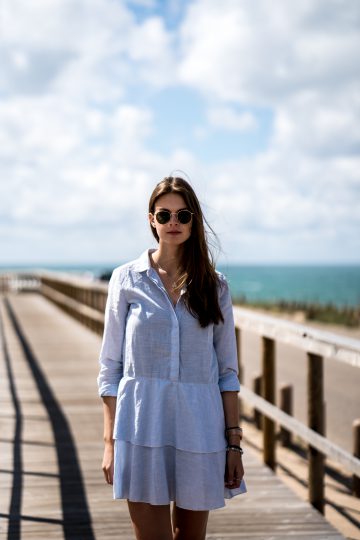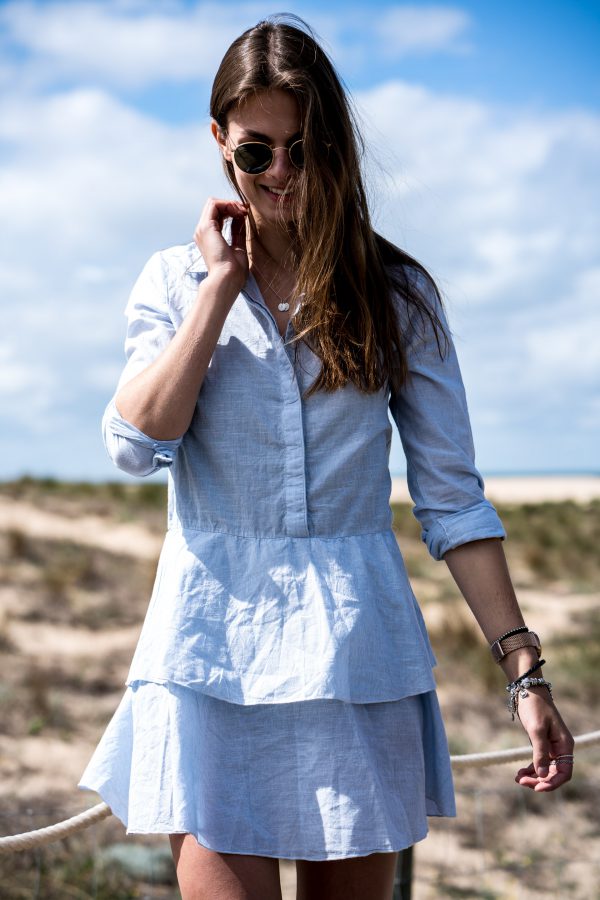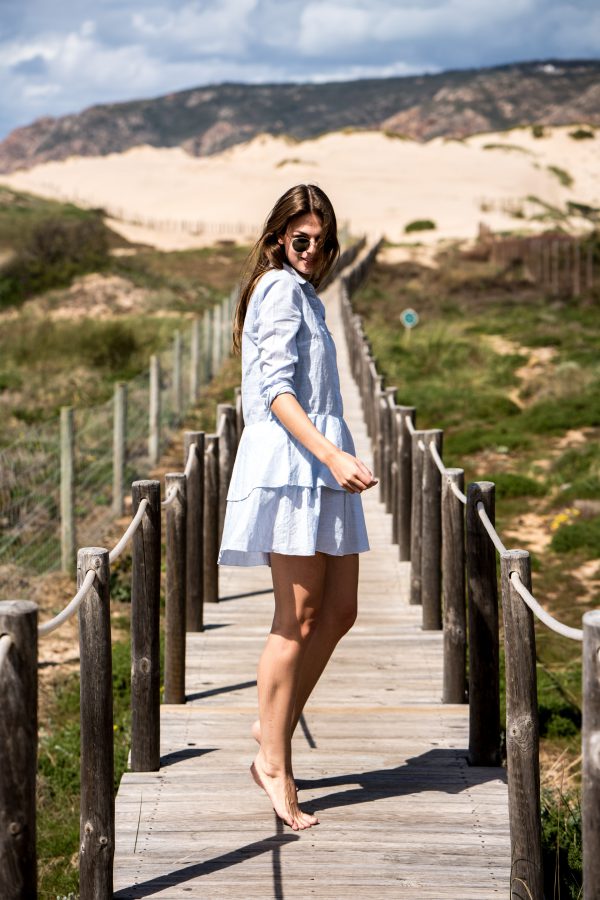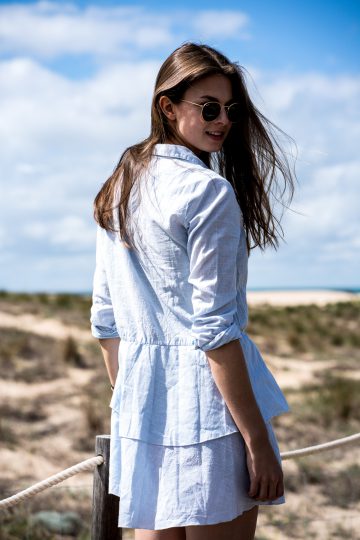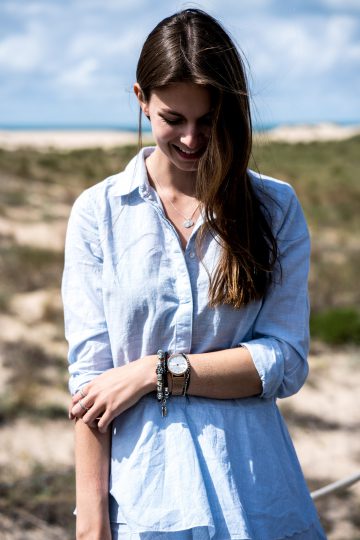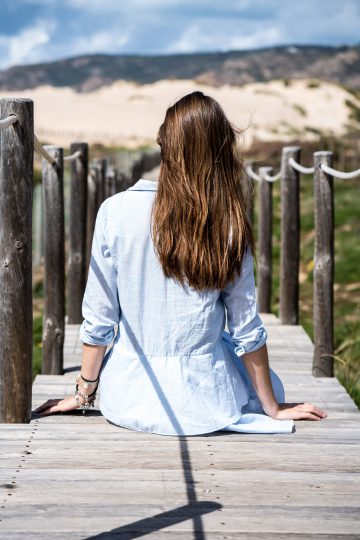 Thank you Vila for the beautiful dress.