Happy Friday folks! The weekend countdown is on, but before I can start the weekend, I have to get some more work done. I will prepare the last post with pictures taken in Portugal and will finally start editing the video. I will publish the last post on Monday, and I don't know when I will finish the video, but for now you can have a look at the pictures of another outfit I was wearing in Portugal. It's actually the one I was wearing on our first day in Cascais, the day it was still beautiful and sunny outside. Since I already knew, that the upcoming days wouldn't be that nice regarding the weather, I took full advantage of that one sunny day and was wearing this summery outfit I had got from Pimkie before we left. I showed you the other outfit I got from Pimkie last week, a beautiful striped dress and a black bag with flowers, and now it's finally time to show you the second one. So here you go:
Gingham Shirt & Denim Skirt
The second outfit I chose from Pimkie is a combination of a gingham shirt and a denim skirt. Both pieces caught my eye when I checked their online shop, and I didn't have to think twice. Of course, I could have spent way more time on their website, look at every single piece and try to find the perfect combination. But I know that it would have been everything but easy. The new collection is so beautiful, and there are many pieces I would wear. So I went with the first two pieces that caught my eye. I have to admit, that I first wasn't a hundred percent sure whether they would work together well or not.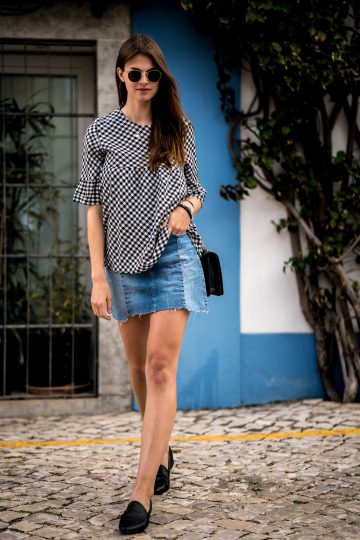 I can only speak for myself, but I have to say, that I really like the combination of these two pieces 🙂 I only had to add a pair of black shoes and my round sunglasses, and that's it. Oh and I almost forgot my Agneel bag. Since we were walking through the streets of Cascais to see a little bit of the neighbourhood we were staying at, I also brought a bag to carry the most important things such as our passports, some money and, of course, my phone. But all in all, it is another simple outfit, but due to the two toned skirt as well as the shirt with gingham print, it is everything but boring. I know that I will wear these two pieces pretty often in spring and summer and I can't wait to create many different outfit combinations. Maybe I will even combine both pieces together again. How would you wear these two pieces?
Colourful wall in Cascais
When we walked through the streets of Cascais, we passed this pretty location. What you can see in the background is a small house not connected to any other house. It was build in the middle of the street. But that's not the only reason I wanted to shoot in front of it. I also liked the colourful wall of this house in combination with the plants growing all around the house. I could say it again and again: Cascais is such a beautiful town. Especially all the colourful walls, all the details and the plants growing everywhere. Oh, and did I mention the palm trees? When travelling to Portugal, you should plan at least a stop in Cascais. 🙂