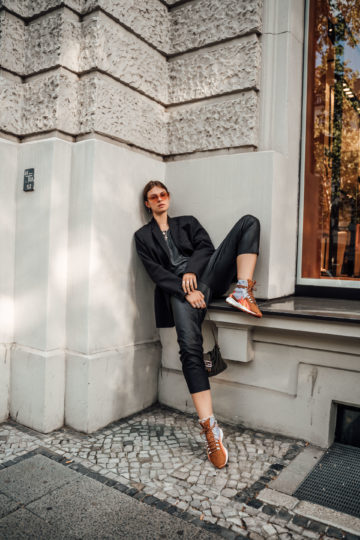 Before I continue sharing my outfits from Copenhagen Fashion Week, I quickly want to share this outfit I was wearing in Berlin a few weeks ago. I'd totally forgotten that I have these outfit photos and found them while I was cleaning up my hard drive a little bit. I actually don't know why how I could forget about them, because I do like this outfit a lot. It's the perfect everyday outfit for when you need something not too basic. You know that I like keeping it simple, but sometimes I add a few eye-catching pieces to my outfits to make them stand out and look less casual. That's exactly what I did with this outfit.
How to make your outfits stand out
I do wear a lot of casual looks, and when I am spending my days at the office and don't have any meetings or events, my outfits are everything but worth sharing them with you, I often go for a simple combination of jeans or pants and a t-shirt or sweater (depending on the season). These outfits usually are quite boring and not fashionable at all. But it is very easy to make even these kind of outfits stand out.
I already mentioned it at the beginning of this post: if you want to make a simple outfit stand out, you only need a few eye-catching accessories. Wear lots of jewellery, go for colourful sneakers or a colourful bag, wear a pair of fancy sunglasses or put on an oversized boyfriend blazer. These are only a few examples to give you an idea about how easy it is to make a simple outfit stand out. And with this outfit post, I am showing you what it can look like.
Combining an all-black outfit with statement sneakers and orange sunglasses
That day in Berlin, I was wearing an all-black outfit; a pair of black pants, a black t-shirt and a black oversized boyfriend blazer. The blazer already makes it a bit less boring, but the accessories are the pieces that make the outfit really stand out. I always wear a lot of jewellery and so did I in combination with this outfit. In addition o the jewellery, I also added a pair of orange sunglasses as well as statement sneakers. I opted for the orange sunglasses because of the orange details, aka the flames, you can find on the sneakers.
I actually can't wait to wear these sneakers more often in autumn. I really like all the details. Not only the flames but also the transparent part and the longer laces I can tie around my ankle for a change.
Due to the transparent part, the sneakers might not be the best option for really cold days, but as long as it's still nice and balmy outside, I will wear them. And I can also style them with a pair of fancy socks if I need it a bit warmer.
To finalise the outfit, I added my vintage Fendi bag. Well, it might not seem like the best choice colour-wise, but I really felt like wearing it. What do you think?
Let me know how you like this outfit in the comments. xx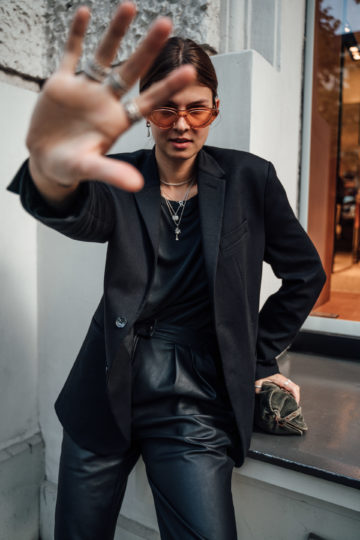 *Ad, brands named – Vila Pants || Minimum T-Shirt || Zara Blazer || WALD Sneakers || Fendi Bag || Chimi Sunglasses