Today is the last day of Christmas, which means that it is only a few days until New Year's Eve. And now that the Christmas Days are almost over, it is time to start planning the end of the year as well as what you will wear. Most of you probably already know what they will do on New Year's Eve, and due to that, you will also already know what kind of outfit you need. That's great because it will make it easier for you to find something. But even if you don't know what you want to wear on NYE, the outfits I put together might help you to find your perfect NYE outfit.
In the following, you can find four different outfits you can wear on New Year's Eve. They are all party outfits, but some of them are more casual, and others are all about glitter and glam. Have a look, and I hope my outfit options for the last night of the year can inspire you a little bit.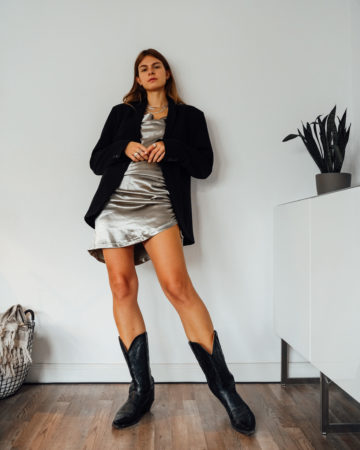 Cami Dress combined with an oversized blazer for NYE
When I feel like dressing up, I usually think about wearing a dress first. So, of course, an outfit with a dress is part of my New Year's Eve Outfit selection. I opted for a cami dress with a rushed side. Cami dresses are the kind of dress you can never go wrong with. It's classy, it's simple, and it's easy to combine. The rushed side makes this one a little bit more special, and combined with the oversized blazer, it doesn't look to dressed up. The oversized blazer, as well as the black cowboy boots, make the outfit appear more casual chic, so you could wear it no matter what you've planned for New Year's.
[/row]
Party Outfit: the Blazer Dress
The piece of clothing I was wearing A LOT this year is the blazer, so I felt like adding a blazer dress to my New Year's Eve outfit inspirations. A blazer dress is chic yet suitable for a party, and you don't need any more clothes to create a cool look. I only added a pair of grey boots as well as a top and biker shorts underneath, and that's it. If you are spending some time outside and you are living in an area where it's cold during winter, I would suggest to put on a pair of tights – this also goes for every other outfit I was wearing with are legs here. For the tights, you don't have to wear a pair of classic black tights, choose something more glam such as tights with a print or metallic details.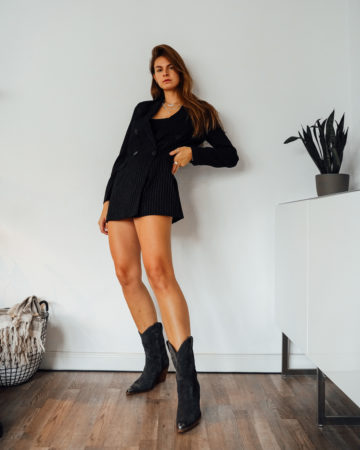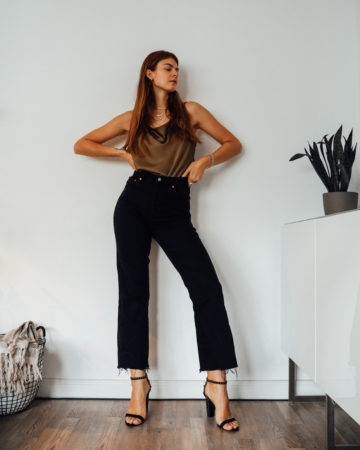 Casual Chic New Year's Eve Outfit
It's been a while since I last went partying on NYE. Instead, I usually spent the last night of the year with my boyfriend or at a friend's place. Usually, I also don't really feel like dressing up and stick to a more simple look, such as the combination of a pair of jeans and a top. I also wanted to give you an idea for a more casual-chic New Year's Eve outfit and combined black flared jeans with a cami as well as high heels. To stay warm, I would also add an oversized blazer and maybe exchange the high heels and wear a pair of black boots instead.
The Glam NYE Outfit
This last NYE outfit is my favorite one, even though it's something I barely wear. I wanted to show you an outfit option with a sequins piece of clothing and found this beautiful sequin skirt online. It's such an eye-catching piece and just perfect if you are going out on NYE. I combined it with an oversized white shirt as well as high heels, but you could also go for a pair of black boots instead. If you feel like the white shirt is a little bit too formal, you could also combine this sequin skirt with a cami. But I would always go for something simple as the skirt should be the key piece of the outfit and to focus on this key piece, it's best to combine it with basic clothes such as a white shirt, a simple t-shirt or top.