That sweatpants are in fashion now is no secret, and probably you all already have at least one pair in your closet. We recently published a post on the current sweatpants trend here on the blog, in which you can read everything about this trend. This post tells you what you need to know about sweatpants and how you can integrate them into your style. Based on this trend post, I want to give you a few outfit ideas for the sweatpants trend 2021 in today's post.
I really like to wear sweatpants and joggers. In the summer of 2019, I started working on Oweekends, where we also offer a selection of sweatpants. I never really had a nice sweatpants model, but that changed with Onweekends and then again with the trend. Now that sweatpants are in fashion, you can find many nice sweatpants in stores and online that you can not only wear for sports or when at home but also out on the streets.
Only the way you combine your sweatpants or jogging pants, you should adjust depending on where you wear them.
Below are a few outfit ideas with our Onweekends Sweatpants that will help you put together the perfect street style outfit with sweatpants. And for even more sweatpants and jogger outfits, check out my Fashion Looks page.
Jogger set: sweatpants combined with a matching sweater and long coat
For maximum comfort, even on the street, you definitely need a jogger set: sweatpants and a matching sweater. To make this all-over jogger look suitable for the road, you have different options. I currently like the combination with a long coat. This can be either a simple black coat or a plaid coat. It looks most casual when the coat is oversized, but also, a tighter cut model can be combined with a jogger set. Add a pair of sneakers or black boots, a chic bag, and some jewelry, and you are ready to leave the house in sweatpants.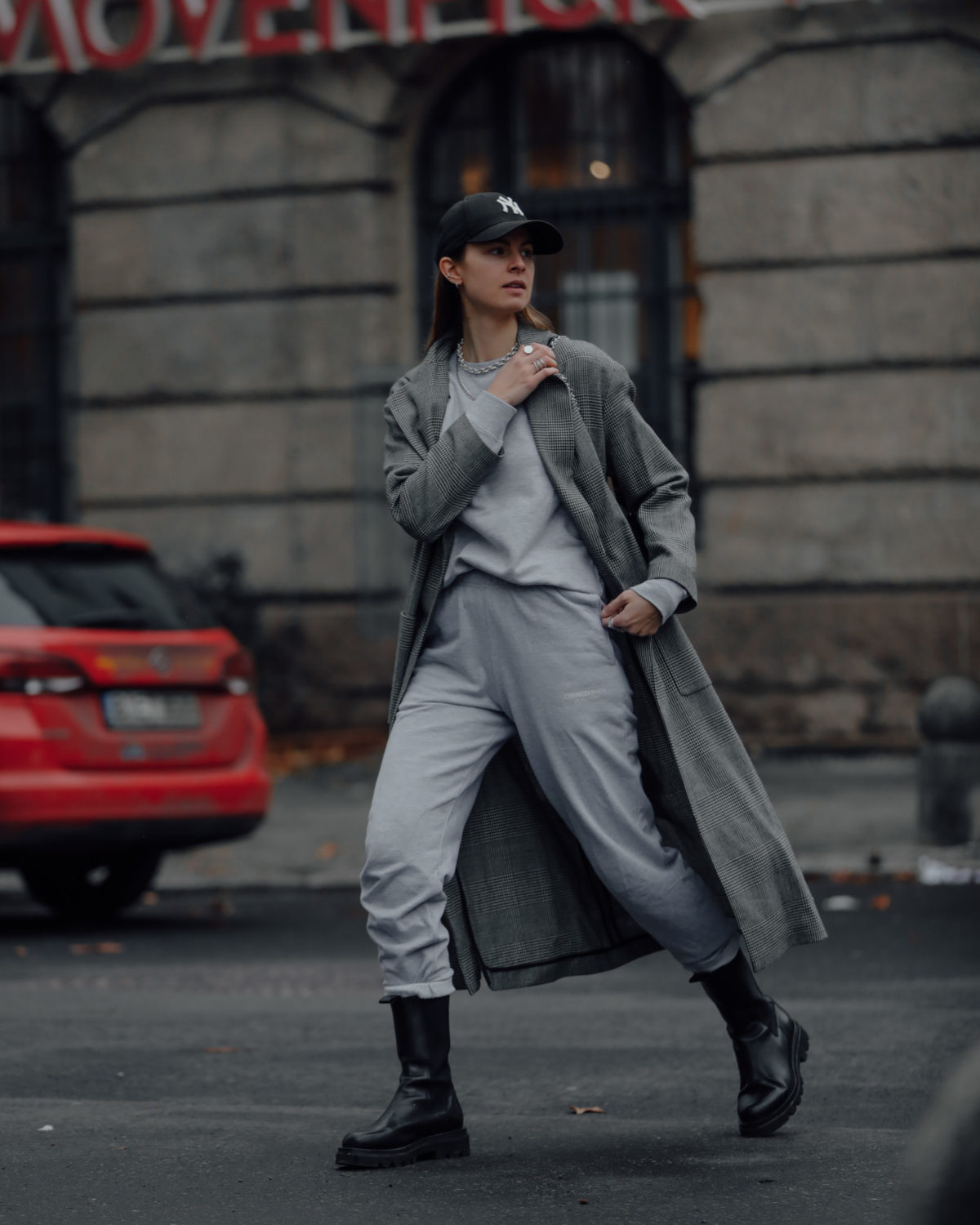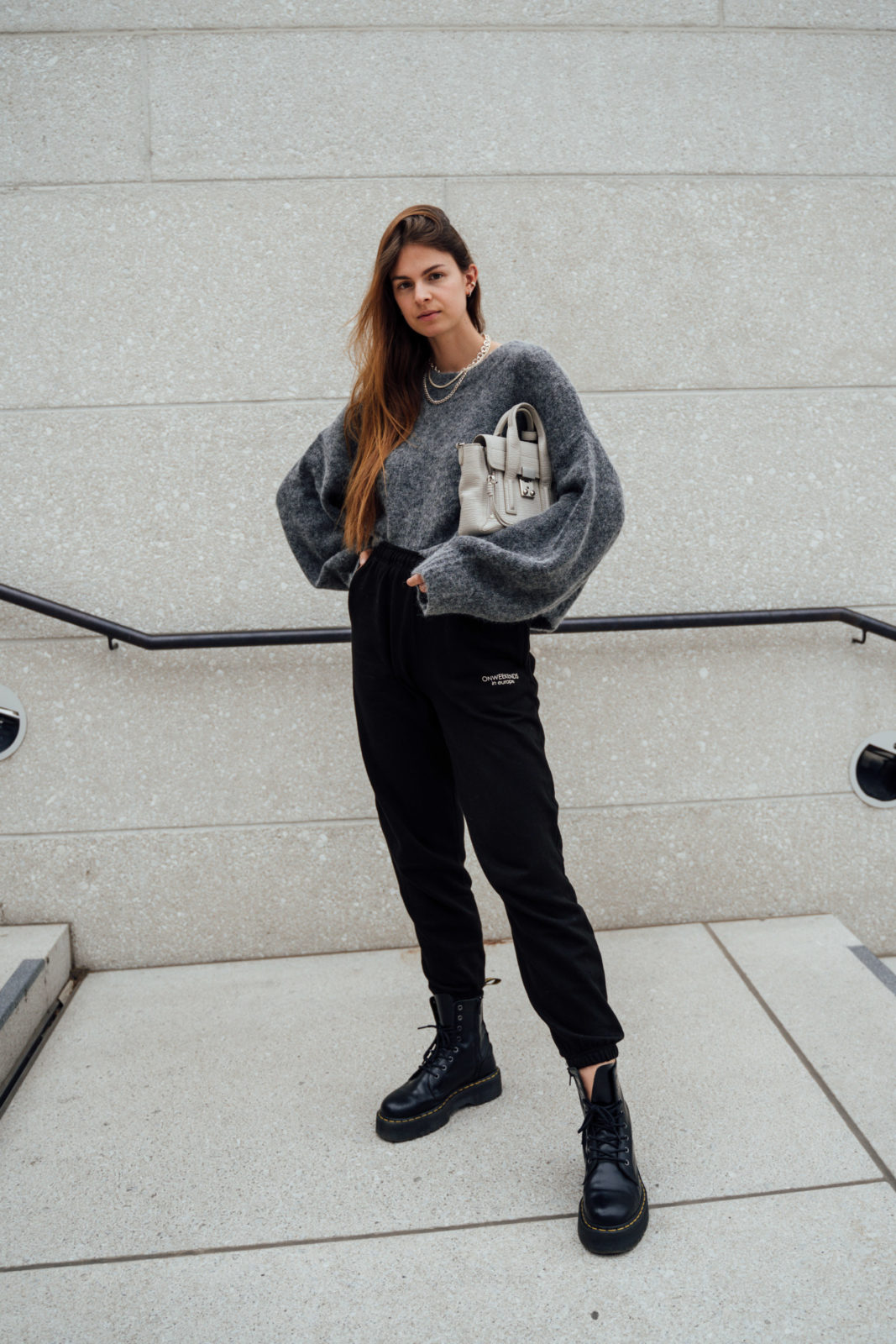 Cozy and warm: joggers combined with a wool knit and black boots
If you want to upgrade the first look a bit, wear a warm knit instead of a matching sweater. In this case, I opted for a boxy cut sweater that is slightly cropped. This makes it drape nicely but ends about where the sweatpants start, giving the outfit a bit of shape. If you combine an oversized and slightly longer knit with the joggers, you run the risk that the entire outfit looks very bulky. Therefore, instead, choose a tightly cut sweater or one that is a little shorter and ends where the sweatpants' waistband sits. Add a pair of sneakers or boots and matching accessories for a more eye-catching look. And for a slightly chicer look, opt for boots with heels.
Casual chic Jogger Outfit: with silk blouse and grey sneakers
Sweatpants can also be combined with shirts and blouses. By combining them with these, you get a casual chic look, which depending on the choice of shoes and accessories, you can also wear to work. My sweatpants outfit turned out rather casual. I went for a slightly longer silk blouse but then put on grey sneakers for more comfort. Also, in terms of accessories, I have kept it rather sporty-casual. I put on a cap (as I had a bad hair day) and chose a cross-body bag with animal print for an eye-catching detail.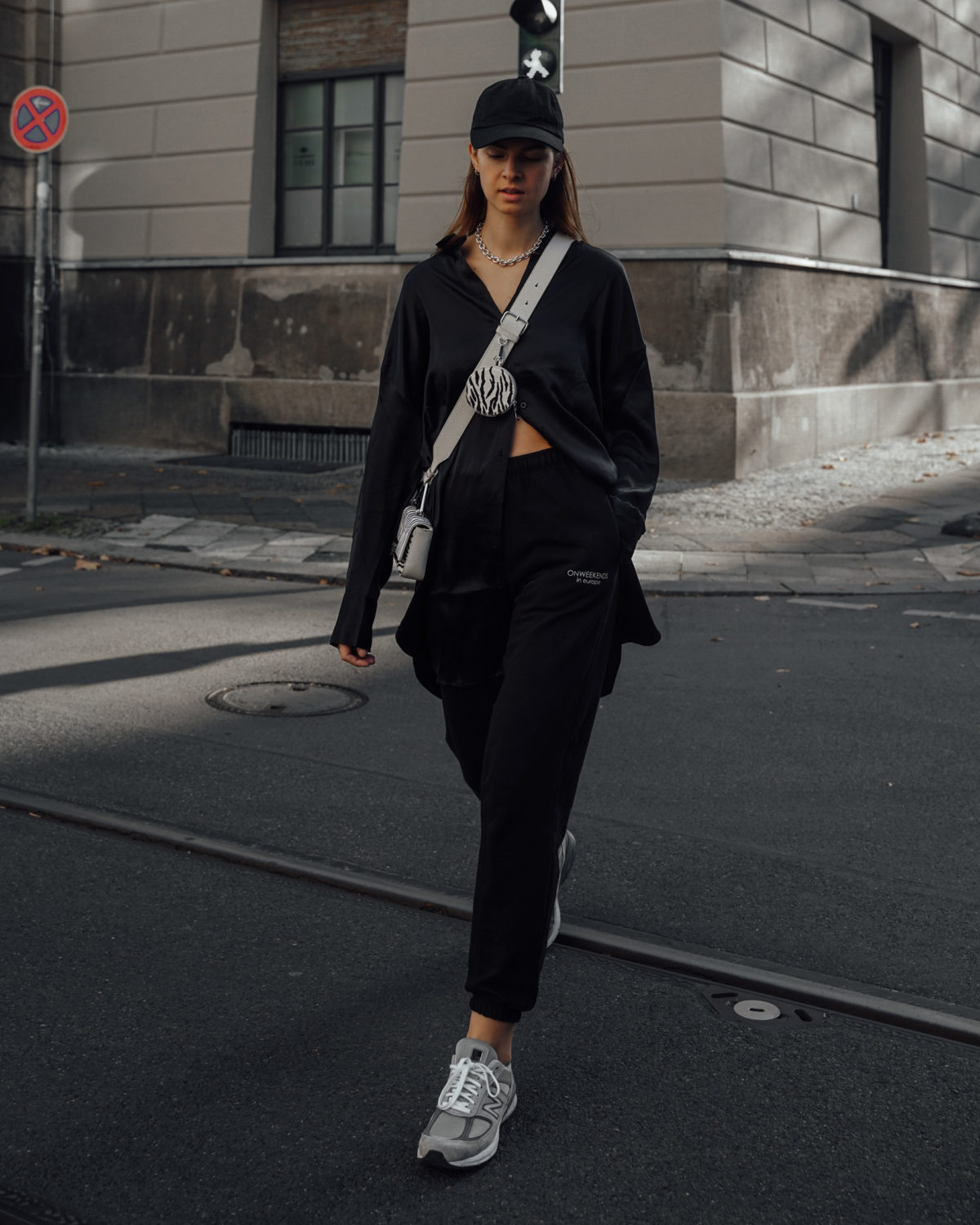 Sweatpants combined with a black jacket and white sneakers
The next sweatpants outfit is perfect for a weekend walk or shopping: combined with a black jacket. You can style most sweatpants with almost any kind of jacket. A very nice and simple combination is with a boxy as well as a slightly shorter cut jacket. It can be worn open or closed and always guarantees a fashionable look. If you want to wear it closed, it is important to wear a not too long jacket.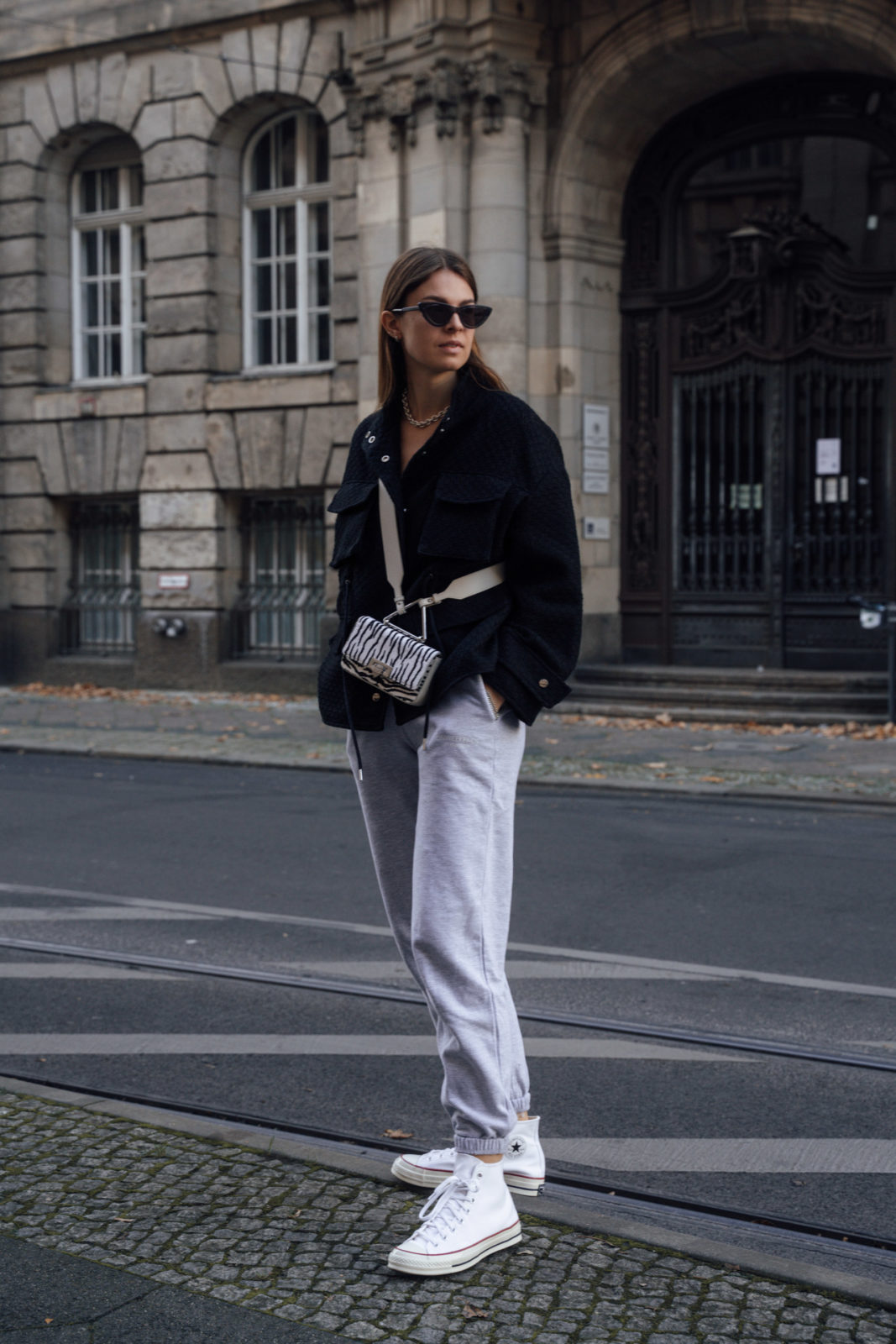 Choose one that goes to the pants' waistband or is only a little bit longer. This way, you can divide your look into different sections and avoid getting lost in the mass of clothes.
In terms of shoes, you have free choice with this sweatpants look. For walking or shopping, sneakers like the white Chucks I chose are recommended. Boots are also always a good choice, and with high heels or heeled boots, the look appears a little chicer. Last but not least, add a matching bag and some accessories, including a fancy pair of sunglasses.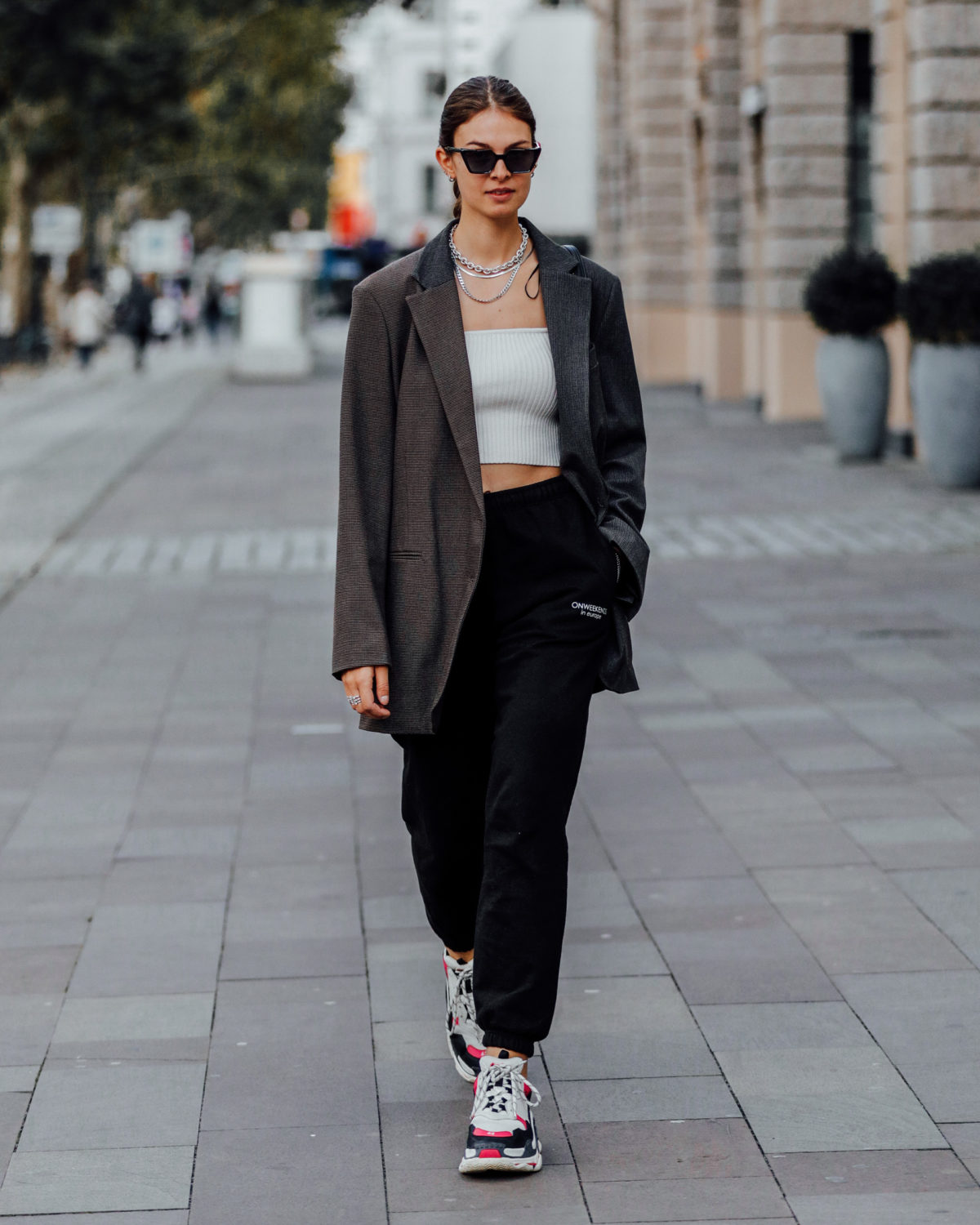 Wearing joggers to the office? In combination with a blazer, you can!
Who actually said that you couldn't wear a pair of jogger pants to the office? Ok, I admit that there are jobs where this is actually not an option. However, many jobs offer a lot of freedom in terms of outfits, and with the right combination, it definitely can be an option to wear your sweatpants to work.
I prefer to combine my joggers with an oversized blazer if I want a little fancier outfit and have a meeting or event. For this, I usually choose a blazer in a rather simple and chic color, such as a classic black. Underneath, you can wear a turtleneck sweater or a tight crop top to emphasize a little the figure. Style this look with a pair of heeled boots, a chic bag, some jewelry pieces, and ready is the office outfit with sweatpants.
With all the outfits, it doesn't matter what color your sweatpants are. Black and grey sweatpants are the easiest and most versatile to combine. White joggers would also be a great option, but they get dirty easier and may not always be the most suitable choice. Of course, you can also dare to more color; sweatpants are currently available in every shade, from simple to bold. Going with a little more color makes your outfit an absolute eye-catcher but would be less suitable for the office.
What is your favorite jogger, and how do you prefer to combine them? We look forward to your comments and an exciting sweatpants exchange. xx