We left Berlin yesterday to fly to Sri Lanka, and I'm more than excited about that! I've been looking forward to this trip for such a long time, and now it's finally happening. Our flight to Sri Lanka was at 10 pm yesterday; we're flying with Qatar and have one stopover in Doha. This was the best possible flight we could find, and I hope I'll be able to sleep on the plane… anyways, after 13 hours of travelling, we'll arrive in Sri Lanka around 4 pm local time. We booked a hotel in Colombo for the first night, because I'm sure all we wanna do when we arrive is having something to eat, taking a shower and falling asleep 😉 I'm actually not interested in seeing Colombo, because it's not supposed to be a nice city, but it's the best starting point for our Sri Lanka travel. In the following, I'll tell you more about our travel planning, what we want to see and where we'll stay.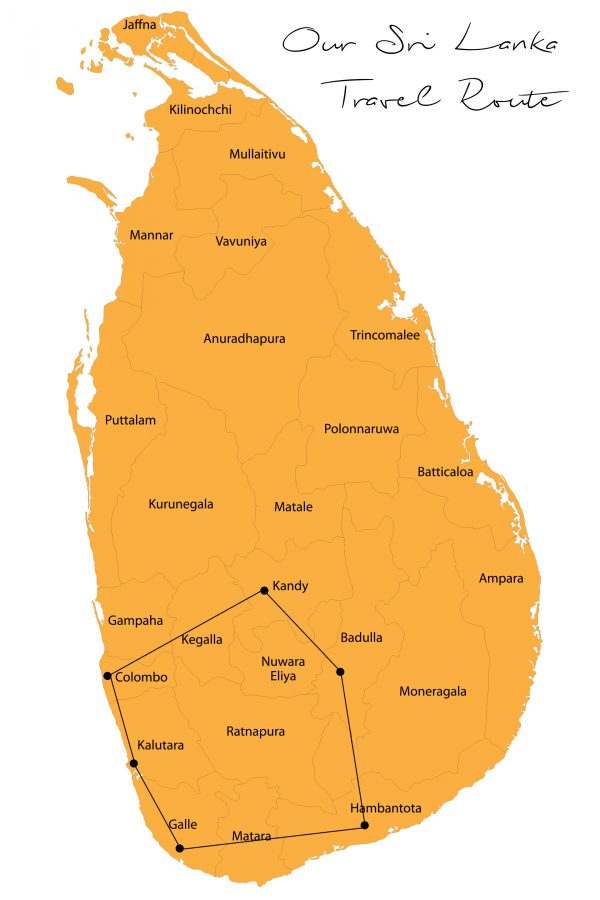 Our travel planning for Sri Lanka
After our first night in Sri Lanka, a driver will pick us up at the hotel, and our little road trip begins. On the first day, we'll drive from Colombo to Kandy. We'll stop one time to visit the elephant orphanage in Pinnawela and then continue to Kandy. When we arrive, we have time to see the city centre, to visit Sri Dalada Maligawa and the market. We'll stay in Kandy for the night and continue direction Ella in the morning of the 5th of January. That day we want to see the Ramboda waterfalls and drive from Nanouya to Ella by train. Our driver will pick us up at the train station and bring us to our hotel. After the check-in, we'll hopefully have some time left to explore the town before falling asleep and getting ready for the third day of this road trip. In the morning of the 6th of January, we're planning to hike to Little Adam's Peak before heading to the south coast. On our way to the south coast, we'll probably stop at the Ravana Falls. The third day is already the last day of the road trip, and our driver will drop us off at the hotel we booked for the next two days in Tissamaharama.
We're staying in Tissamaharama for two nights because it's close to the Yala National Park. We want to do a safari on the 7th of January, and that's everything we planned for the two nights in Tissamaharama. We'll probably do an evening safari because I don't want to get up at 4 in the morning 😉 We're leaving the hotel in Tissamaharama on the 8th of January and need to travel to somewhere near Galle, but haven't booked a taxi or driver yet. But I'm sure we'll get there somehow. After arriving at our hotel near Galle, we'll be there for four nights. It's close by a surf spot, and I can't wait to surf again finally. I'm bringing my wetsuit I bought when I came back from Australia in May 2015 (I haven't used it yet, so it's high time). We don't know what we'll do these days there, but probably surf, relax and discover the surroundings. After four nights there, we'll continue in the direction of Colombo. We'll stay somewhere close by Bentota for three more nights and will probably relax even more before it's time to fly back home to Berlin. Our flight back is on the 16th of January around 5.30 am. Therefore we booked a hotel next to the airport for the last night. Nothing special, but it'll serve the purpose.
So this gives you an overview of our trip to Sri Lanka. We haven't planned every single day, but at least we already know where we're staying and when. If you want to know what we'll be up to, make sure to follow me on Instagram and check my Instagram Story. I'll take you along and keep you posted. 🙂