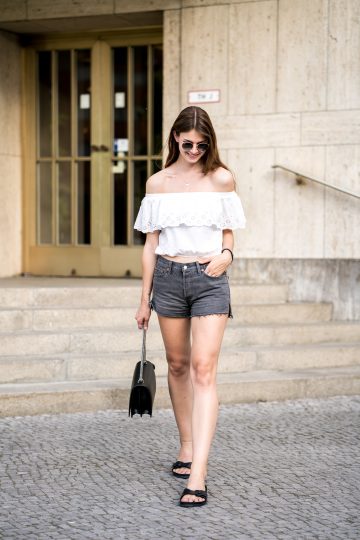 If you are following me on Instagram, you probably already know that I am currently in Amsterdam. I arrived here yesterday morning, so today is our second day in this beautiful city. It is my third time here in Amsterdam, and I am still not bored of it. 🙂 Have you ever been to Amsterdam?
Because I really wanted to enjoy this trip, I prepared two outfit posts for you guys. So today I won't tell you more about what we are doing here in Amsterdam, and I won't share the first outfit I was wearing here, I will share an outfit I was wearing in Berlin last week instead. And tomorrow you will get to see another outfit taken pictures of in Berlin. I hope I will have enough time to edit the first pictures from Amsterdam as soon as we are back so that I can share the first Amsterdam photos at the end of this week. Stay tuned and have a closer look at this outfit for now:
Summer Outfit: Levi's Shorts and Off Shoulder Shirt
I was wearing this outfit at the beginning of the last week. It was such a hot summer day in Berlin, and I actually didn't want to wear anything at all. But I had to get a lot of work done and spent most time of the day at the office, so clothes were much needed 😉 I opted for one of my Levi's shorts – because you can never go wrong with them – and combined them with an off-shoulder shirt. Thanks to the off-shoulder shirt at least my shoulders weren't covered, and the sleeves are very airy, so that's a huge plus point. Wearing off-shoulder in summer generally is a good idea, as long as it is airy and comfortable.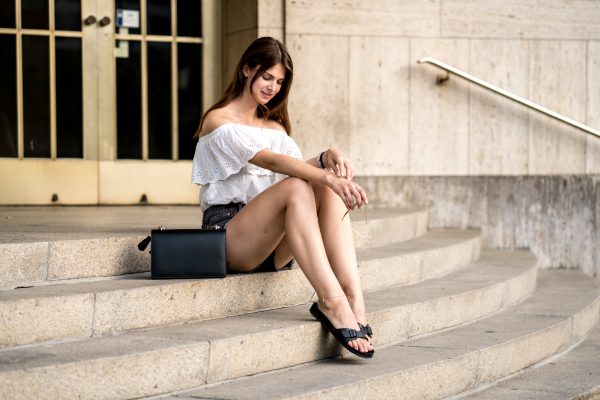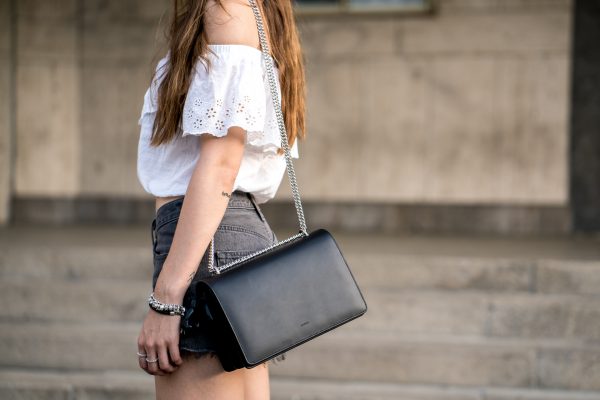 I finalised this summer outfit by adding one of my Birkenstock sandals, my Agneel bag and, of course, my Ray Ban sunglasses. This was the best outfit combination I could have chosen that day; it is both perfect for a day at the office and a day by the water or in a park. We first planned to drive to a lake or an open-air bath after work, so that's another reason I opted for this comfortable and airy summer outfit. In the end, we didn't go somewhere but home after work because we were too tired and exhausted, but at least I was prepared for other plans 😉
How to Buy the Perfect Levi's Shorts
I've never bought a pair of Levi's shorts for it's recommended retail price, I always got them at sale around 20€. That's why I would always suggest keeping your eyes open for sales and vintage Levi's shorts. I got mine from several online shops, so I can't even tell where it's best to find them for a discounted price. They can be found everywhere; you just have to keep your eyes open. And when you've found a pair of Levi's shorts, don't buy the size you usually wear. I always get them one or two sizes up, that way they will be super comfortable and not too tight on the legs. These are the two tips I wanted to share with you today. Levi's shorts are my favourites, I don't know how many pairs I got, but I wold buy them again and again.