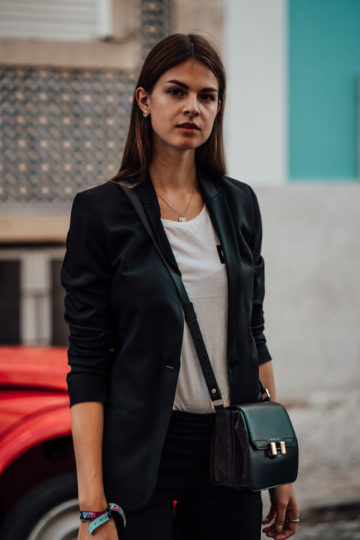 About two weeks ago we arrived back in Berlin after being away for one month, and I still haven't shared all the pictures we took while we were traveling. I finished sharing all the Bali and Lombok related content a few days ago, but there are still some pictures from Portugal left. I already shared three outfits I was wearing in Portugal, and I have three outfits left I will share with you guys on the blog this week.
I am actually super happy that I still have some outfits from Portugal left because I really don't feel like taking outfit pictures in Berlin right now. It is so cold and grey outside, all I want to do is laying on the sofa watching Netflix, drinking tea or hot chocolate and DON'T go outside. And when I think of taking outfit pictures in the cold, I really get everything but motivated. I don't even know what to wear hahaha. But yep, since my travel pictures are drawing to an end, I better bring myself to get dressed, go outside and take those outfit pictures.
I will deal with this later because now I first want to share this outfit I was wearing in Lisbon on our first day at Web Summit. I wanted to wear an office outfit, so at least my outfit would look like work 😉
How to wear a women's suit to the office
I wanted a women's suit for so long and was super excited when I saw this one from IKKS online. I couldn't wait to receive and finally wear it but had to wait until I was back from Bali.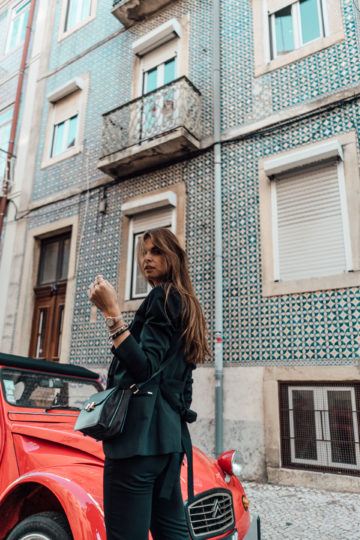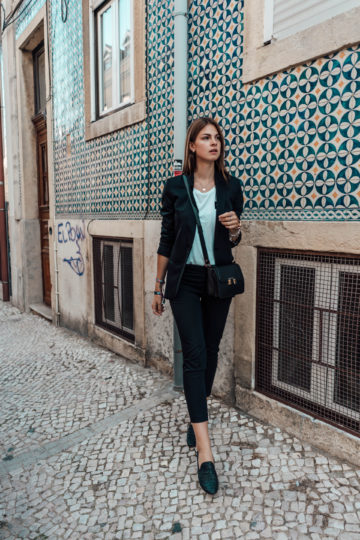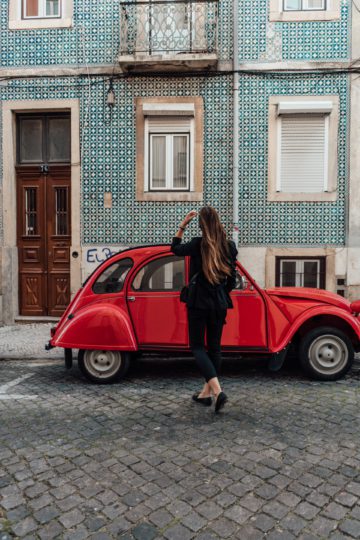 Of course, I brought it with me to Lisbon! We weren't traveling to Lisbon for vacation, we were there for business, and that's why a women's suit was more than appropriate. Well, I also would wear it in my everyday life and maybe just loosen the look up with a pair of white sneakers. And as you can see, I also tried to put together a casual chic business outfit when we were in Lisbon.
I combined my new women's suit with a white t-shirt, a pair of glitter slippers and my Maison Heroine bag – it was the only bad I had with me in Portugal. Due to the white t-shirt with the print on it, the look didn't look that buttoned-down as it would with a white shirt or something similar. I really like the outfit the way I put it together in Lisbon, and I would also wear it to the office in Berlin, especially when having a couple of meetings. But you can create a different looking outfit by combining the suit with a button-down shirt, a sweater or a chic blouse. Or you stay with the white t-shirt and change the shoes. When you go for a pair of white sneakers, it may not be appropriate for the office anymore, but perfect for a date with friends to name one example. If you need to put together a chic outfit, you can change the slippers into a pair of high heels or heeled boots.
You see, a women's suit offers a lot of possible outfit combinations and can not only be worn at the office. As soon as it gets warmer in Berlin (so probably in spring), I will show you how to wear it in a very casual way. So stay tuned for more. xx