Today I am sharing my absolute favorite outfit from Portugal. It is not only the outfit itself, but the location and the light were also perfect as well. I couldn't have asked for more that day. I also wanted these pants for so long but didn't buy them because in Germany they were priced at around 50 Euro. Then I saw them in Lisbon and here is one of the reasons why I love Spain and Portugal: Zara is cheaper there hahaha. In Portugal, the pants were priced at 40 Euros and paying 10 Euros less made me finally getting them. Yep, sometimes I am a little bit niggardly.
Anyways, I got them, I love them, and I wore them in Portugal for the first time. And today I am finally sharing the outfit pictures we took when we were in Cascais. And speaking of Cascais, have you already seen the post about this beautiful place I shared last week? I was talking about its beauty and how I could take pictures at every single corner there. And I think these outfit pictures are proof, that Cascais is not only a beautiful town, it also is very photogenic. The location you can see here is just one of many others. Unfortunately, we didn't take more pictures in Cascais; I would have loved to show you more of its beauty. It only remains for me to add that you definitely have to travel there to see it yourself. 🙂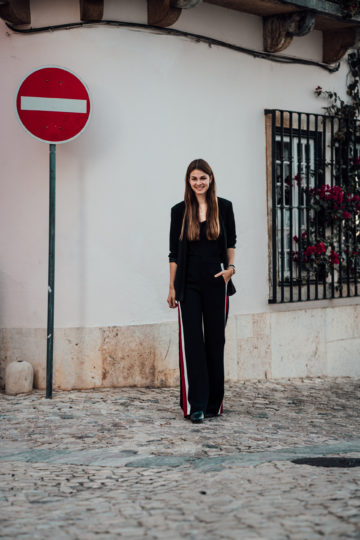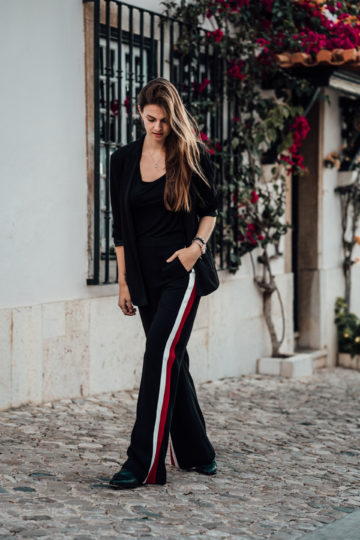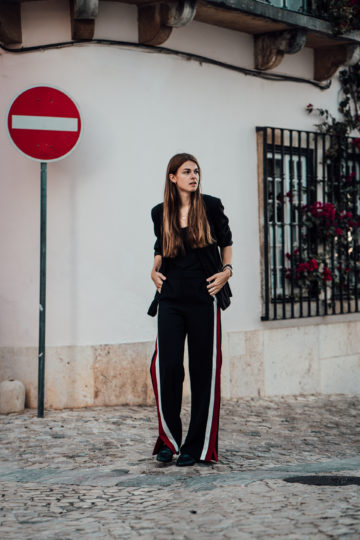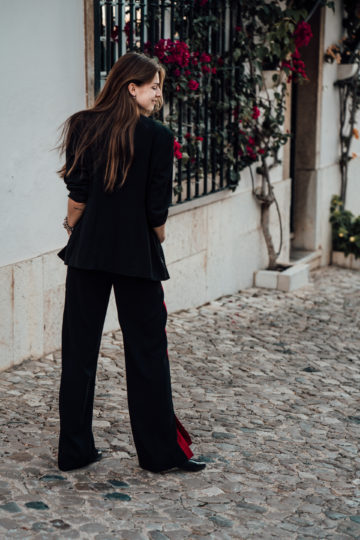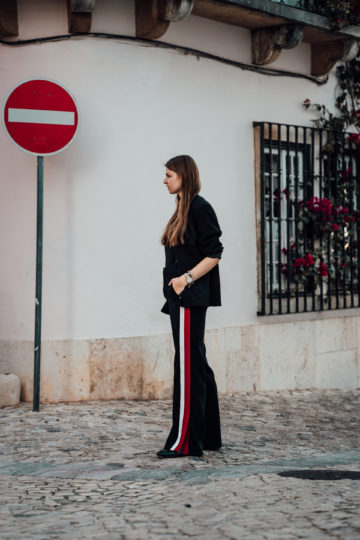 How to wear wide leg pants in a casual chic way
Buying new clothes when on vacation isn't always the best idea, because I usually have to wait until I am home to wear it finally. Why? Because often I don't have something with me I can combine the new pieces with. I plan all my outfits in advance and make sure that everything matches the other pieces I bring. When buying basics, finding something to combine it with shouldn't be an issue. But when buying something fancier, it may not be possible to work with what I have in my suitcase. Fortunately, the pants I got at Zara are quite basic, and I also brought a lot of casual chic pieces with me to Lisbon because we were traveling there for a conference.
So the two pieces I had in my suitcase that work with almost everything were a black t-shirt as well as a black blazer. And I obviously chose these two pieces to put together a casual chic outfit with my new wide leg pants. There actually isn't much more I could write about, because I think the outfit speaks pretty much for itself. It definitely is the kind of outfit I could wear every single day. No matter whether I am spending a day at the office, having a lot of meetings, running errands in the city or just relaxing at home. Well, I would probably take off the blazer at home 😉 But you get what I am trying to say: this outfit works for a lot of different occasions. It is chic yet super comfortable and doesn't look boring at all, don't you agree?
One last tip: when you want to put together an outfit with a pair of wide-leg pants, keep it simple. And play with silhouettes. Wear a tight top and loosen it up with an oversized jacket, coat or blazer.