Happy Friday everyone! As I mentioned on Wednesday, I will only share two new outfits this week as I didn't have the time to work on more posts due to my trip to London at the beginning of this week. Have you already seen the first outfit post I shared this week? If not, make sure to have a look once you finished reading today's outfit post.
Today I am also sharing an outfit I was wearing when we were in Athens a couple of weeks ago. As you know, we travelled there to create some content for the colder and darker days in Berlin. The weather in Athens was still autumnal, but I wanted to put together outfits you could also wear in winter. So all the outfits from Athens might not look like proper winter outfits but they can easily be transformed into winter outfits, and like every time, I am telling you how.
What to wear to the office
The key piece of this outfit definitely is the corduroy blazer. I have been wearing it a couple of times since I got it in late summer, early autumn but we never took outfit pictures for the blog. Since I do like the blazer a lot, I had to bring it to Athens. I decided to put together an outfit I could wear on a day at the office as well as to a meeting. It's a quite chic yet comfortable outfit.
I combined the red-brown blazer with an all-black look: a pair of black pants, a black sweater, a pair of black boots as well as a black bag. It's such a simple look, and the blazer makes all the difference and really pops out. It's the kind of outfit I wear whenever I don't know what to wear. You can never go wrong with an all-black outfit especially when you add an eye-catching piece of clothing that makes the outfit look way more interesting.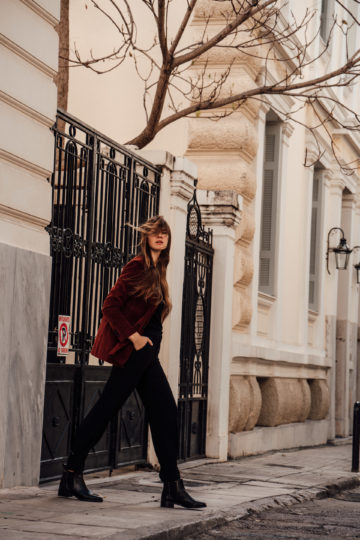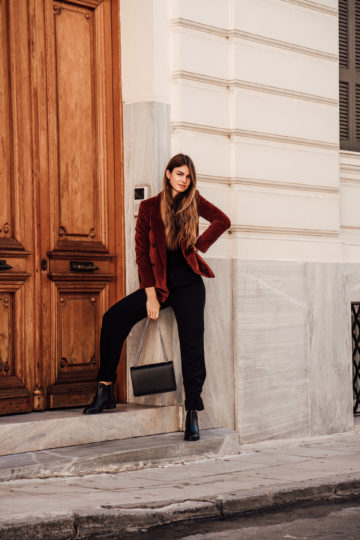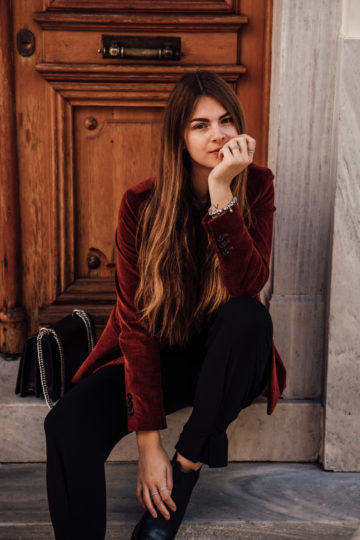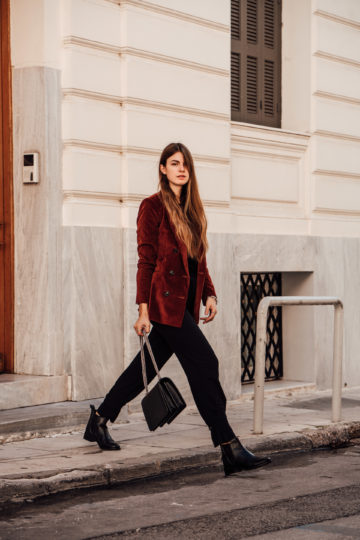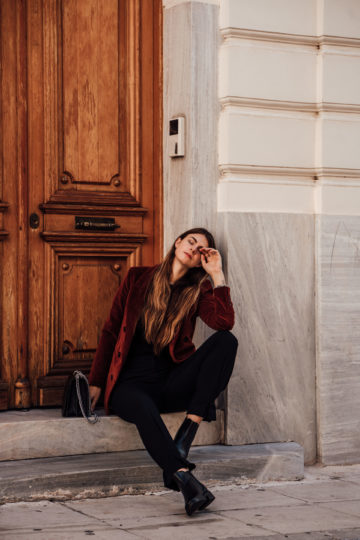 Now you probably want to know how you can wear this outfit in winter. It's actually very simple. All you need to do is put on a warm jacket or coat, maybe even a scarf and if you would be still freezing, you could wear another layer underneath the sweater to stay warm. As you can see, it's super simple to transform your autumn outfits into winter outfits.
How to wear a corduroy Blazer
I just shared one way to wear a corduroy blazer, but there are many more. You can combine a corduroy blazer in the same way as every other blazer. The fabric doesn't make such a big difference when it comes to the styling.
Combine your blazer with a pair of jeans, pants, skirts, shorts or dresses – everything works! Just make sure the colours go well together as well as the cuts of the different pieces of clothing. I always prefer an oversized cut, but sometimes a fitted cut might look better. But in general, I get my blazers at least one size up if not even bigger. And at the moment I am looking for a nice blazer from the men's section. I haven't found one I really liked yet, but I am still looking. How do you like to wear your blazer? And do you also buy some oversized or do you prefer a fitted cut? I am looking forward to your comments. xx
*Ad, brands named – SET Blazer || & Other Stories T-Shirt || H&M Pants || Pepe Jeans Boots || Agneel Bag