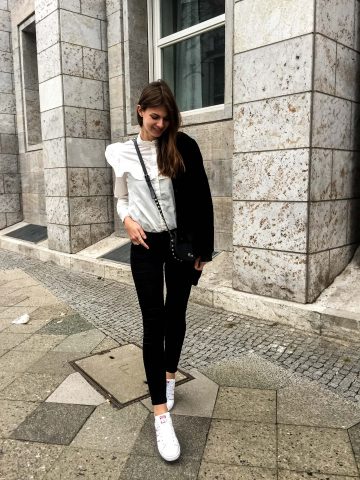 The past week started quite boring: I spent most of the time at home at the weekend, because the weather was shitty and I wanted to relax after Fashion Week. I also had to work a little bit, what I did while I was lying on my sofa 😉 Couldn't complain about this workspace even though I would have rather watched Netflix or done nothing at all. But I had to work and prepare a couple of things to make sure everything is done before my trip to Malmö the next week. That's why Monday, Tuesday and Wednesday were some pretty boring days as well.
I spent most of the time at the office, worked a lot and didn't have the time to do anything else. I wish I could tell you something more, but seriously, there's it nothing I could tell you. My week was super boring! BUT that changed on Thursday when I travelled to Malmö.
Those who follow me on Instagram might have seen my Instagram Story and know the reason I was in Malmö. And today I can tell you a little bit more about it on the blog as well. I was in Malmö for a watch brand called Kronaby. They launched their collection on Thursday, so they invited us to see and experience it. The collection is very nice, and the watches look great. I even got a watch myself and can now try it out and see what it can 😉 It's not only an ordinary watch, it's a smartwatch so that

you can connect it to your iPhone via Bluetooth. I'll test the watch the next days, and if you want, you can ask my any question about it, and I'll try to answer.
I actually have to say, that these two days in Malmö were interesting, but on Thursday we had a lot of spare time until the event in the evening. We walked through the city, had lunch in a cute café called Noir, but Malmö is actually quite boring. We were back at the hotel after three hours and decided to work until the event. On Friday we had a busier schedule because we visited the office of Kronaby. But after that, we still had five hours left before our flight. And since we were flying from Copenhagen, we decided to leave Malmö and drive to Copenhagen instead. Unfortunately, it took longer than expected and so we had only 30 minutes in Kopenhagen before we had to drive to the airport… but at least we made it to Kopenhagen and had the chance to walk through the centre for 30 minutes AND to visit the Hay store. And that's actually it.